From: ONEHOPE Wine
To: Scott Jenkins,
Subject: Every Bottle Helps Solve the Puzzle...
Date: Wed Apr 02 17:29:49 MDT 2014
Body:
---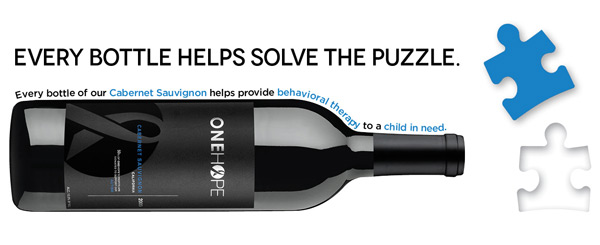 APRIL IS AUTISM AWARENESS MONTH
Every bottle of our Cabernet Sauvignon helps provide
behaviorial therapy to a child in need.
HALF of profits from our ONEHOPE California Cabernet Sauvignon wine and gifts are donated to ACT Today! to help provide ABA Therapy for children with autism.

As a ONEHOPE supporter, receive 20% OFF and $0 ground shipping with the purchase of any ONEHOPE Cabernet Sauvignon wine or gift that supports helping children with autism.

Use promo code AUTISM14 in your shopping cart prior to checkout.

Offer expires 4/8/14, 11:59pm PST.


So far... 806 children with autism have been provided behavioral therapy.
"Speak Your Piece" - Live Today at 2pm PST
Watch the live stream today at 2pm PST.

Together with ACT Today!, ONEHOPE is hosting "Speak Your Piece" — an open-forum panel where individuals affected by autism from different perspectives can come together for an open and honest discussion about what autism is, how it affects the individual and the family, the most recent developments in diagnosis and treatment, and personal stories about how the disorder affects day to day life.

We will be accepting questions from the audience via Facebook and Twitter (#SpeakYourPiece), and you can also comment on this blog post with a question you would like to be addressed.

Join us for this candid discussion today, April 2 at 2pm PST in honor of World Autism Awareness Day.
Thank You Note from an ACT Today! Grant Recepient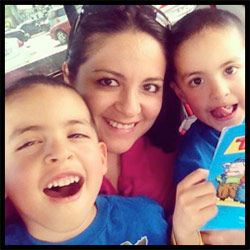 Daniel and Damien (twins – age 5)
Costa Mesa, CA

We are so happy to have this grant for ABA Therapy, because we don't have ways to pay for any kinds of services for my boys. Daniel and Damian received some services from Regional Center, but Damian didn't qualify after age 3. We want to thank you for all the help we got from you. It was a miracle for us to find people and organizations like you.

The grants were well used. Daniel is now able to eat almost everything we offer. The feeding program is hard but it works. He is able to say more words, like "I want water," "help me" and "I love you." He is still receiving ABA Therapy and is getting better everyday.

Thanks to ABA Therapy, Damian is starting regular kindergarten, after two years in special education preschool. I'm so proud and happy because he is doing his best and he is on a soccer team with typical kids. His behaviors are not the same as they used to be - now he is able to share, play and enjoy with other kids without a problem.

All of this is thanks to the people who have a heart to help, There are not enough ways to say THANK YOU. We still living with autism, but our lives are better and full of hope.

Love,

Damian, Daniel and Micaela