From: Morning Consult
To: Scott Jenkins,
Subject: Morning Consult Energy: Senate Keystone Vote; Halliburton and Baker Hughes Deal Done
Date: Tue Nov 18 14:53:03 MST 2014
Body:
---
Today's Washington Brief:
The Senate is slated to vote on the Keystone XL pipeline, a last chance political maneuver aimed at saving Sen. Mary Landrieu (D-La.) in a December 6th runoff. The Wall Street Journal and New York Times report that Landrieu is one vote short of the 60 needed to pass the legislation. President Obama has signaled that he will veto the measure.



Nuclear Regulatory Commission chairman Alison Macfarlane said Monday that her agency's rules are not equipped to supervise the decommissioning of nuclear reactors. That is an endeavor that will occupy much of the NRC's time in the coming years reports the New York Times.



In the backdrop of Keystone politics, the White House yesterday issued three veto threats for unrelated House bills targeting the EPA.
Today's Business Brief:

The deal between Halliburton and Baker Hughes is done, at a cost of about $34.6 billion. It is unclear if the acquisition will survive antitrust scrutiny, reports New York Times. Bloomberg has the details on how the final deal was struck over a coke and a coffee.



SunEdison Inc. and TerraForm Power are teaming up to buy renewable energy company First Wind for $2.4 billion, reports the Wall Street Journal. The deal makes SunEdison the biggest renewable energy company in the world.
Today's Chart Review:


European residential electricity prices increasing faster than prices in United States
from EIA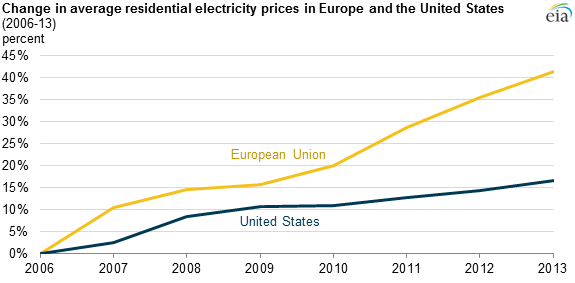 Mark Your Calendars (All Times Eastern):


Tuesday: NBR launches 2014 Energy Security Report @ 9 am
Tuesday: ELI forum on Clean Water Act law @ 9 am
Tuesday: CSIS discussion on impacts of Clean Power Plan @ 1:30 pm
Wednesday: Earnings Reports: SandRidge Energy
Wednesday: NBR event on American coal exports to Asia @ 9 am
Thursday: Cookstoves Future Summit – All Day
Thursday: PCT policy briefing on clean energy tax incentives – All Day
Friday: Cookstoves Future Summit – All Day
NEWS ARTICLES

1-7: General
8-14: Oil
15-16: Natural Gas
17: Nuclear
18-20: Renewables
OPINIONS, EDITORIALS, PERSPECTIVES

21-22: USA Today
23: New York Times
RESEARCH REPORTS, ISSUE BRIEFS, CASE STUDIES

24-26: White House

1) Keystone Supporters Hustle to Get 60 Yeses for Senate Vote on Tuesday
from Wall Street Journal by Amy Harder

Supporters of a measure to approve the Keystone XL pipeline were scrambling on Monday to secure the 60 votes necessary to overcome a procedural hurdle in a Senate vote planned for Tuesday. People working on the vote-getting effort say the tally of yes votes stood at 59 late Monday, but they weren't giving up on finding a last supporter. Even if it does pass, the White House has signaled President Barack Obama is likely to veto the bill. The vote, scheduled last week by Senate Majority Leader Harry Reid (D., Nev.), was seen as an effort to help Democratic Sen. Mary Landrieu win re-election in Louisiana, where the pipeline has become a measure of clout.
2) Landrieu Tries to Gather Enough Votes on Keystone Pipeline
from New York Times by Coral Davenport and Ashley Parker

Senator Mary L. Landrieu of Louisiana pushed hard on Monday to round up votes for the Keystone XL oil pipeline, part of a last-minute effort to help her survive a close runoff and one of the toughest battles of her political career. Even if the Senate supports building the pipeline in a vote on Tuesday night, President Obama is likely to veto the measure on the grounds that an environmental review of the process remains incomplete. Nonetheless, the events of this week suggest that after the expected veto, Mr. Obama may eventually approve the pipeline, which would run from the oil sands of Alberta to the Gulf Coast.


3) U.S. Senate heads for vote on Keystone XL pipeline
from Reuters by Timothy Gardner and Richard Cowan


Backers of the Keystone XL oil pipeline hope a vote in the U.S. Senate late on Tuesday will send a bill to the desk of President Barack Obama. With the chamber apparently stuck at 59 votes in favor of Keystone XL, Senator Mary Landrieu worked hard on Monday to gather one last vote. Late in the day it seemed the Louisiana Democrat would come up just short, likely hurting her chances of winning a new six-year term in a December run-off election.
4) P.R. Firm Urges TransCanada to Target Opponents of Its Energy East Pipeline
from New York Times by Ian Austen

The advice from a top American public relations firm was simple: A Canadian pipeline company should take aim at its opposition. In detailed proposals submitted in May and August, the public relations firm Edelman outlined a plan to investigate groups that had opposed Energy East, a pipeline in development by TransCanada. Edelman urged TransCanada to develop its own sympathetic supporters and spread any unflattering findings about the opposition.


5) TransCanada Faces Spinoff Pressure From Hedge Fund
from Wall Street Journal by Ben Dummett

New York hedge fund Sandell Asset Management Corp. suggested Monday that TransCanada Corp. TRP could boost its share price 31% if it spun off its power-generation business and accelerated the transfer of more U.S. pipeline assets into a more tax-efficient structure. Sandell, which oversees about $1 billion in assets, outlined its ideas in a letter to the Calgary, Alberta, company's board, arguing the stock would trade at its "intrinsic value" of 75 Canadian dollars if the plan was adopted, up from the C$57.18 level it traded at recently in Toronto. It made the letter public two days before TransCanada is set to meet analysts and investors to review the company's strategy.
6) China needs to cap coal use by 2020 to meet climate goals -think tank
from Reuters by Kathy Chen and David Stanway


China needs to hit its "peak coal" use by 2020 if it is to fulfil its commitment to end growth in climate-warming carbon emissions by the end of the next decade, an influential government think tank said on Tuesday. China pledged for the first time to end growth in carbon emissions by "around 2030" last week, and it has also vowed to raise the share of non-fossil fuels in its total energy mix to 20 percent by the same year.
7) U.S. Index Futures Little Changed After S&P 500 Extends Record
from Bloomberg by Sofia Horta e Costa


U.S. stock-index futures were little changed as investors considered equity valuations after the Standard & Poor's Index 500 Index extended an all-time high. Futures on the S&P 500 expiring in December fell 0.1 percent to 2,037.4 at 6:01 a.m. in New York. Dow Jones Industrial Average contracts lost 9 points, or 0.1 percent, to 17,608. The S&P 500 has rallied to records as better-than-expected earnings and economic data have increased confidence that the U.S. economy is able to weather a global slowdown even as the Federal Reserve winds down its stimulus program.
8) In Keystone XL debate, Obama's warning on oil exports rings only half true
from Reuters by Nia Williams and Timothy Gardner


President Barack Obama's sharpest criticism yet of Keystone XL this weekend included a controversial contention that the huge pipeline would be used to pump Canadian oil sands crude to global markets, not to U.S. refiners. TransCanada Corp., the pipeline giant that has been waiting six years for U.S. approval to build the $8 billion line, strongly denies it and says it is constructing the 1,179-mile (1,900-km) conduit only to serve import-dependant Gulf Coast refiners, weaning them away from supplies of heavy crude from Saudi Arabia and Venezuela. The truth, experts say, lies somewhere in between.


9) Goldman says OPEC in dilemma as output cut seen helping U.S.
from FuelFix by Bloomberg

A "large" production cut by OPEC to prop up crude prices isn't in the group's interest because it's likely to bolster an expansion of U.S. shale oil, according to Goldman Sachs Group Inc. While the slide in prices into a bear market increases the chances of a reduction, trimming output by more than 500,000 barrels a day would mean further cuts are needed starting 2016 as higher prices prompt more U.S. drilling, Goldman said in a note yesterday. Some members of the Organization of Petroleum Exporting Countries including Saudi Arabia have resisted calls to decrease supply while others seek action to support crude.
10) Halliburton and Baker Hughes Agree to Friendly $34.6 Billion Merger
from New York Times by Michael De La Merced

Halliburton agreed on Monday to buy its rival Baker Hughes for about $34.6 billion, uniting two big oil field services providers in a friendly deal only days after a hostile takeover battle appeared to be brewing. But the tie-up raises questions about whether the takeover will survive antitrust scrutiny, given the level of consolidation that it promises within the oil production services business. The deal came after an announcement by Baker Hughes on Friday that Halliburton had submitted a list of board nominees after talks between the two companies broke down. Halliburton's submission suggested that it was willing to go hostile if rebuffed.


11) How the Halliburton Megadeal Went Down
from Bloomberg by Bradley Olson, David Wethe and Matthew Monks

After a bitter two days, Dave Lesar drove out to Martin Craighead's headquarters Sunday, taking the final play in a tense merger negotiation straight to his counterpart. It was cold and windy in Houston as the two chief executive officers entered the last stages of a bid that had almost led to a fight for board nominations. Lesar, 61, the 14-year leader of Halliburton Inc., and Craighead, 54, a Baker Hughes Inc. veteran in his first year at the helm, sat down over a coke and a coffee to seal the $35 billion deal, the two men said yesterday.

12) Halliburton faces tough sell in taking Baker Hughes deal to regulators
from Reuters by Diane Bartz

Halliburton Co will have a tough time convincing U.S. regulators to approve its $35 billion deal to buy smaller rival Baker Hughes Inc but could prevail with the right divestitures, antitrust experts said Monday. The deal, if approved, would create an oil services behemoth that would overtake current No. 1 Schlumberger NV.


13) Analysts: Shareholders led final push for Halliburton-Baker Hughes deal
from Houston Business Journal by Jordan Blum

Shareholder interest and a potential takeover likely served as the final catalysts for Houston-based Baker Hughes Inc. to agree to be bought by Halliburton Co., energy analysts said. The two Houston companies announced a $34.6 billion deal Nov. 17 for Halliburton (NYSE: HAL) to acquire Baker Hughes (NYSE: BHI) in the merger of the second- and third-largest oilfield services companies in order to rival the top dog, Houston-based Schlumberger Ltd.
14) Global Glut Still Weighing on Oil Prices
from Wall Street Journal by Cassie Werber


Crude oil prices recovered some ground Tuesday morning but remained close to four-year lows as a global glut weighs on prices, and the market awaits direction from the Organization of the Petroleum Exporting Countries, which meets in Vienna next week. "The current market is oversupplied no doubt," said analysts at Energy Aspects in a notes to clients, pointing out that between April and September global oil inventories increased by between 1 and 1.5 million barrels a day.
15) Germany government reiterates its ban on fracking
from Reuters by Alexander Ratz

Germany said on Monday it has no plans to lift a ban on fracking, following a report in news magazine Der Spiegel that it was considering lowering the hurdles for shale gas extraction to allow test drilling. At present, Germany only plans to allow fracking below a depth of 3,000 metres (yards), to ensure that there is no danger to ground water supplies. Der Spiegel had reported that this depth boundary would be scrapped.


16) Pipeline Alert From Federal Regulator Is First of Its Kind
from InsideClimate News by Elizabeth Douglass


Reversing oil and natural gas pipelines or switching the product they're carrying can have a "significant impact" on the line's safety and integrity—and "may not be advisable" in some cases, federal regulators told pipeline companies in a recent advisory. The alert is the first time the Pipeline and Hazardous Materials Safety Administration has officially cautioned the industry about potential safety threats from restarting, reversing or reworking pipelines to handle Canadian tar sands oil and the surge in U.S. oil and natural gas supplies.
17) Nuclear Agency Rules Are Ill-Suited for Plant Decommissioning, Leader Says
from New York Times by Matthew Wald

The Nuclear Regulatory Commission's rules are not geared for supervising the decommissioning of nuclear reactors, the task that will occupy much of its time in the coming years, the head of the agency, Allison M. Macfarlane, said Monday. Speaking at the National Press Club in a wide-ranging look at her agency and the industry before she leaves the job at the end of the year, Dr. Macfarlane said the industry had instead set itself up about 15 years ago to oversee more reactor construction, a revival that did not occur.
18) SunEdison, TerraForm Power to Buy First Wind for $2.4 Billion
from Wall Street Journal by Maria Armental

SunEdison Inc. and clean-power plant subsidiary TerraForm Power Inc. are buying Boston-based renewable-energy company First Wind for $2.4 billion, a deal that would make SunEdison the world's largest renewable-energy-development company, the companies said Monday. The deal is expected to close in the first quarter.
19) Honda Delays Fuel-Cell Car Launch Until 2016
from Wall Street Journal by Yoko Kubbota

Honda Motor Co. is pushing back the mass-market introduction of its fuel-cell car as it deals with the fallout from a series of safety recalls, its chief executive said Monday. Honda now plans to start selling its first mass-market fuel-cell car, which runs on hydrogen and emits only water vapor and heat, in Japan by the end of March 2016 instead of during 2015, Chief Executive Takanobu Ito said. After Japan, Honda plans to begin selling the car to the U.S. and Europe.
20) A Road Test of Alternative Fuel Visions
from New York Times by Kenneth Chang

…The hydrogen car, it appeared, had died. And many did not mourn its passing, particularly those who regarded the auto companies' interest in hydrogen technology as a stunt to signal that they cared about the environment while selling millions of highly profitable gas guzzlers. Except the companies, including General Motors, Honda, Toyota, Daimler and Hyundai, persisted. After many years and billions of dollars of research and development, hydrogen cars are headed to the showrooms.
OPINIONS, EDITORIALS, PERSPECTIVES
21) Keystone's just another pipeline: Our view
from USA Today by Editorial Board

Sometimes a pipeline is just a pipeline, not an environmental cataclysm or a panacea for a struggling economy. But you'd never know that from the seemingly endless debate over the Keystone XL project, which critics and defenders alike have hijacked to serve their larger agendas. The argument over Keystone has festered and intensified ever since a Canadian company applied in 2008 for permission to build the pipeline, which would carry oil from the tar sands of western Canada to Gulf Coast refineries.


22) Keystone has no redeeming value: Opposing view
from USA Today by Erich Pica

The oil that would be carried by the Keystone XL pipeline is the most environmentally destructive on the planet, and would traverse the American agricultural heartland, only to then be exported. If constructed, the pipeline would put communities and one of the world's largest aquifers — which provides drinking and irrigation water to millions of Americans — at grave risk of spills. TransCanada's Keystone 1 pipeline leaked 14 times in its first year of operation.
23) A Forest Threatened by Keystone XL
from New York Times by Andrew Nikiforuk

Environmentalists typically fret about the prospect of adding monstrous new amounts of carbon dioxide into the atmosphere if the Keystone XL pipeline is approved, and for good reason. Bitumen, the low-grade petroleum in Canada's tar sands that would be carried by the pipeline to the United States, emits an estimated 17 percent more greenhouse gases overall than an average barrel of crude refined in America, according to a report earlier this year by the Congressional Research Service. But for a vast stretch of western Canada's boreal forest, the fight over extracting bitumen has already been lost. The question is, how much more will we lose?
RESEARCH REPORTS, ISSUE BRIEFS, CASE STUDIES
24) Statement of Administration Policy: H.R. 1422 – EPA Science Advisory Board Reform Act of 2013
from White House

The Administration strongly opposes H.R. 1422, which would affect the ability of EPA's Science Advisory Board (SAB) to form panels and perform its essential functions.
25) Statement of Administration Policy: H.R. 4012 – Secret Science Reform Act of 2014
from White House

The Administration strongly supports regulatory transparency, but strongly opposes H.R. 4012. The bill would impose arbitrary, unnecessary, and expensive requirements that would seriously impede the Environmental Protection Agency's (EPA's) ability to use science to protect public health and the environment, as required under an array of environmental laws, while increasing uncertainty for businesses and States.


26) Statement of Administration Policy: H.R. 4795 - Promoting New Manufacturing Act
from White House


The Administration strongly opposes H.R. 4795, because it would impose arbitrary and unnecessary requirements that could weaken the public health and environmental protections of the Clean Air Act (CAA) and would increase uncertainty for businesses and States.