From: Amanda Pears Kelly - NACHC
To: Scott Jenkins,
Subject: NACHC Washington Update
Date: Wed Aug 20 20:15:08 MDT 2014
Body:
---
Your weekly source for Health Center policy updates August 20, 2014
National Health Center Week 2014 a Huge Success!
Thanks to Health Center Advocates from across the country, this year's National Health Center Week celebration was a huge success! Hundreds of Health Centers and Primary Care Associations participated by hosting events in their communities, submitting press releases and editorials to their local papers, inviting Members of Congress to visit their Health Centers, and posting and tweeting about the amazing work Health Centers do. This year Health Centers proved that they are truly Local Engines for Healthier Communities. Take a look at some of the activity coming out of NHCW 2014:
Events and Visits from Members of Congress - This year Health Centers celebrated NHCW with over 1,500 events and 90 visits from Members of Congress. Events included walkathons, health fairs, car shows, barbecues, ribbon cuttings, and many more. Check out some of the awesome photos taken during NHCW from Health Centers across the country.
Resolutions & Proclamations - This year President Barak Obama issued an official proclamation recognizing August 10th-16th as National Health Center Week 2014. Additionally, nearly 20 governors proclaimed August 10th-16th to be NHCW, and there were close to 10 local proclamations as well. You can see the list here. Many thanks to those of you who requested proclamations in your states, cities, and towns!
National Health Center Week TeleForum - On Wednesday the 13th, HHS Secretary Sylvia M. Burwell, HRSA Administrator Dr. Mary Wakefield, NACHC CEO Tom Van Coverden, and Health Center representatives led a TeleForum to celebrate the importance of Health Centers to their communities and the nation. If you missed the TeleForum, check out a transcript of the call here (recording coming soon).
Social Media Activity - #NHCW2014 got a ton of coverage. This year, there were over 2,500 tweets using the #NHCW2014 hashtag, which created over 7 million impressions in the Twitter-sphere! Many thanks to all Health Center Advocates who tweeted, posted, clicked, and shared online during NHCW 2014.
Media Coverage - There were hundreds of features, op-eds, and editorials on Health Centers during NHCW this year. Check out some of the awesome coverage on Health Centers here, and please continue to send additional media coverage of your Health Center to grassroots@nachc.com.
Photos & Video - Health Center Advocates took some amazing photos and videos at their NHCW celebrations. You can see some of these photos here and on the Campaign for America's Health Centers Facebook site. Please, don't forget to submit the photos and video that show your Health Center pride to the NHCW 2014 Picture and Video Contest.
Many thanks to the Health Center Advocates from across the country who stepped up to make this year's celebration the best yet! This year Health Centers showed their communities and the nation that the Health Center Movement is an unstoppable force for good in their mission to improve the health and wellbeing of America's communities.
---
Ask Your Senators and Representatives to Sign the Bipartisan Cliff Letters Today!
The bipartisan Senate cliff letter led by Senators Stabenow (MI), Blunt (MO), Carper (DE), and Boozman (AR) as well as the bipartisan House cliff letter led by Representatives Granger (TX), Green (TX), Lance (NJ), and Price (NC) are currently circulating. Please reach out to your Senators and Representatives to request that they sign on to these letters to House and Senate leadership. Their signatures are a public showing of their support for the Health Centers Program and a responsible, bipartisan solution to the looming Health Center Funding Cliff. Both cliff letters as well talking points and the current list of signers can be viewed on the Funding Cliff section of the NACHC website.
---
NACHC Trainings on Medicare PPS
Are you ready? The new Medicare FQHC PPS begins phasing in October 1st, 2014. NACHC is holding one-day trainings to help you prepare. Sign up today – space is filling up quickly!
---
HRSA Issues Revised and Updated FTCA Manual
On July 21st, 2014, HRSA issued a new Federal Tort Claims Act: Health Center Policy Manual, which updates and supersedes the prior manual (PIN 2011-01). The new manual includes an expansion in FTCA coverage for certain services provided to non-Health Center patients experiencing individual emergencies under defined circumstances and clarification regarding coverage for participation in health fairs and immunization campaigns. To find out more about the new manual and this expanded coverage (as well as other revisions), check out the Policy Shop Blog.
---
NonProfit Vote Offers Voter Registration Webinar Tomorrow
Join Nonprofit VOTE to learn how to help your community register to vote during a webinar tomorrow, August 21st at 2PM ET. Learn how your Health Center can integrate voter registration into the work you already do including nonpartisan do's and don'ts, state requirements, registration tactics, and taking advantage of National Voter Registration Day on September 23rd. Sign up for the Nonprofit VOTE webinar here.
---
Media Spotlight
Health Centers were all over the news last week during National Health Center Week! Check out some of the features, op-eds, and videos featuring Health Centers on the NHCW website.
---
Tweet of the Week
Joseph M Smith CHC @JMSCHC: Happy #NHCW2014 to all our colleagues in community health!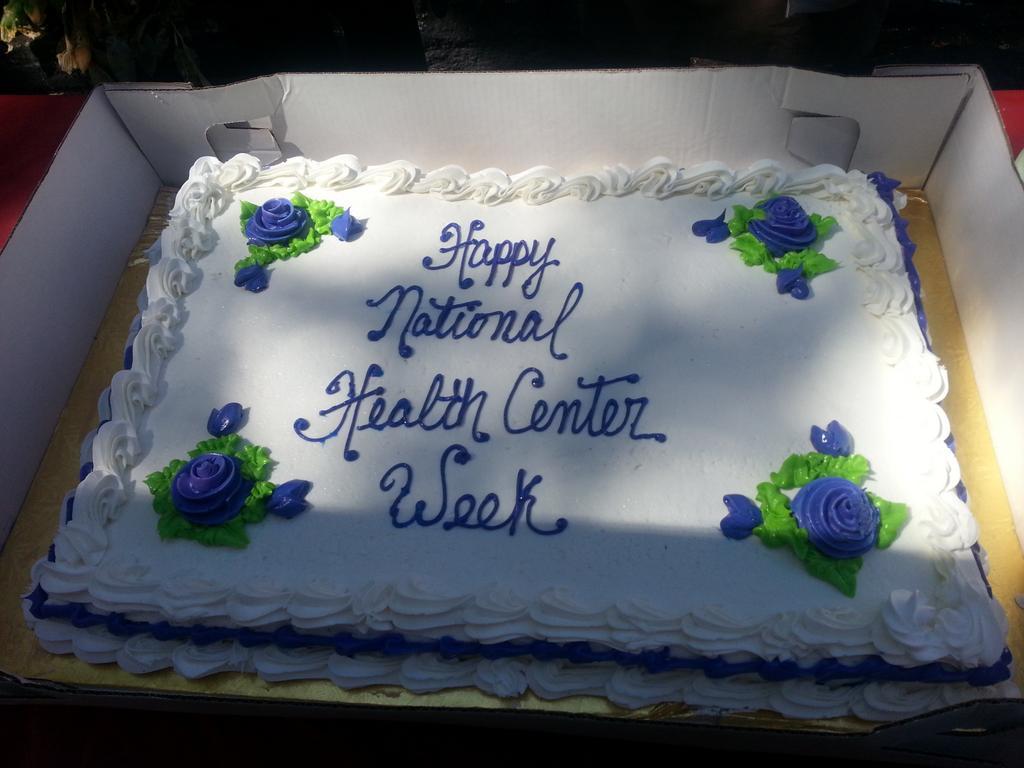 ---
Quote of the Week
"It's my sincere hope that as we work together we will be able to make every week National Health Center Week."
- HHS Secretary Sylvia M. Burwell during the NHCW 2014 TeleForum on August 13th
---
www.NACHC.org www.SaveOurCHCs.org
Was this email forwarded to you? Sign up to receive the weekly NACHC Washington Update e-newsletter
National Association of Community Health Centers
7501 Wisconsin Ave, Suite 1100W, Bethesda, MD 20814

You are subscribed to this organization's email list as sjenkins@le.utah.gov. If you did not subscribe, or would no longer like to receive email updates, click here to unsubscribe.