From: Morning Consult
To: Scott Jenkins,
Subject: Morning Consult Energy: Ohio First to Roll Back Renewable Mandate
Date: Mon Jun 16 13:26:56 MDT 2014
Body:
---
By Emily Holden (@emilyhholden)
Today's Washington Brief:
Ohio became the first state to roll back a law requiring utilities to use clean energy, Reuters' Valerie Volcovici reports.


In campaign news, the conservative Koch brothers are planning to spend $290 million to boost GOP candidates, including on a new energy initiative with a deregulatory approach, Daily Beast's Peter Stone reports.


The Senate Energy Committee votes Wednesday on the Keystone XL pipeline and two nominees to the Federal Energy Regulatory Commission. Earlier talks about switching the nominees so that current commissioner Cheryl LaFleur would be chairman instead of enforcement head Norman Bay seem to have died out, SNL's Glen Boshart reports. The committee also released a new round of responses from the nominees.


Today's Business Brief:

Today's Chart Review:

U.S. Crude Exports in April Rise to Highest Level in 15 Years
from Energy Information Administration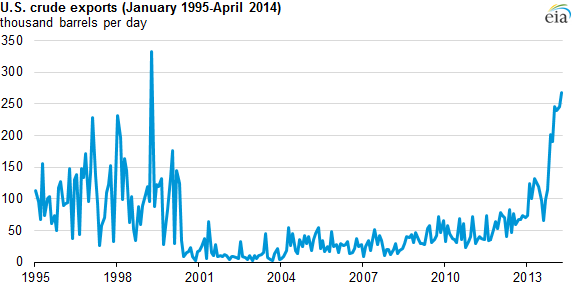 Mark Your Calendars (All Times Eastern):
Monday: International Association for Energy Economics conference in New York @ 8:45 am
Monday: Oil and gas cyber security summit in Houston @ 9:30 am
Monday: State Department Our Ocean conference @ 9:30 am
Monday: American Public Power Association expo in Denver @ 10 am
Monday: Energy Department meeting with update on Quadrennial Energy Review at NRECA @ Noon
Monday: CSIS talk on Arctic warming @ 4 pm
Tuesday: International Energy Agency webinar on medium-term oil market report @ 5 am
Tuesday: Energy Department meeting with update on Quadrennial Energy Review at NRECA @ 8 am
Tuesday: Greater Washington Region Clean Cities Coalition forum on vehicle fuel from waste @ 8:30 am
Tuesday: Oil and gas cyber security summit in Houston @ 8:45 am
Tuesday: International Association for Energy Economics conference in New York @ 9 am
Tuesday: Senate Agriculture hearing on bio-based manufacturing jobs @ 10 am
Tuesday: House Oversight hearing on Chemical Safety Board @ 10 am
Tuesday: Senate Appropriations energy and water markup @ 10 am
Tuesday: American Public Power Association expo in Denver @ 10 am
Tuesday: Standard & Poor's Ratings Services and Platts webcast and Q&A on oil and gas @ 11 am
Tuesday: Environmental Law Institute seminar on greenhouse gas leadership @ Noon
Tuesday: Government Services Administration Green Building Advisory Committee meeting @ 2 pm
Wednesday: Platts Transmission Planning and Development Conference @ 8:30 am
Wednesday: International Association for Energy Economics conference in New York @ 9 am
Wednesday: Senate Environment hearing on climate change with past GOP EPA administrators @ 10 am
Wednesday: House Appropriations energy and water markup @ 10 am
Wednesday: American Public Power Association expo in Denver @ 10 am
Wednesday: EPA's Holmstead and DOE's Tierney talk on EPA power sector proposal at BPC @ 10 am
Wednesday: Environmental and Energy Study Institute talk on grid-strengthening technologies @ 10 am
Wednesday: Bipartisan Policy Center talk on EPA power sector proposal @ 10 am
Wednesday: Senate Environment hearing on climate change @ 10 am
Wednesday: Senate Energy markup on Keystone XL, FERC nominees @ 10:30 am
Wednesday: ACORE teleconference on renewable energy investment @ Noon
Wednesday: House Natural Resources hearing on energy jobs @ 2 pm
Thursday: Platts Transmission Planning and Development Conference @ 7:30 am
Thursday: Senate Armed Services hearing on defense energy nominees @ 9:30 am
Thursday: House Energy hearing on EPA's power plant rules @ 9:30 am
Thursday: House Agriculture hearing on Clean Water Act agricultural exemptions @ 10 am
Thursday: Center for Climate and Energy Solutions webinar on water and energy @ 2 pm
Thursday: Senate Energy hearing on natural gas exports, consumption and transportation fuel @ 2:30 pm
Friday: House Natural Resources hearing on permitting/rights-of-ways for energy infrastructure @ 9:30 am
NEWS ARTICLES

1-11: General
12-17: Oil
18: Natural Gas
19: Utilities and Infrastructure
20: Coal
21: Renewables
OPINIONS, EDITORIALS, PERSPECTIVES

22: Bloomberg
23: The Advocate

RESEARCH REPORTS, ISSUE BRIEFS, CASE STUDIES

24: Senate Energy and Natural Resources Committee
25: BP
26: SunGard
1) FERC Nominee Swap Appears to be Dead as Senate Panel Schedules Vote
from SNL by Glen Boshart
The Senate Energy and Natural Resources Committee has scheduled a June 18 vote on the nominations of Norman Bay to chair FERC and Cheryl LaFleur to serve a second term as a commissioner with the agency, even as the nominees submitted further information for the record in response to inquiries by several senators on the committee. The vote has been scheduled even though committee ranking member Lisa Murkowski, R-Alaska, has been trying to negotiate a deal with the White House under which LaFleur, who is serving as acting chairman, would continue on as chairman and Bay would become a commissioner. Those efforts seemed to have failed.
2) Coal's Share of World Energy Demand at Highest Since 1970
4) 5 Things to Know about Rep. Kevin McCarthy's Energy Policies
from Wall Street Journal by Amy Harder
The likely new House majority leader, Rep. Kevin McCarthy (R., Calif.), says energy is the issue he cares the most about. Culled from a recent interview with Mr. McCarthy in his Capitol office, here are five things to know about where the expected second-most senior Republican in the GOP-controlled House stands on energy and environment issues.
5) Despite Representing Wind-Heavy District, New Majority Leader Likely to Oppose PTC Extension
from E&E by Nick Juliano
The impending promotion to House majority leader for Rep. Kevin McCarthy, the California Republican with a moderate reputation on energy policy who represents one of the windiest districts in the country, would at first seem like good news for clean energy supporters hoping to extend a key renewable electricity tax break at the end of this year. Not so fast. A source close to McCarthy told Greenwire he is not in favor of renewing the production tax credit, which expired at the end of last year.
6) At Commencement, Obama Mocks Lawmakers Who Deny Climate Change
from New York Times by Mark Landler
President Obama, appearing emboldened after his recent move to cut carbon emissions from coal-fired power plants, on Saturday ridiculed members of Congress who deny climate change or plead scientific ignorance as an alibi for avoiding an uncomfortable truth. Speaking in gleefully sarcastic terms to a commencement ceremony at the University of California, Irvine, Mr. Obama likened those who deny climate change to people who would have told John F. Kennedy, at the dawn of the space program, that the moon "was made of cheese." He saved his most scathing words for lawmakers who say they are not qualified to judge the issue because they are not scientists. These people, the president said, recognize the truth but will not utter it for fear of being "run out of town by a radical fringe that thinks climate science is a liberal plot."
7) Koch Brothers Unveil New Strategy at Big Donor Retreat
from Daily Beast by Peter Stone
The Koch brothers' financial network is planning on spending almost $300 million in the 2014 election, including a new anti-environment effort. In the face of expanding energy regulations, stepped-up Democratic attacks and the ongoing fight over Obamacare, the billionaire Koch brothers and scores of wealthy allies have set an initial 2014 fundraising target of $290 million which should boost GOP candidates and support dozens of conservative groups—including a new energy initiative with what looks like a deregulatory, pro-consumer spin, The Daily Beast has learned.
8) Feds: Eagle Ford Will Lead Shale Production Growth in July
from Houston Chronicle by Jennifer Hiller


The U.S. Energy Information Administration expects that the Eagle Ford Shale will produce 1.429 million barrels of crude oil and other liquids daily in July. It's a gain of around 24,000 daily barrels over June production, according to the EIA's latest Drilling Productivity Report, released Monday. The EIA data tracks the major U.S. shale fields — the Eagle Ford, Permian, Bakken, Marcellus, Haynesville and Niobrara. Most of the country's upswing in oil production is coming from the Eagle Ford, the Permian Basin in West Texas and the Bakken formation in North Dakota and Montana.
9) Markets Get a Jump on Washington on Climate Change
from Washington Examiner by Zack Colman
When it comes to climate change, the markets are moving faster than the policymakers in Washington.
Businesses are increasingly pricing into their business plans how much carbon-intensive assets an investments are affected by climate change and policies that might arise to tackle it. Some lenders and investors also are operating under the assumption of a "shadow" price on carbon, a nod to the riskiness some assets hold in an increasingly climate-conscious international policy arena.
10) Russia Cuts Gas to Ukraine While Maintaining Flow to EU
12) Oil Topping $116 Seen Possible as Iraq Conflict Widens
15) Global Oil Consumption Outpaces Production
from Wall Street Journal by Justin Scheck and Benoit Faucon
Global oil consumption last year grew faster than oil production, BP PLC said in its annual snapshot of world energy statistics. The BP Statistical Review of Energy, unveiled Monday morning at a Moscow conference, found that world-wide, oil consumption grew 1.4%, or 1.4 million barrels a day, which is slightly above the historical average. But oil production grew by just .6%, or 560,000 barrels a day. The imbalance points to several big trends in the industry in recent years.
16) U.S. Beats China's Oil Demand Growth in 2013 -BP
from Reuters by Ron Bousso
Oil demand in the United States grew at the fastest pace in the world in 2013, outstripping China for the first time since 1999 as the world's top economy reaped the benefit of the shale boom, oil major BP said on Monday. BP also said the United States recorded its largest-ever annual rise in production for a second year in a row at 1.1 million barrels per day (bpd). In its annual review of energy statistics, first published in 1951 and considered an industry benchmark, BP said U.S. oil consumption in 2013 grew by 400,000 bpd, the sharpest increase in the world, followed by China's rise of 390,000 bpd, BP said.
17) Feds Don't Inspect 4 in 10 Higher-Risk Wells
from USA Today by Hope Yen and Thomas Peipert (AP)


Four in 10 new oil and gas wells near national forests and fragile watersheds or otherwise identified as higher-pollution risks escape federal inspection, unchecked by an agency struggling to keep pace with America's drilling boom, according to an Associated Press review that shows wide state-by-state disparities in safety checks. Roughly half or more of wells on federal and Indian lands weren't checked in Colorado, Utah and Wyoming, despite potential harm that has led to efforts in some communities to ban new drilling.
18) After Oil, Natural Gas May Be Next on North American Rails
from Reuters by Edward McAllister
As politicians debate the dangers of a massive increase in oil carried by rail in North America, railroads and energy producers are considering the same for natural gas. Buoyed by the unexpected success of crude by rail, companies are beginning to consider transporting natural gas as remote drilling frontiers emerge beyond the reach of pipelines, executives said. Natural gas by rail is years away and likely to face strong public resistance after a series of explosive crude-by-rail accidents. But the potentially multibillion-dollar development could connect gas-rich regions like North Dakota with urban centers, presenting an opportunity for railroads, drillers and tank car makers already cashing in from hauling oil on trains.
19) 'Crude' Bomb at Ariz. Substation Stokes Broader Security Concerns
from E&E Blake Sobczak and Peter Behr
A homemade bomb police described as "really crude" caught fire early Wednesday at a critical electric substation in southern Arizona, causing little damage but invoking fears of a coordinated assault.
The nighttime attack charred the side of a 50,000-gallon diesel storage tank at the Valencia power delivery facility near Nogales, Ariz., but injured no one and did not interrupt power to the area, according to local law enforcement.
20) A Dilemma with Aging Coal Plants: Retire Them or Restore Them?
from Washington Post by Steven Mufson
...The average coal plant in the United States is 42 years old, but the oldest — and least efficient — date from the 1940s and early 1950s. Many of them also lack the most modern pollution controls and contribute to poor air quality. The likelihood that plants like this one will shut down by 2030 at the latest was one key factor in the Environmental Protection Agency's calculations about what limits to place on carbon emissions from existing coal plants. The closure of certain plants could bring the proposed statewide targets within easier reach.
21) Ohio Governor Freezes State's Clean Energy Law
from Reuters by Valerie Volcovici
Ohio Governor John Kasich on Friday signed legislation to freeze a six-year old law that required utilities to sell increasing amounts of green energy, making the state the first in the country to roll back a clean energy mandate. Kasich, a Republican mentioned as a possible contender for the 2016 presidential race, signed Senate Bill 310, which passed in the state's legislature with strong support from some of Ohio's biggest industrial power users, such as Alcoa, and the Ohio Chamber of Commerce.
OPINIONS, EDITORIALS, PERSPECTIVES
from Bloomberg
The best way to reduce emissions of greenhouse gases is to put a tax on carbon. Almost all economists would agree. Yet there's even wider agreement, and not just among economists, that a carbon tax can't happen. In the U.S., it's assumed, the idea will always be unpopular. It ain't necessarily so, as the song says. Smartly framed, a carbon tax has a fighting chance of success. And here's how to frame it: Dedicate all the revenue, not just some, to cutting other taxes.
23) Louisiana Spotlight: 'Big Oil' Lawsuit Issues Linger
from The Advocate by Kevin McGill (AP)
Legislation aimed at killing a south Louisiana flood board's lawsuit against the oil and gas industry has been passed and signed into law, but nothing is settled yet — including the future membership of the flood board itself. "We now move to the judicial branch where we will sort this out," lead attorney Gladstone Jones said after Gov. Bobby Jindal signed the measure into law. His statement portends fights in federal court, where the lawsuit currently lingers, and in state court. A state court challenge had been predicted by opponents even before final passage of the law that, in effect, retroactively kills the lawsuit. Critics of the law also predict BP PLC will use it to fight lawsuits filed by state and local governments over the 2010 Deepwater Horizon disaster.
RESEARCH REPORTS, ISSUE BRIEFS, CASE STUDIES
24) FERC Nominee Responses to Questions from Senate Energy Committee
from Senate Energy and Natural Resources Committee
...Bay: Because both FERC and state regulators are charged with protecting the public interest, they share a common interest and responsibility. It is important for FERC and state regulators to have a cooperative relationship while respecting each other's jurisdiction. If confirmed, I look forward to working with my state colleagues, including through coordination with the National Association of Regulatory Utility Commissioners (NARUC). While I have not attended a NARUC meeting, I have met with a number of state commissioners and staff in my official FERC capacity. I have also participated in FERC technical conferences that included commissioners from a number of state commissions.
25) BP'S Statistical Review of 2014
from BP
Global primary energy consumption increased by 2.3% in 2013, an acceleration over 2012 (+1.8%). Growth in 2013 accelerated for oil, coal, and nuclear power. But global growth remained below the 10-year average of 2.5%. All fuels except oil, nuclear power and renewables in power generation grew at below-average rates.
26) Market Study: Managing Optimization, Efficiency and Regulatory Compliance in the Natural Gas Market
from SunGard
The natural gas market is undergoing rapid change, fueled by abundant natural gas supply, improved recovery technologies and lower gas prices. While this change will offer substantial opportunity for pipeline and storage operators, the complexity of this evolving market will require market participants to adapt their business models to manage new risks, implement smarter and more efficient operations and develop agility for growth.