From: Morning Consult
To: Scott Jenkins,
Subject: Morning Consult Energy: Senate Panel To Vote On Keystone XL, FERC Nominees Wednesday; GOP Seeks to Block EPA Rule Through Funding Bill
Date: Fri Jun 13 16:31:59 MDT 2014
Body:
---
By Emily Holden (@emilyhholden)
Thanks to all who stopped by our happy hour last night! We hope you had fun and enjoy this edition of the "brunch" consult.
Today's Washington Brief:
The Senate Energy Committee will vote Wednesday on the Keystone XL oil pipeline and two nominees to the Federal Energy Regulatory Commission--votes that may help Chairwoman Mary Landrieu deflect GOP attacks in her reelection bid but that don't do any favors for another embattled Senate Democrat, Colorado's Mark Udall. Politico Pro's Darren Goode and Andrew Restuccia report.


Republicans will try to block the EPA's carbon emissions rule by denying funds to implement it, according to senior appropriators, Bloomberg's Derek Wallbank reports.


E&E's Elana Schor and Nick Juliano explain how House leadership battles launched by the fall of departing Majority Leader Eric Cantor could cause subtle shifts in energy policy based on district interests of potential replacements. Politico Pro's Darren Goode reports that the shake-up won't dramatically change energy policy objectives among the chamber's GOP leaders.
Today's Business Brief:

Today's Chart Review:

Projected Growth in Natural Gas-Fired Generation is Influenced by Resource Availability

from Energy Information Administration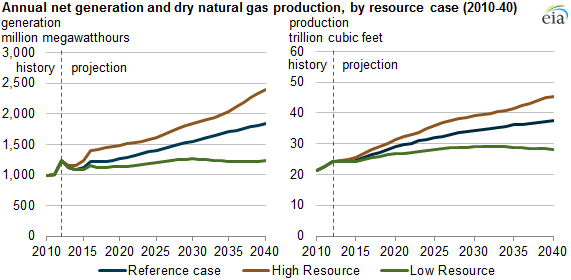 Mark Your Calendars (All Times Eastern):
Friday: U.S. Energy Association forum on efficiency at National Press Club @ 7:30 am
NEWS ARTICLES

1-10: General
11-14: Oil
15-17: Natural Gas
18-19: Utilities and Infrastructure
20-22: Nuclear
23: Renewables
OPINIONS, EDITORIALS, PERSPECTIVES

24: Times-Picayune
25: The Advocate
26: Bloomberg
27: ClimateProgress
RESEARCH REPORTS, ISSUE BRIEFS, CASE STUDIES

28: Office of Management and Budget


1) EIA Expects Oil, Gas Disruptions from Hurricanes
from UPI by Daniel J. Graeber
Oil and natural gas disruptions from hurricane activity in the Gulf of Mexico may be much higher than last year, the U.S. Energy Department said Thursday. The Energy Information Administration, the statistical arm of the Energy Department, said its mean estimate is that 12 million barrels of crude oil and 30 billion cubic feet of natural gas could be forced offline during the current hurricane season. That would be three and four times higher than 2013, respectively, if forecasts are accurate. EIA said its estimates are "highly uncertain" given the difficulty in predicting the intensity of storms in the Atlantic.
2) Republicans to Try to Block Funds for EPA Emissions Rules
11) Landrieu Vote on Keystone Poses Peril for Udall
from Politico Pro by Darren Goode and Andrew Restuccia
Senate Energy and Natural Resources Chairwoman Mary Landrieu's decision to hold votes next week on the Keystone XL oil pipeline and two FERC nominees may help her deflect GOP attacks in her reelection bid. But it doesn't do any favors for another embattled Senate Democrat seeking reelection — Colorado's Mark Udall — who will once again vote against the measure to approve TransCanada's crude oil project.
12) Documents: Railroads Want to Hit Brakes on Some Oil Train Safeguards
from Politico Pro by Kathryn A. Wolfe
The railroad industry is warning the White House against some potential safety rules for trains carrying explosive crude oil, saying freight and passenger rail traffic could be disrupted for years if companies must obey 30 mph speed limits, install more sophisticated brakes and keep the trains manned at all times.
The arguments, contained in documents posted after a meeting this week between railroad officials and the Office of Management and Budget, also offer a preview of what steps the Obama administration may be considering in response to oil train crashes that have struck the U.S. and Canada in the past year.
13) As Oil Industry Booms, Past Bust Rears Its Head
from National Journal by Jason Plautz
Just as the energy industry appears ready to ride the gas boom to success, a collapse from three decades ago is coming back to haunt it. When oil prices dropped in the 1980s, most companies imposed an effective hiring freeze, and many started shedding employees. That created a gap in workers of a certain age that, now that members of the baby-boom generation heading for the doors, is leaving the industry with nobody to take their places. And this "shift change," as some are calling it, is threatening to leave companies without the experience and labor they need—from welders to white-collar workers—as production ramps up.
14) Judge Throws Out Conviction of Ex-BP Engineer
from Houston Chronicle (AP)
A new trial was ordered Thursday for a former BP engineer convicted of deleting text messages related to the 2010 Gulf of Mexico oil spill. U.S. District Judge Stanwood Duval threw out Kurt Mix's obstruction-of-justice conviction, saying that remarks a jury forewoman overheard outside of the courtroom influenced the verdict.
15) Gas Utilities Vow Methane Actions as U.S. Mulls Standards
16) Economics of Natural Gas Don't Always Add Up For Fleets
from Houston Chronicle by Ryan Holeywell
Though natural gas is abundant in the U.S., whether it can serve as a financially viable transportation fuel is a difficult question to answer. Commercial fleet operators from across the country this week are in Houston discussing the economics of natural gas, which often is touted as a less expensive, cleaner-burning alternative to gasoline. But industry officials at the Natural Gas Vehicles USA conference say despite their hopes for natural gas, converting fleets to run on the fuel isn't always easy. Though the fuel has its advantages, the finances of making it work for fleets don't always add up.
17) New Utica Wells Rival Core Marcellus Output
from Houston Chronicle by Collin Eaton
Natural gas, and not oil, has turned out to be the dominant fossil fuel in Ohio's Utica Shale, a big disappointment to the industry that prompted BP and Halcón Resources to abandon the play earlier this year. But Aubrey McClendon's new wildcatting venture American Energy Partners and a handful of players are racing to snap up land in the southeastern corner of the play, where operators have found wet gas and high-performing, affordable wells that rival some in the core of the Marcellus Shale, an analyst said at a press briefing last week.
18) Law Enforcement Investigating Attempted Attack at Ariz. Power Facility
from SNL by Esther Whieldon
Federal and local law enforcement officials are investigating a possible attempt to cause an explosion at a large-capacity diesel fuel tank at the site of a power plant and electric substation in southern Arizona. Security for UniSource Energy Services and Tucson Electric Power Co. on the morning of June 11 called the Nogales Police Department to report a suspicious item at the Valencia power plant site, according to police spokesman Carlos Jimenez. A preliminary investigation determined that an incendiary type device was found next to a large-capacity fuel tank, Jimenez said in an interview.
19) Utility Watchdog, Chicago Seek Probe of Ill. Power Suppliers
from E&E by Jeffrey Tomich
A utility watchdog group and the city of Chicago are asking state regulators to investigate a proliferation of consumer complaints about electricity deals offered by alternative suppliers. The city and Citizens Utility Board, a consumer advocacy group, say the request filed yesterday with the Illinois Commerce Commission was prompted by consumer reports of confusing or misleading electricity offers and variable electricity prices that in some cases soared to levels that were multiple times above the utility default rate.
20) Fukushima Fires Up Atomic Industry's Removal-of-Liability Drive
from Bloomberg by Jacon Adelman
Japan will introduce legislation this year to ratify a controversial treaty backed by General Electric Co. and other atomic-plant manufacturers seeking protection from damage claims caused by nuclear accidents. The treaty, known as the Convention on Supplementary Compensation for Nuclear Damage or CSC, will encourage experienced U.S. companies to assist in the cleanup and decommissioning at the Fukushima atomic accident site, Japan's Foreign Ministry said in a statement today. Protection from accident claims is needed because of the dangers and risks that remain at Fukushima, said U.S. Deputy Energy Secretary Daniel Poneman in an interview in Tokyo yesterday. The plant has three melted reactors and thousands of tons of radioactive water.
21) Germany Says No More Credit Guarantees for Nuclear Exports
from Reuters by Markus Wacket and Madeline Chambers
Germany's government has decided to stop issuing credit guarantees for exports of equipment used for nuclear power generation because the risks to public safety are too great, the Economy Ministry said on Thursday. The guarantees offer security to exporters and banks who do business in emerging markets where there is a risk of non-payment.
22) French Nuclear More Costly Than Renewables by 2020 - Greenpeace
from Reuters by Michael Rose
Electricity produced by onshore wind and solar plants may become more competitive with power generated by upgraded nuclear plants in France by the end of this decade, a study by environmental group Greenpeace showed on Thursday. The study comes a week before Energy Minister Segolene Royal presents the broad lines of a much-delayed framework energy law that aims to spell out how France will cut the share of atomic energy to 50 percent from the current 75 percent by 2025.
23) Wisconsin Utilities Hit 10% Renewable Energy Goal, Two Years Early
from Journal Sentinel by Thomas Content
Wisconsin utilities generated more than 10% of the state's power from renewable sources in 2013, hitting the clean energy target two years before the deadline set by the state Legislature. State energy regulators announced the milestone in approving utilities' 2013 compliance reports with the state law that passed in 2006 to boost Wisconsin's renewable power supplies. The reports show renewables comprised 10.17% of power generation last year, up from 3.8% in 2006.
OPINIONS, EDITORIALS, PERSPECTIVES
24) On Keystone XL Pipeline, Sen. Mary Landrieu's Indispensability and Clout Diminish
from Times-Picayune by James Varney
When it comes to the Keystone XL Pipeline is Sen. Mary Landrieu, D-La., waffling on her indispensability? Perhaps she is just clarifying it. In a rather curious comment to reporters Thursday, Landrieu seemed to shrink both her power and her responsibility. The Senate Energy and Natural Resources Committee, which she chairs, will hold a vote next week on the Keystone XL Pipeline and after that, Landrieu said, her work is done. "Look, I can have a lot of influence - not sole - but I have tremendous influence at the committee level as chair. Not complete - I have a minority and a majority to consult. But I can move this out of committee," she said.
25) Energy Sector a Big Issue in Senate Race
from The Advocate by Stephanie Grace
When U.S. Sen. Mary Landrieu became chair of the powerful Energy and Natural Resources Committee, it was hard to envision a downside for her and her tough reelection bid. The new post played to her strengths, from her seniority to her advocacy for a vital local industry. What could go wrong? A few months and several major policy skirmishes later, the answer to that question is clear. Landrieu's chairmanship positions her as a champion of oil and gas. But it also casts a spotlight on the outer limits of her power, and the distance between Landrieu and the Democratic leadership on key issues. So while she's talking about the new gig every chance she gets, so are the people who want her tenure to be short-lived.
26) Carbon Tax Isn't Killing Jobs ... In Australia
from Bloomberg by Christopher Flavelle
...Although the Australia's macroeconomic indicators have flagged since the tax took effect, that had little to do with the tax, economists say. Meanwhile, the tax succeeded at reducing emissions. What Abbott paints as a cautionary tale may instead be a model for the U.S. and others to follow.
27) 'Coal Princesses': Inside The World Of Coal-Themed Beauty Pageants
from ClimateProgress by Emily Atkin
...People like Cole-Tinnel, part of a subset of Americans who see coal mining as the backbone of their communities, have been watching their beloved industry decline for some time, and are holding tight to the things that keep their culture alive. One of those traditions is West Virginia's annual Coal Festival, which has featured Cole-Tinnel's beauty pageant for teens, toddlers, and infants, for the last nine years. The participants are dubbed coal queens, coal princes, and coal princesses when they win their crowns...Though they may seem unique, coal-themed beauty pageants are not just a West Virginia phenomenon. They are held throughout the country, widely seen as a way to celebrate miners and what they've done for their communities.
RESEARCH REPORTS, ISSUE BRIEFS, CASE STUDIES
28) 2014 Draft Report to Congress on the Benefits and Costs of Federal Regulations and Unfunded Mandates on State, Local, and Tribal Entities
from Office of Management and Budget
It should be clear that across the Federal government, the rules with the highest estimated benefits as well as the highest estimated costs, by far, come from the Environmental Protection Agency and in particular its Office of Air and Radiation. Specifically, EPA rules account for 63 to 82 percent of the monetized benefits and 46 to 56 percent of the monetized costs. Of these, rules that have as either a primary or significant aim to improve air quality account for 98 to 99 percent of the benefits of EPA rules. As such, we provide additional information on the estimates associated with these rules.

E&E covers the report.