From: Morning Consult
To: Scott Jenkins,
Subject: Morning Consult Energy: Climate Plan, Like Health Care Act, Relies on States
Date: Wed Jun 04 12:48:29 MDT 2014
Body:
---
By Emily Holden (@emilyhholden)
Today's Washington Brief:
Today's Business Brief:

The cost of the regulation is highly dependent on whether Americans will use more or less electricity in the years to come. Wall Street Journal explains how the EPA thinks the rule will cost utilities and their customers $8.8 billion a year while the U.S. Chamber of Commerce pegs the cost at up to $28.1 billion a year.


The U.S. imposed steep tariffs on importers of Chinese solar panels, New York Times' Diane Cardwell reports.


SNL looks at how LNG export projects could slot into the Energy Department's reshuffled review queue.


Today's Chart Review:

Recent Trends in Energy-Related CO2 Emissions Vary Across Regions and States
from Energy Information Administration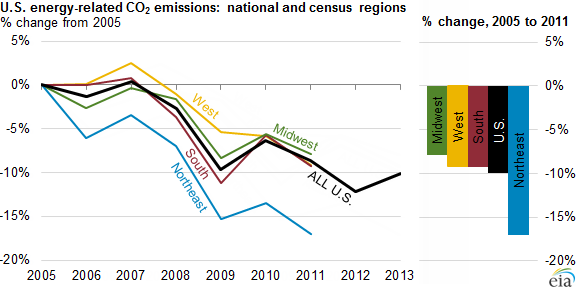 Mark Your Calendars (All Times Eastern):
Wednesday: Senate Environment hearing on NRC's post-Fukushima actions @ 10 am
Wednesday: Energy Storage Association conference @ Noon
Wednesday: Resources for the Future seminar on the future of insurance @ 12:45 pm
Thursday: Energy Storage Association conference @ 8:30 am
Thursday: Resources for the Future seminar on EPA's greenhouse gas regulations @ 9 am
Thursday: United States Energy Association briefing on geologic carbon storage resources @ 10 am
Thursday: Senate Foreign Relations hearing on Ukraine @ 10 am
Thursday: Solar Energy Industries Association and GTM Research webinar on solar quarterly report @ 1 pm
Friday: Energy Storage Association conference @ 8 am
NEWS ARTICLES

1-16: General
17: Oil
18-20: Natural Gas
21: Utilities and Infrastructure
22-23: Coal
24-25: Renewables
OPINIONS, EDITORIALS, PERSPECTIVES

26: Wall Street Journal
27: Bloomberg
28: Houston Chronicle
29: 38 North Solutions
RESEARCH REPORTS, ISSUE BRIEFS, CASE STUDIES

30: Bloomberg
1) Natural Gas, Not Location, Key to State Emissions Cuts Under EPA Proposal
from Washington Examiner by Zack Colman
At first blush, it's a head-scratcher — how could Washington, a state known for its hydroelectric power and greenery, be expected to slash nearly 72 percent of its carbon emissions when North Dakota needs to cut only 10.6 percent? When it comes to the Environmental Protection Agency's proposed rule for reducing carbon emissions from power plants, which seeks reductions 30 percent below 2005 levels by 2030, not everything is as it seems. The steepest proposed emissions cuts weren't based on region or coal dependency as much as they were on the ability to squeeze more out of natural gas generators.


2) U.S. Fossil-Fuel Cut Must Go Deeper to Spur Climate Fight
from Bloomberg by Reed Landberg and Lananh Nguyen
The U.S. must go much further than President Barack Obama has proposed in reducing carbon emissions if the fight against global warming is to gain any traction. Obama proposed cutting the share of U.S. electricity generated from coal-fired plants to 30 percent by 2030 from 39 percent last year, according to a statement from the Environmental Protection Agency. That must decline to 14 percent to prevent dangerous climate change, the International Energy Agency estimates.
3) What's the Real Cost of the EPA's Emissions Cap?
from Bloomberg by Cassandra Sweet and Amy Harder
Are the new federal limits on greenhouse-gas emissions going to cost a lot, as critics say, or a little, as the Environmental Protection Agency asserts? That depends on whether you think Americans are going to use more electricity in coming years or cut way back. The EPA assumes electricity consumption will drop sharply. That plays a significant role in the agency's calculation of the cost of complying with new rules to slash the carbon emissions from the utility industry. The industry accounts for about a third of all U.S. emissions, most of it from burning coal. "Other people using more realistic assumptions would predict a higher cost," said Jeffrey Holmstead, an EPA official during the Bush administration who now works as a lawyer and consultant for Bracewell & Giuliani LLP in Washington.
4) EPA Head Says Significant Changes Possible in Carbon Plan
from Bloomberg by Mark Drajem
The Obama administration will revise its proposal to fight climate change in the next year if individual states show they can't meet the targets, the head of the Environmental Protection Agency said. Gina McCarthy, administrator of the agency that wrote the proposal issued yesterday, said she expects "significant" revisions in the state emission goals before a final rule is issued next year. "I put out a proposal that I believe will allow everybody to get at a table and roll their sleeves up," McCarthy told Bloomberg reporters and editors today inWashington. The agency now anticipates "a lot of give and take with the states."
5) Taking Page From Health Care Act, Obama Climate Plan Relies on States
from New York Times by Coral Davenport and Peter Baker


President Obama's new plan to fight climate change depends heavily on states' devising individual approaches to meeting goals set in the nation's capital, a strategy similar to the one he used to expand health care, often with rocky results. Rather than imposing a uniform standard for reducing power plant carbon emissions, the regulation unveiled on Monday offers the states flexibility to pick from a menu of policy options. But as with health care, the policy could lead to a patchwork of rules that frustrate businesses and invite resistance from states that oppose the policy.
6) EPA Proposal Puts States with Abundant Green Power in Catbird Seat
from E&E by Nick Juliano
The sweeping proposal to limit the power sector's contribution to climate change unveiled yesterday could pay dividends for states that embraced wind and solar power early on. In seeking to provide as much flexibility as possible for states to craft plans to reduce greenhouse gas emissions from existing power plants, U.S. EPA recommended policies to expand renewable energy generation as one of four building blocks that states should include in the plan. It also contemplates the creation of multi-state trading programs that would facilitate cross-border opportunities to maximize emissions reductions. "Extra renewables in one state could be used to offset emissions in another state," said Kate Zyla, deputy director of the Georgetown Climate Center.


7) Politics May Sour Cap-And-Trade Sweeteners in Obama Plan
from Bloomberg by Jim Snyder and Christopher Martin
Obama administration officials gave new life to cap-and-trade yesterday. Just don't expect them to say so. Republicans championed the approach decades ago then rejected it when President Barack Obama pushed it in 2009. States may now view the politically toxic concept as a way to comply with limits on carbon emissions from power plants Obama proposed yesterday. "I suspect it's an option that many states will seriously look at," said Jason Bordoff, director for Center on Global Energy Policy at Columbia University in New York.
8) Lawyers Begin to Plan Attacks on Obama's Complex Power Plant Rule
from E&E by Tiffany Stecker
The final say on U.S. EPA's broadly written power plant rule will undoubtedly be made by a court, legal experts on both sides of the debate said yesterday... As attorneys wade through the rule's 645 pages, arguments are taking shape for the next stage of the regulatory process, which is the legal battles to come...Even before yesterday's announcement, the most contentious issue in this rule has been whether EPA has the authority to regulate beyond an individual power plant and allow states to switch fuel sources, increase renewable energy capacity and push for demand-side efficiency -- options two through four.


9) Scars From Last Climate Bill Show Up in Ambitious EPA Power Plant Rule
from E&E by Joel Kirkland
Five years after the House voted on the cap-and-trade bill offered by Rep. Henry Waxman (D-Calif.) and then-Rep. Ed Markey (D-Mass.), the economy is in much better shape. Public support for action appears stronger. A boom in domestic production has already accelerated the switch from coal to natural gas. But the idea of putting the federal government in charge of slashing emissions across a big, complex economy is still contentious.


10) Lawmakers Vowing to Derail Power Plant Rule Have Little Hope of Success
from E&E by Nick Juliano
Lawmakers from both parties vowed yesterday to pull out all the stops to block President Obama's landmark rule to slash greenhouse gas emissions. But their supporters off Capitol Hill were privately grappling with a starker reality: No matter how many bills are introduced or appropriations riders floated, the regulatory process will march on unabated. "I'm kind of depressed," said one Republican lobbyist who privately acknowledged that any effort to block the rule in Congress would be a "fool's errand."


11) McConnell Plans Senate Effort to Preempt EPA Carbon Crackdown
from Reuters by Valerie Volcovici
Senate Minority Leader Mitch McConnell on Tuesday introduced a bill that would try to block newly proposed government regulations that seek to curb carbon emissions from U.S. power plants. McConnell, a Republican who represents Kentucky - a major coal-producing state which is also reliant on coal for electricity generation - faces a tight re-election battle in November's elections and has been campaigning on a promise to protect the state's ailing coal sector.


12) Could Climate Rule Spark Shutdown Fight?
from The Hill by Eric Wasson
With the rule now moving forward, House Republicans could try to stop it by including a provision in one of the annual appropriations bills. They used the tactic last year in an omnibus spending bill, blocking regulations on everything from light bulb standards to gun exports to workplace regulations on family farms.
The EPA and Interior Department's annual appropriations bill has been subject to such policy riders before, so it's possible that Republicans will insert language into this year's bill to prevent Obama's carbon crackdown from taking effect. "These new regulations certainly would not help the effort to find common ground on the Interior/Environment bill for FY 2015," one GOP aide warned. "Many members on both sides of the aisle believe that EPA's actions will kill jobs and skyrocket energy prices."


13) Obama Officials Seek Democratic Support for EPA Coal Rule
from Bloomberg by Kathleen Hunter
Top advisers to President Barack Obama are trying to sell fellow Democrats in the U.S. Senate on the administration's plan to cut greenhouse-gas emissions frompower plants. White House Chief of Staff Denis McDonough and counselor John Podesta briefed Senate Democrats yesterday on a proposed Environmental Protection Agency rule that would set state-by-state targets to reduce carbon-dioxide emissions by an average 17 percent from current levels by 2030. West Virginia Senator Joe Manchin, one of several Democrats seeking changes to the proposed rule, said the White House officials didn't take questions though Podesta said he'd meet privately with senators who had concerns.
14) Candidates in Tight Races Vie for Advantage in Aftermath of Power Plant Proposal
from E&E by Manuel Quiñones and Elana Schor
Politicians -- especially those in tough November contests -- are scrambling to gain the political upper hand following the Obama administration's latest rulemaking to address greenhouse gas emissions from existing power plants. The issue appears to have put coal-state Democrats in tight races on the defensive, looking to push back against Republican claims that they are part of President Obama's regulatory agenda. Flexibility built into U.S. EPA's proposal released yesterday, including different greenhouse gas targets for different states, and potential benefits to other fuels like natural gas have not assuaged critics.

15) North American Energy Supply Needs Steady Investments, Clear Policymaking, Says IEA
from SNL by Carolyn Davis
North America's oil and natural gas output could begin to plateau in the early 2020s without adequate investments, the International Energy Agency (IEA) predicted on Tuesday. Meeting global energy demand will require more than $48 trillion in total worldwide investments to 2035, according to the special report by the global energy watchdog, the first investment update in more than a decade. Today's annual investments in energy supply, averaging around $1.6 trillion worldwide, will need to increase steadily over the coming decades to around $2 trillion by 2035. Annual spending on energy efficiency, measured against a 2012 baseline, will need to increase from $130 billion today to more than $550 billion.

17) So Far, Summer Demand Hasn't Boosted Pump Prices
from Houston Chronicle by Don Mason
Gasoline prices remained steady in the week since Memorial Day, traditionally the start of summer vacation season, AAA reports. A gallon of regular averaged $3.66 nationwide on Tuesday, barely up a penny from a week ago. Motorists were paying more than 20 cents less in Houston than the national average–$3.44 a gallon, up less than a penny from the week before, according to AAA's Daily Fuel Gauge Report.


18) Obama Emission Rules Discount Gas Leaks, Scientists Say
19) The Potential Downside of Natural Gas
from New York Times by Matthew L. Wald
...When burned in a power plant, natural gas has a smaller carbon footprint than coal, and when it displaces coal, emissions decline. That part is easy to quantify. Coal generation peaked in 2007 at a little over two billion megawatt hours while in 2013 it dropped to 1.58 billion, according to the Energy Information Administration. (A megawatt-hour, or 1,000 kilowatt-hours, is the amount of electricity a typical suburban house uses in a month.) Over the same time, gas generation started at 857 million megawatt-hours and ended at 1.2 billion. If all the increase in gas-fired generation replaced coal, then the switch produced savings of 113.1 million tons of carbon a year. But natural gas is starting to replace nuclear power, which can be seen as wiping out about 10 percent of the savings, because a reactor has a carbon footprint of nearly zero.
20) How LNG Export Projects Could Slot Into DOE's Reshuffled Queue
from SNL by By Neil Powell and Sean Sullivan
A proposed policy change from the U.S. Department of Energy would reorganize its queue for LNG export applicants according to the strength of the related projects to build export terminals. SNL Energy analyzed FERC data to sort out where projects stand and which applicants might be next in line for DOE attention.
Completing the requirements and studies of the FERC review process is much more costly and involved than the DOE review process, with one attorney remarking that the $50 application fee at the DOE has encouraged "a lot of fly-by-night applications." The new DOE policy is designed to push "the more commercially advanced projects" to the front, according to the department's May 29 Federal Register notice introducing the concept for public comment. The proposal met with mixed reviews in its first few days.
21) NRG Yield to Buy Largest U.S. Wind Farm for $870 million
from Reuters
NRG Yield Inc, a unit of NRG Energy Inc, said it would buy California's Alta Wind Energy Center, the largest wind farm in North America, for $870 million. The acquisition totals 947 megawatts of operating wind capacity and includes a portfolio of land leases associated with the Alta Wind facility, NRG Yield said on Wednesday...In December 2013, NRG Energy said it would close down two of its coal-fired power plants in Maryland due to tightening air emission regulations.
22) In Debate Over Coal, Looking to Lessons of '90s Tobacco Fight
from New York Times by Jonathan Weisman
The Environmental Protection Agency's proposed regulation of power plant emissions signals the beginning of a fight over coal and climate change. Any chance of a resolution is likely to depend on the combatants agreeing to a reduction in emissions in exchange for help to coal-dependent regions and assistance to workers struggling with higher energy costs. In that way, the so-called War on Coal is reminiscent of the War on Tobacco during the 1990s. Then, federal and state officials keyed in on a widely reviled product pulled from the earth in some of the nation's poorest regions, intent on regulating it to minimize its health effects and societal damage. A truce took hold in large part because workers dependent on it for their livelihoods — and the lawmakers intent on defending it — were compensated.
23) Pa. Coal Area Worries Emission Rules Will Cost Economy Jobs
from NPR
In Greene County, Pa., one in five jobs is in the coal industry. The EPA rules announced Monday were met with skepticism, and worries about what it will mean for the local economy.
24) U.S. Imposes Steep Tariffs on Importers of Chinese Solar Panels
from New York Times by Diane Cardwell
The Commerce Department on Tuesday imposed steep duties on importers of Chinese solar panels made from certain components, asserting that the manufacturers had benefited from unfair subsidies. The duties will range from 18.56 to 35.21 percent, the department said. The decision, in a long-simmering trade dispute, addresses one of the main charges in a petition brought by the manufacturer SolarWorld Industries America. While it is preliminary, the ruling means that the United States will begin collecting the tariffs in advance of the final decision, expected later this year.
25) Tea Party Group Wants to Kill Wind Tax Credit
from Houston Chronicle by Collin Eaton
Tea Party activists say it isn't enough to put their own into office. They need a policy win. On their list of potential targets: The $13 billion wind-production tax credit. "It's wasteful government spending," said Judson Phillips, founder and president of Tea Party Nation, in an interview with FuelFix this week. Phillips and others formed a new group in April, called Waste in the Wind, to rally support to kill a tax incentive for wind-power generators he says is a form of corporate welfare that costs taxpayers billions of dollars and creates imbalance in energy markets.
OPINIONS, EDITORIALS, PERSPECTIVES
26) Stranded Carbon Democrats: Obama's New EPA Rule Hits Some States Much Harder Than Others.
from Wall Street Journal
...Note that the other states in the bottom 10 are all in New England or on the East and West coasts. These are by and large liberal states that produce or use less carbon energy, depend less on manufacturing, and have already imposed some limits or higher costs on fossil fuels. Contrast those with the top 10 states in carbon intensity, led by Wyoming with more than 11 times the CO2 per million dollars of GDP as New York. The other nine are all major fossil-fuel producing states, either oil and gas (Louisiana and North Dakota) or coal (Kentucky and West Virginia), or still rely heavily on coal to produce their electricity (Indiana)...The carbon contrast also explains why Mr. Obama and the national Democrats aren't all that worried about the political impact of their new rule. The hardest hit states aren't Democratic states. Democratic candidates easily carry the electoral votes each presidential year of the least-carbon-intensive states, while they essentially write off all of the electoral votes of the top 10.
27) Obama's Anticlimactic Climate Plan
from Bloomberg by The Editors
...The proposal's goal is to reduce greenhouse-gas emissions by 30 percent by 2030. That reduction will be measured, however, from 2005 -- and emissions have already fallen by 12 percent since 2005. Even if the plan succeeds, it would have only a slight effect on global emissions...Yet it's not quite fair to say the rules are insufficiently ambitious. That's because, by allowing the states flexibility in how they meet these goals, they could provide a template for future regulation. There's also something to be said for achievable goals. Not only will a successful plan of its own help the U.S. persuade other nations to reduce their carbon emissions, but it also may bring about technologies that can help the rest of the world do the same. The rules proposed today by the Environmental Protection Agency would push power producers -- the country's biggest carbon polluters -- to use more natural gas and other sources of power, burn less coal and close the dirtiest coal plants altogether. The EPA would offer states four strategies to help them reach these goals.
28) Texas Can Handle This EPA Rule
from Houston Chronicle
We're disappointed but not all that surprised by the knee-jerk opposition by 29 members of the Texas congressional delegation - including Democrats Sheila Jackson Lee and Gene Green from Houston - to President Barack Obama's proposed regulations to begin scaling back greenhouse gas discharges from the nation's power plants. They fired off a protest letter to the administration before the president had even unveiled the plan...Far from draconian, the plan gives states much flexibility in deciding how to reduce carbon emissions...Texas already has a good head start in that direction with increasing use of gas-fired plants, which are cleaner and can rely on the new flood of cheap natural gas from hydraulic fracturing at shale deposits in the state. Last year, 63 percent of the state's electrical production was generated by sources other than coal.
29) Our Take: Clean Energy and EPA 111(d) Rule on Existing Power Plants
from 38 North Solutions
In this draft, the EPA asks specifically for input in a variety of areas, including in clean energy technologies. The proposal is ambitious, yet there is room for improvement. Key points for clean energy advocates are:
EPA seems conservative in estimating the impact demand-side resources (1.5%) could have on reducing overall emissions; there is an opportunity to ensure state methodologies can fully value these distributed energy resources.
There is the prospect for grid-scale renewable energy resources to create a larger footprint than even anticipated in meeting these goals.
The full value of distributed and grid scale energy storage to increase grid and power plant efficiencies while enabling cleaner resources may not be fully represented in the rule.
RESEARCH REPORTS, ISSUE BRIEFS, CASE STUDIES
from Bloomberg by Alessandro Vitelli
...For emissions markets to work, they must provide incentives to upgrade plants, switch to cleaner fuels or pay for green investments in one place that theoretically offset pollution someplace else. Governments figure out how much pollution-cutting their economies can tolerate, then distribute or sell individual rights to release carbon dioxide. As the pool of permits shrinks over time, companies that clean up their acts have more allowances than they need and can sell them to offset costs. The types of carbon markets and their prices vary around the world, partly because emissions can be reduced at a lower cost in developing countries. The pilot systems in China, the world's biggest emitter, don't try to make cuts in the overall level of pollution, but instead aim to trim the amount per unit of industrial production. It's therefore possible that China's total emissions will continue to rise.