From: Morning Consult
To: Scott Jenkins,
Subject: Morning Consult Energy: White House Expects GOP Resistance on EPA Rules; Feds to Reorder Natural Gas Export Reviews
Date: Fri May 30 13:24:30 MDT 2014
Body:
---
By Emily Holden (@emilyhholden)
Today's Washington Brief:
The top White House adviser on climate change told House Democrats that he expects some Republican governors will resist upcoming carbon emmissions rules for power plants but not with the same intensity that they fought the health care overhaul law, according to Bloomberg. Wall Street Journal reports the rules will spark lawsuits.
Today's Business Brief:

Today's Chart Review:

Mexico's Energy Ministry Projects Rapid Near-Term Growth of Natural Gas Imports from U.S.
from Energy Information Administration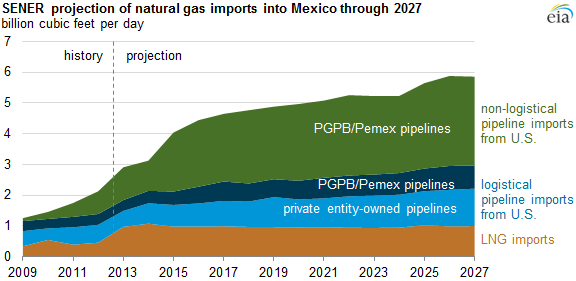 Mark Your Calendars (All Times Eastern):
Friday: House Energy oversight hearing on DOE loan programs @ 9:15 am
NEWS ARTICLES

1-12: General
13-14: Oil
15-17: Natural Gas
18-19: Utilities and Infrastructure
21: Coal
22: Nuclear

OPINIONS, EDITORIALS, PERSPECTIVES

23: Washington Post
24: New York Times
25: Politico
RESEARCH REPORTS, ISSUE BRIEFS, CASE STUDIES

26: American Petroleum Institute by ICF International
27: Government Accountability Office
28: Department of Energy
29: Executive Office of the President
30: North American Electric Reliability Corporation
1) Obama Aide Previews Carbon-Emissions Rules for Democrats
from Bloomberg by Derek Wallbank, Jonathan Allen and Mark Drajem
2) EPA's Carbon Rule to Spark Lawsuits
from Wall Street Journal by Brent Kendall and Alicia Mundy
The expected legal battle over the Obama administration's coming limits on carbon emissions from existing power plants could provide a rarity for environmental litigation: a case for which there is scant court precedent. The Environmental Protection Agency is turning to a little-used provision of the Clean Air Act for its new rules, because carbon dioxide isn't regulated under major programs that address air pollutants. The EPA says it has only used the section, called 111(d), to regulate five sources of pollutants since it was enacted in 1970—and none on the scale of CO2, a major greenhouse gas. Because the provision has been invoked so rarely, courts have had little opportunity to weigh in on it, creating the unusual circumstance in which potential challengers to the carbon rules would be litigating largely on a blank slate against the EPA.
3) Climate Change Meets Kitchen Table as Issue Gets Personal
5) White House Report Touts Success of Energy Policy as EPA Rules Loom
from Houston Chronicle by Jim Kuhnenn (AP)
Setting the stage for upcoming restrictions on coal-fired power plants, the Obama administration is making a concerted effort to cast its energy policy as an economic success that is creating jobs, securing the nation against international upheavals and shifting energy use to cleaner sources. In a 42-page report released Thursday, the White House argues that significant increases in the domestic production of natural gas and reductions in oil consumption have better positioned the United States to advance its economic and environmental goals. Few of the report's conclusions are new, but it includes a detailed analysis of how past reliance on petroleum imports made the U.S. economy especially susceptible to oil price shocks, a vulnerability that White House economists say has been diminished by a reduced U.S. demand for foreign oil.
6) In St. Paul, EPA Chief Touts Energy Efficiency to Cut Greenhouse Gases
from Star Tribune by David Shaffer
In a glimpse into the Obama administration's approach to curbing greenhouse gas emissions from power plants, the U.S. Environmental Protection Agency administrator said Wednesday that state programs like Minnesota's that advance energy efficiency need to be copied elsewhere. "Minnesota has been aggressive on this issue," EPA Administrator Gina McCarthy said on a tour of the Science of Museum of Minnesota's new, highly efficient heating and cooling system. "We don't need to start from scratch. People get this. We just need to learn from what's already happening and figure out how to jump-start that in other places." The EPA is set to announce on Monday proposed regulations to curb carbon emissions at U.S. coal-burning power plants, which contribute about 40 percent of the nation's greenhouse gases.
7) GAO Shuts Down McConnell's Push to Block EPA Carbon Reg
from The Hill by Laura Barron-Lopez
The Government Accountability Office (GAO) said Thursday that if Senate Minority Leader Mitch McConnell (R-Ky.) wants to block the Obama administration's carbon limits for new power plants, it can't be through the Congressional Review Act. The GAO said that under the act, the agency can't trigger a review on a proposed rule — the rule must first be finalized. The Environmental Protection Agency proposed its rule to limit carbon emissions from new coal-fired power plants in January, but it isn't expected to be finalized until sometime next year.
8) Shell May Boost Internal Carbon Price as Emission Rules Tighten
10) Russia, North America Lead Worldwide Growth in Energy Jobs
from Houston Chronicle by Simone Sebastian
Hiring in the oil and gas industry rose globally in the first quarter of 2014, led by Africa, Russia and North America, according to the Hays Oil & Gas Job Index. However, the report came with a caveat: A shortage of key skills in the general workforce continues to threaten the industry's growth, as new projects and business investments demand higher headcounts. The quarterly job index is based on the number of open positions posted on nine oil and gas job portals worldwide. Hays did not report those job counts, but folded them into a single index number that was set at 1 in October 2010 and rose to 1.65 in the first quarter of 2014.
11) Lawmaker Criticizes Process for Border-Crossing Energy Projects
from Houston Chronicle by Jennifer A. Dlouhy
With North American energy markets becoming increasingly intertwined, the U.S. needs to revamp the way it scrutinizes power lines and pipelines crossing into Canada and Mexico, U.S. Rep. Gene Green of Houston said Thursday. The current process — built up through a series of presidential orders dating back to the 1950s — is unwieldy and inefficient, leading to long delays in scrutinizing even modest applications involving existing pipelines, Green said. At the same time, trucks and trains face few impediments to carrying energy supplies across U.S. borders into Canada and Mexico, he said...Green and House Energy and Commerce Chairman Fred Upton, R-Mich., are pitching legislation that would revamp the review process for border-crossing power and pipelines. The measure, approved 31-19 by the energy panel on May 8, is on track to be considered by the full House of Representatives in June.
12) U.S. Stock-Index Futures Are Little Changed Before Data
13) Oil Producers Make Crude Export Pitch
from Houston Chronicle by Jennifer A. Dlouhy
The oil industry stepped up its campaign to export crude on Thursday, releasing a report tying the foreign sales to new jobs nationwide. Although Texas and other states with oil production would see the biggest economic benefits, according to the ICF International analysis released by the American Petroleum Institute, new jobs would extend well beyond the oil patch to New York, California and other parts of the country.
The API-ordered study, along with a separate new assessment from the research and analytics firm IHS, document widespread economic benefits from lifting the 39-year-old crude export ban, as the oil industry seeks to convince policymakers to dismantle trade restrictions born out of the OPEC oil embargo.
14) Railcar Shortage in U.S. Pushes Up Lease Rates
from Wall Street Journal by Bob Tita
A shortage of railcars bedeviling farmers, auto makers and oil drillers has become a windfall for some railcar manufacturers, lessors and finance companies. "There's strong demand for a broad base of car types and there's not enough inventory," said David Nahass, senior vice president at Railroad Financial Corp., a Chicago-based investment adviser. "As an operator or lessor in this environment, this is what you pray for." Monthly rates for tank cars, which transport liquids such as crude oil, have increased to $1,500 to $2,000 a car from about $500 in early 2011, before hydraulic fracturing ramped up in North Dakota's Bakken Shale oil field. Cars that haul sand for fracking are leasing for about $650 a month, up nearly 50% from the end of last year, according to leasing-industry analysts.
15) Feds Upend Natural Gas Export Reviews
from Houston Chronicle by Jennifer A. Dlouhy
The Obama administration on Thursday proposed dramatically changing the way it is reviewing applications to widely export natural gas, with a plan that effectively moves more commercially advanced projects to the front of the line. The newly proposed procedure, announced by Assistant Energy Secretary Christopher Smith in a blog post, would replace a two-year-old process that has been widely criticized. Energy companies and their allies on Capitol Hill have complained the existing procedure is akin to a "deli counter" approach that rewards export projects for getting in line quickly at the expense of facilities more likely to break ground.
16) DOE Seeks to Streamline LNG Reviews, but Industry's Not Impressed
from Politico Pro by Talia Buford
Amid heavy pressure from energy companies and lawmakers to speed up approvals of LNG export permits, the Energy Department announced Thursday it planned to streamline its evaluation process. DOE plans to stop issuing conditional approvals for proposed liquefied natural gas plants before environmental reviews have been completed, and the agency will now issue that permission once a project makes it through a rigorous FERC process. But industry advocates say the changes will muddy the waters on LNG exports.
17) Obama's New Carbon Limits Could Boost Gas Demand
from Houston Chronicle by Jennifer A. Dlouhy
The Obama administration's looming new plan to cut carbon dioxide emissions from power plants could help boost electric utilities' demand for natural gas by as much as 45 percent, according to rough estimates from a leading industry trade group. The back-of-the-envelope calculations by the America's Natural Gas Alliance take into account the changes expected as a result of the greenhouse gas emission proposal the Environmental Protection Agency will formally propose on June 2, as well as natural market changes and a separate regulation requiring power plants to reduce mercury pollution. The resulting demand climb could add 3 billion to 10 billion cubic feet per day of natural gas to the current 22 bcf now used daily by the electric sector.
18) NERC Security Plan Draws Industry Support -- and Lots of Questions
from E&E by Peter Behr
A proposed physical security standard for the U.S. high-voltage grid has won widespread acceptance from electric power companies, but approval followed a debate in which key provisions were questioned and some company executives wondered whether the security rules would work -- or were even needed. The proposal was submitted last week to the Federal Energy Regulatory Commission by the federally appointed grid monitor, the North American Electric Reliability Corp. (NERC), after the plan received an 86 percent approval score from NERC's industry representatives.
19) Wellinghoff Disclosed Details of FERC Grid Vulnerability Study in 2013
from SNL by Esther Whieldon
Almost a year before The Wall Street Journal published an article in March about the existence of a FERC study on grid vulnerabilities, Jon Wellinghoff, the agency's chairman at the time, described the study's findings during at least one public event...According to FERC documents provided to a U.S. senator, commission staff in early April 2013 questioned whether the agency should treat the study as critical energy infrastructure information, or CEII. The documents do not indicate when Wellinghoff determined the information should be categorized as CEII, with some portions treated as "for official use only." But when Wellinghoff briefed utility officials on the findings at an Edison Electric Institute event in June 2013, the study and Wellinghoff's EEI presentation had been classified as CEII and attendees were required to sign nondisclosure agreements, as is required to access that type of information.
from Scientific American by Jennifer Weeks and The Daily Climate
Several hundred coal-fired power plants will close nationwide by 2020, according to the Department of Energy's latest forecast. It's a process that may well accelerate under the Obama administration's new proposed carbon pollution regulations for existing coal power plants, to be unveiled June 2. Most closures will be in the mid-Atlantic, Southeast, and Midwest, where coal generation is concentrated. As communities consider life after coal, many will struggle to balance competing priorities – jobs, tax revenues, clean air, greener power, profitable development. Some will be left with abandoned plants and sites contaminated with ash and sludge that contains arsenic, lead and other toxic heavy metals.
21) Spill Upends N.C. Politics -- but Will Substantive Legislation be the Result?
from E&E by Manuel Quiñones
There's a joke making its way around the state Capitol and legislative buildings in Raleigh, N.C.: "How do you turn a conservative Republican into an environmentalist? Dump 30,000 tons of coal ash in his backyard."
On Feb. 2, a 48-inch stormwater pipe broke under a Duke Energy Corp. coal ash slurry dump in Eden, N.C. Roughly a week later, when the company was finally able to plug the leak, 30,000 tons of waste had spilled into the Dan River. The spill, one of the largest of its kind in recent memory, shocked the state's political establishment and may have lasting electoral and policy effects. Republicans, who occupy the governor's mansion and boast comfortable majorities in the General Assembly, are promising legislation to crack down on Duke, even though they came to office with an anti-regulatory mantra.
22) EPA May Nod to Nuclear in Carbon Rules, as Generators Fear Closures
from Reuters by Valerie Volcovici and Scott Disavino
U.S. environmental regulators could throw a lifeline to the nation's ailing nuclear power fleet when they unveil landmark carbon pollution curbs next week, heeding calls from operators like Exelon Corp to acknowledge nuclear energy as a valuable way to reduce emissions...In meetings with the EPA, executives have urged the agency to recognize atomic energy in the new rules, arguing that financial incentives or trading systems that would prevent the closure of nuclear plants are an effective way to reduce overall greenhouse gas output. Officials appear to have taken note. In an EPA summary document seen by Reuters, the agency identifies "avoiding the retirement of 8 percent of existing nuclear capacity" among several ways states can comply with the rules, along with increasing renewable power such as solar.
OPINIONS, EDITORIALS, PERSPECTIVES
23) This is the Only Way Democrats Can Hold Onto the Senate

from Washington Post by Harold E. Ford Jr.
Halfway through President Obama's first term, Democrats lost 63 seats in the House and six in the Senate, reaffirming the widely held belief that a sitting president's party almost always suffers losses in Congress during midterm elections. But Democrats have an opportunity to defy history this time around.
If there is a single issue that can help Democrats avoid the midterm curse and even gain ground this election, it is the energy renaissance that the president has quietly helped engineer by supporting the most diverse energy portfolio in history. As a result of these efforts, millions of new jobs have been created across the energy sector, a trend that allows Democrats to play offense in the upcoming election instead of simply having to deflect Republican criticism over the state of the economy...Now as we look to broaden the benefits of our energy renaissance, exporting excess supplies of natural gas would help continue this streak of innovation and expansive job growth.
24) Evolving the Conversation on Climate Change
from Washington Post by Carter Eskew
Ed Rogers wrote yesterday that liberals are to blame for the poisoned nature of the political debate on climate change, not Republican "intransigence or denial." Ed argues that climate "alarmists" are vague or dishonest about the costs and effectiveness of efforts to lower carbon dioxide emissions. In a strange way, I think Ed may be evolving on this issue and that if other Republicans share his views, maybe there is hope for a new conversation. For if you read Ed's post, you'll notice that he didn't contest the science of global warming, even going so far as to say, "what scientists say about global warming isn't the problem." That assertion passes for progress and puts Ed to the left of many in his party who still deny that the Earth is in imminent danger from years of increased carbon emissions.
25) Time to Move on Dangerous Tank Cars
from New York Times by Editorial Board
The main railway lines in New York have become superhighways for railroad tank cars filled with combustible crude oil. They rumble by the hundreds across the state as part of a surge in shipments from booming oil fields in North Dakota to terminals and refineries in the Northeast. It is up to the Obama administration to make those cars safer for everyone in their path. Last year, American railroads shipped more than 400,000 carloads of crude oil, a fortyfold increase from 9,500 in 2008. One derailment last July in Lac-Mégantic, Quebec, resulted in an explosion that killed 47 people. Last month, a train derailed near downtown Lynchburg, Va., causing a fiery blast that sent 30,000 gallons of crude oil into the James River...
On May 7, Secretary of Transportation Anthony Foxx told a Senate panel that he had sent the White House a draft proposal that would require the industry to phase out older cars or upgrade them to be more resilient in a crash. The White House should not sit on this proposal.
26) On Energy, 'All of the Above' Is Working
from Politico by Jason Furman and James Stock
It may come as a surprise, but the world leader in combined oil and natural gas production last year was not Saudi Arabia, despite its vast reserves. Nor was it Russia with its natural gas giant Gazprom. Rather, for the third year in a row, these countries were surpassed by the United States. But this is not the only surprise in the energy sector. Accompanying these increases in production has been an unexpected turnaround in petroleum and gasoline demand...At the same time, production of renewable energy has increased rapidly. Since 2008, electricity generation from wind has tripled while solar generation is up more than tenfold. Taken together, these shifts to cleaner energy sources and improvements in energy efficiency have contributed to a 10 percent decline in carbon emissions since 2007, a dramatic change from the 10 percent increase over the same period that was forecast as recently as 2005...Much of this energy revolution has been driven by technological advances and entrepreneurial risk-taking by a dynamic private sector. These trends have been supported and advanced by President Obama's "all-of-the-above" energy strategy, which has three key elements: to support economic growth and job creation, to enhance energy security and to deploy low-carbon energy technologies and lay the foundation for a clean energy future.
RESEARCH REPORTS, ISSUE BRIEFS, CASE STUDIES
27) The Impacts of U.S. Crude Oil Exports on Domestic Crude Production, GDP, Employment, Trade, and Consumer Costs
from American Petroleum Institute by ICF International
This ICF analysis anticipates that this additional U.S. production will tend to moderate world oil prices slightly, and, by extension, U.S. petroleum product prices. U.S. weighted average petroleum product prices decline as much as 2.3 cents per gallon when U.S. crude exports are allowed. The greatest potential annual decline is up to 3.8 cents per gallon in 2017. These price decreases for gasoline, heating oil, and diesel could save American consumers up to $5.8 billion per year, on average, over the 2015–2035 period.
28) GAO's Role and Responsibilities Under the Congressional Review Act
from Government Accountability Office
In our opinion we concluded that under CRA's statutory scheme, GAO's role is not triggered by the issuance of proposed rules. GAO's role under CRA is to receive all rules submitted by executive branch agencies and issue reports to Congress on the major rules received. Proposed rules, whether major or nonmajor, are not submitted to GAO. The present situation is unlike the facts in prior GAO opinions examining agency actions that GAO determined were rules for purposes of CRA. In those opinions, the agency actions were final actions with certain and binding effect.
29) A Proposed Change to the Energy Department's LNG Export Decision-Making Procedures
from Department of Energy
Today, in order to reflect changing market dynamics, the Department of Energy is proposing to review applications and make final public interest determinations only after completion of the review required by environmental laws and regulations that are included in the National Environmental Policy Act review (NEPA review), suspending its practice of issuing conditional commitments. The proposed changes to the manner in which LNG applications are ordered and processed will ensure our process is efficient by prioritizing resources on the more commercially advanced projects, while also providing the Department with more complete information when applications are considered and public interest determinations are made
30) The All-of-the-Above Energy Strategy As a Path to Sustainable Economic Growth
from Executive Office of the President

The U.S. energy sector is undergoing a profound transformation. The United States is producing more oil and natural gas, is generating more electricity from renewables such as wind and solar, and is consuming less petroleum while holding electricity consumption constant. These developments have had substantial economic and energy security benefits, and they are helping to reduce carbon emissions in the energy sector and thereby tackle the challenge posed by climate change. To build on this progress, to foster economic growth, and to protect the planet for future generations, the President has set out an aggressive All-of-the-Above strategy on energy.


31) North American Electric Reliability Council Physical Security Proposal
from NERC
The proposal requires transmission owners to: perform a risk assessment of their systems to identify critical stations and substations and primary control centers that operationally control them; evaluate the potential threats and vulnerabilities of a physical attack to the facilities identified; develop and implement a security plan, based on that evaluation.