From: Morning Consult
To: Scott Jenkins,
Subject: Morning Consult Energy: U.S. Chamber Predicts Emissions Rules Will Kill Jobs
Date: Wed May 28 13:32:43 MDT 2014
Body:
---
By Emily Holden (@emilyhholden)
Today's Washington Brief:
The U.S. Chamber of Commerce predicts the EPA's carbon emissions rules for power plants will kill jobs, costing the country $50 billion a year, Bloomberg's Mark Drajem reports. Supporters predict the regulation will create jobs and lower power bills.


The EPA is on a legal winning streak, with eight victories in the last two months. Staffers hope the principles behind those wins will help with judicial review of the upcoming greenhouse gas regulations, Politico Pro's Erica Martinson reports.
Houston Chronicle's Jennifer A. Dlouhy reports that financial regulators are rewriting a rule requiring companies to disclose what they pay foreign interests in exchange for rights to harvest oil, gas and other minerals. E&E's Amanda Peterka and Jean Chemnick give an overview of the White House's sweeping regulatory agenda released last week.
Today's Business Brief:

Today's Chart Review:

U.S. Petroleum Product Exports to Mexico Rise while Mexican Crude Exports to the U.S. Fall

from Energy Information Administration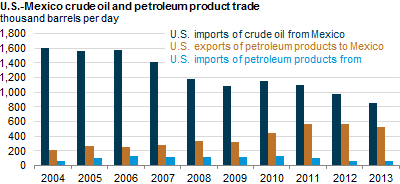 Mark Your Calendars (All Times Eastern):
Wednesday: White House, DOE, GSA Energy Datapalooza @ 8:30 am
Wednesday: FERC, NRC meeting on grid reliability @ 9 am
Wednesday: Resources for the Future seminar on natural resources, ecology and policy @ 12:45 pm
Wednesday: Johns Hopkins University discussion on careeres in green energy financing @ 4 pm
Thursday: Hudson Institute discussion on congressional action on energy infrastructure @ 8 am
Thursday: House Science hearing on the Intergovernmental Panel on Climate Change process @ 11 am
Thursday: House Small Business hearing on EPA water rule @ 1 pm
Thursday: House Foreign Affairs hearing on U.S. LNG and Asia @ 2 pm
Thursday: George Mason University SPP gala and talk on energy geopolitics with Macfarlane @ 7 pm
NEWS ARTICLES

1-10: General
11-15: Oil
16: Natural Gas
17-18: Utilities and Infrastructure
19: Coal
20: Nuclear
21-22: Renewables
OPINIONS, EDITORIALS, PERSPECTIVES

23-24: Wall Street Journal
25: Houston Chronicle


RESEARCH REPORTS, ISSUE BRIEFS, CASE STUDIES

26: Brookings Institution
27: Tax Policy Center
28: Yale School of Forestry and Environmental Studies


1) EPA Notches Up New Legal Wins Ahead of Climate Rules
from Politico Pro by Erica Martinson
EPA is on a winning streak that it hopes to extend to its most major effort yet: combating climate change. The agency logged another win in appeals court Tuesday when the judges backed EPA's decision to hold off issuing tightened acid rain standards, and the Supreme Court announced it would not take up two cases the agency won in appeals courts over its handling of "haze" air quality regulations. All told, the agency is 8-0 on legal decisions in April and May, an EPA official said Tuesday. Staffers who have been in the agency's legal office for decades can't recall a run with that many victories in a row.
2) White House Releases Sweeping Regulatory Agenda
from E&E by Amanda Peterka and Jean Chemnick
The White House on Friday released its latest regulatory agenda, a sweeping plan that includes rules on power plants, renewable fuels, ozone pollution, Clean Water Act jurisdiction and disclosure of payments by oil and gas companies. The spring issue of the biannual "Unified Agenda of Federal and Regulatory and Deregulatory Actions" details both short- and long-term plans for every agency in the government. The most notable goals include timelines for the release of greenhouse gas emission standards, proposed 2015 renewable fuel standard targets, a controversial stream protection rule, crude-by-rail safety standards, and methane and hydraulic fracturing regulations.
3) On Oil and Mining Rules, Should Progressives Be Worried?
from National Journal by Ben Geman
For several years the Interior Department has been pledging to set new standards for subsea devices called "blowout preventers." They're meant to seal off runaway oil wells, but the failsafe equipment failed to stop BP's blown-out Macondo well in 2010 in the Gulf of Mexico. The wait goes on. On Friday the White House Office of Information and Regulatory Affairs quietly released its Unified Agenda of Regulatory and Deregulatory Actions, a twice-yearly tally of planned federal regulations. It shows that the schedule for this long-planned draft rule to set blowout-preventer standards has apparently slipped.
4) How Much Difference Can a Year Make? A Lot, Where GHGs Are Concerned
from E&E by Tiffany Stecker
U.S. EPA's choice of which year to use as a benchmark for emissions reductions could hold an important clue to how far the administration will go to curb climate change, experts and state regulators say. In crafting its highly anticipated regulation for existing power plants, EPA's pick for a base-line year could move the needle toward a preference for one of two priorities: Will EPA seek drastic cuts to decarbonize the country's electricity sector? Or will the agency look to provide maximum flexibility to states, many of which will need all of the help they can get to achieve carbon reductions?
5) Interior Takes Step Toward Resuming Arctic Exploration
from The Hill by Laura Barron-Lopez
Royal Dutch Shell may be able to resume Arctic oil and gas exploration if the Interior Department sticks to the timeline it filed to the U.S. District Court of Alaska. In a fling made Friday, Interior set a timeline for conducting a new environmental analysis for the exploration leases in the Arctic waters off Alaska. A federal appeals court found Interior's first review was flawed after it sold $2.7 billion in oil and gas leases in the Chukchi Sea back in 2008. Green groups cheered the win, stating their desire to stop all exploration in the Arctic. The timeline calls for the publication of a draft report by October and a final decision in spring of 2015, putting Interior on track to allow companies, like Shell, to resume exploration.
from Houston Chronicle (AP)
A House committee has approved a plan to speed up hydraulic fracturing for oil and gas in Illinois. The Executive Committee voted 7-4 Monday to advance the plan by Rep. John Bradley despite protests from environmentalists. Bradley's legislation would take away the power of the Illinois Department of Natural Resources to adopt rules for the extraction method known as "fracking."
8) Are We Underestimating America's Fracking Boom?
from Wall Street Journal by Dennis K. Berman
...We are building a Qatar on the Bayou. From whole cloth, companies are laying new cities of fertilizer plants, boron manufacturers, methanol terminals, polymer plants, ammonia factories and paper-finishing facilities. In computer renderings, the Sasol site looks like a fearsome, steel-fitted Angkor Wat. In all, some 66 industrial projects—worth some $90 billion—will be breaking ground over the next five years in Louisiana, according to the Greater Baton Rouge Industry Alliance. Tens of billions of other new investments could be coming, says Louisiana's economic development secretary, Stephen Moret. How many projects will actually get built remains to be seen.
9) Russian Gas Reliance in Europe Skewing Sanctions Debate
10) U.S. Index Futures Little Changed as S&P 500 Hits Record
11) Feds Writing New Oil Payment Mandates
from Houston Chronicle by Jennifer A. Dlouhy
Financial regulators have quietly confirmed they are rewriting a rule requiring companies to disclose what they pay foreign interests in exchange for rights to harvest oil, gas and other minerals. According to the federal government's just-updated regulatory agenda, the Securities and Exchange Commission is set to propose new mandates in March 2015. That puts the agency on track to issue a final rule as early as the end of 2015, after accepting and responding to public comments — well after a federal district court tossed out the SEC's first attempt in July 2013. "This is longer than many of us had hoped, and we will continue to push for speedier action, but it is progress," said Joseph Williams, senior advocacy officer for the Revenue Watch Institute. "We're really glad the SEC has added this to their active rule making agenda."
12) New Safety Requirements for Keystone Pipeline
from Associated Press by Joan Lowy
Safety regulators have quietly placed two extra conditions on construction of TransCanada Corp.'s Keystone XL oil pipeline after learning of potentially dangerous construction defects involving the southern leg of the Canada-to-Texas project. The defects - high rates of bad welds, dented pipe and damaged pipeline coating - have been fixed. But the federal Pipeline and Hazardous Materials Safety Administration wants to make sure similar problems don't occur during construction of the pipeline's controversial northern segment, which is on hold pending a decision by the Obama administration.
13) BP Loses Bid to Stall Spill Payments During Appeal
14) House Energy Panel Plans More Oversight of Gasoline Reserve
from Reuters by Ayesha Rascoe
House Republicans will continue delving into the Obama administration's creation of an emergency gasoline reserve in the Northeast, after a briefing by the Department of Energy failed to quell concerns about the stockpile, a committee aide said on Tuesday. Senior members of the House Energy Committee asked for the briefing after the DOE earlier this year held the first test sale of crude from the Strategic Petroleum Reserve (SPR) since 1990, and later announced plans to create a million-barrel gasoline reserve in the Northeast. The briefing was held on Friday, but the energy panel "continues to have questions about the current and future status of the SPR," a committee aide said.
15) Mexico's Oil Production Fell 25 Percent in Last Decade, EIA Says
from Houston Chronicle by Collin Eaton
Mexico's sweeping energy reforms could curb a 25-percent free-fall in oil production the nation has experienced over the past decade, the Energy Information Administration said in a report Tuesday. Last month, the agency said, Mexico pumped 2.5 million barrels of oil per day, its lowest monthly average in 19 years. But the end of Petroleos Mexicanos' 75-year monopolyon the nation's oil production could lift the country's production for the first time since 2004, it said. The Mexican Congress is expected by August to finalize contract terms for foreign oil companies and to set up rules on how much construction materials, labor and other goods must come from local markets, according to the EIA.
16) Marcellus Producers Eye 'Next Phase' of Drilling Economics: Field-Gas-Powered Operations
from SNL by Alex Benedetto
Natural gas is increasingly displacing diesel fuel in drilling operations, but even atop the bountiful Marcellus Shale, infrastructure limitations are making it difficult to move field gas from the source to the rig. Most producers have the ability to source LNG or compressed natural gas to power most, if not all, of their drilling needs, members of the natural gas industry say. But using field gas on a large scale, the most economic option, will take more innovation. Cabot Oil & Gas Corp. North Region Drilling Manager Steve Novakowski said that Cabot has spent the last three years turning over its entire rig fleet to run on both diesel and natural gas, but that infrastructure has been an issue for field gas utilization.
17) Power-Price Rise Energizes Utility Shares
from Wall Street Journal by Timothy Puko
A rising outlook for electricity prices is giving utility stocks a jolt. Shares of power generators with plants in the Mid-Atlantic region and Midwest soared on Tuesday, the first day of trading after an announcement Friday by the regions' grid operator that some electricity prices would double. PJM Interconnection LLC boosted the price it pays plants to operate in a bid to encourage power companies to generate more electricity for the 61 million people in its territory. PJM sets these "capacity prices" in an annual auction involving power generators, which concluded Friday. The grid covers an area ranging from New Jersey to North Carolina and as far west as Chicago.
18) Court Ruling on Demand Response Breeds Uncertainty
from E&E by Rod Kuckro
Officials at PJM Interconnection are reviewing a Friday federal appeals court ruling that invalidated a 2011 Federal Energy Regulatory Commission order providing incentives for electricity users to consume less power, a practice known as demand response. FERC has no jurisdiction over demand response, the court said. The court ruling strikes a blow to the Obama administration's energy efficiency efforts and injects a large degree of uncertainty into how the rapidly expanding demand-response industry will play a role in the nation's electricity markets.
19) In Kentucky Coal Country, Democrat Grimes Fights the Party Label
from Reuters by John Whitesides
At campaign stops in the coal-rich mountains of eastern Kentucky, Democrat Alison Lundergan Grimes likes to say she embodies the words that frighten her Republican Senate opponent Mitch McConnell the most: "pro-coal Democrat." For Grimes and other coal country Democrats, embracing that label is more than a political convenience. It's vital for political survival.
20) U.S. Nuclear Regulatory Commission Won't Speed Up Move of Spent Fuel
from StarTribue by Dave Gram (AP)
The U.S. Nuclear Regulatory Commission is rejecting calls from watchdog groups and some U.S. senators to speed up moving spent nuclear fuel from the pools where most of it is stored. An NRC memo provided to The Associated Press on Tuesday shows the commission accepted its staff's recommendation to stop considering expedited transfer of the spent fuel to dry cask storage, weighing in on a debate over whether transfers should be made for safety concerns and not just logistics. The NRC's decision comes after years of increasing clamor to move spent fuel from thinly sheltered spent fuel pools into concrete and steel casks. Many plants have begun the transfers because they are running out of room in their spent fuel pools without the long-promised national waste dump.
21) Hagel Offers Compromise on SunZia Line Project
from SFGate by Susan Montoya Bryan (AP)
Security concerns about a proposed $2 billion transmission line between Arizona and New Mexico can be resolved, according to the U.S. Defense Department. Defense Secretary Chuck Hagel said in a letter Tuesday to U.S. Interior Secretary Sally Jewell that concerns about routing the SunZia transmission project through an area used by White Sands Missile Range could be addressed by burying five miles of the line. Officials at the southern New Mexico military installation previously said running the transmission line through an area north of White Sands could reduce testing operations by up to 30 percent, potentially threatening national security and resulting in layoffs at the range.
22) Wind Giant Texas Stands Tall as Rule Change Looms
from Houston Chronicle by Jennifer A. Dlouhy
When the government proposes new limits on power plant greenhouse gas emissions next week, the proposal is likely to give a big boost to natural gas at the expense of dirtier-burning coal. But other non-emitting electricity sources — including wind and solar — also stand to benefit from the requirements set to be announced June 2. And depending on how the Environmental Protection Agency writes the new rules, states such as Texas and California that have embraced renewable power or boosted their gas use may not have far to go to meet the mandates.
OPINIONS, EDITORIALS, PERSPECTIVES
23) Revenge of the Climate Tort
from Wall Street Journal
The Supreme Court has done its best to kill a harmful theory that merges the worst instincts of the tort bar and green lobby, but the idea won't stay dead. The Justices now need to polish off this legal zombie for good.
For years environmentalists have sued utilities on the claim that their emissions are a "public nuisance" under common law and therefore the courts should make U.S. climate change policy. In 2011 an unusual 8-0 majority of Justices held in American Electric Power v. Connecticut that this question belongs to the political branches and the Court "remains mindful that it does not have creative power akin to that vested in Congress." That case turned on federal common law, but class-action plaintiffs revived the nuisance doctrine under state common law—and for some reason the Third Circuit Court of Appeals accepted this nondistinction.


24) How Local Governments Lead the Way on Energy Policy
from Wall Street Journal by Daryl Hannah and Diane Moss
The U.S. federal government is failing its citizens by not developing a comprehensive energy policy that ensures secure, economical and reliable energy over the long term. But while our federal officials flounder in fear and partisan dysfunction, local leaders across the political spectrum are taking on the challenge, breaking dependence on conventional energy sources, and liberating their communities with efficiency and renewable energy technologies.
25) Air Check: Refinery Neighbors Deserve to Know What's In the Emissions They're Breathing In
from Houston Chronicle
People who borrow their neighbor's lawn mowers or shovels know to return them in no worse condition than when they were loaned. And the law requires that refineries - like any good neighbor - return the air they use without concentrations of chemicals harmful to human health. The Houston area is home to eight of the 27 refineries in Texas. We are the only major city without zoning, so it's common to find families living and children playing in neighborhoods located near petrochemical plants. The state also does not require so-called fence-line monitoring to keep track of air quality near refineries. That's why we let out a sigh of relief over the recent decision by the U.S. Environmental Protection Agency to revamp the nearly 20-year-old rules monitoring air pollution at oil refineries. The EPA's regulations now will require that refineries monitor their emissions at the fence lines of their plants and provide the information to the public.
RESEARCH REPORTS, ISSUE BRIEFS, CASE STUDIES
26) A Carbon Tax In Broader U.S. Fiscal Reform: Design and Distributional Issues
from Brookings Institution
A well-designed carbon tax could improve the long-run U.S. fiscal situation while reducing emissions. For example, estimates suggest that a tax on the carbon content of fuels in the energy sector that started at $16 per ton of carbon dioxide in 2014 and rose at 4 percent over inflation per year would raise more than $1.1 trillion in the first 10 years and more than $2.7 trillion over a 20-year period. A broader tax base that included emissions of other greenhouse gases (e.g., non-energy carbon dioxide and methane) would raise even more revenue. The long-term revenue and emissions reductions would depend on a host of hard-to-predict factors such as economic growth and the evolution of energy technologies.The carbon tax with the least economic cost would be predictable, start modestly, ramp up gradually, and minimize administrative costs.

27) Tax Policy Issues in Designing a Carbon Tax
from Tax Policy Center
A carbon tax is a promising tool for discouraging the greenhouse gas emissions that cause climate change. In principle, a well-designed tax could reduce the risk of climate change, minimize the cost of emissions reductions, encourage innovation in low-carbon technologies, and raise new public revenue. But designing a real-world carbon tax poses significant challenges. We analyze those challenges from a public finance perspective, emphasizing three tax policy design issues: setting the tax rate, collecting the tax, and using the resulting revenue. The benefits of a carbon tax will depend on how policymakers address those issues.
28) What's In A Name? Global Warming vs Climate Change
from Yale School of Forestry and Environmental Studies
We found that the term "global warming" is associated with greater public understanding, emotional engagement, and support for personal and national action than the term "climate change."
For example, the term "global warming" is associated with:
Greater certainty that the phenomenon is happening, especially among men, Generation X (31-48), and liberals;
Greater understanding that human activities are the primary cause among Independents;
Greater understanding that there is a scientific consensus about the reality of the phenomenon among Independents and liberals;
More intense worry about the issue, especially among men, Generation Y (18-30), Generation X, Democrats, liberals and moderates;
A greater sense of personal threat, especially among women, the Greatest Generation (68+), African-Americans, Hispanics, Democrats, Independents, Republicans, liberals and moderates;
Higher issue priority ratings for action by the president and Congress, especially among women, Democrats, liberals and moderates;
Greater willingness to join a campaign to convince elected officials to take action, especially among men, Generation X, liberals and moderates.
Our findings strongly suggest that the terms global warming and climate change are used differently and mean different things in the minds of many Americans. The following graphic shows how the two terms elicit different meanings for Americans.