From: Morning Consult
To: Scott Jenkins,
Subject: Morning Consult Energy: Power Companies Lend Unlikely Support to GHG Rules; TransCanada Looks Into Rail, Rather Than Keystone XL
Date: Thu May 22 12:12:27 MDT 2014
Body:
---
By Emily Holden (@emilyhholden)
Today's Washington Brief:
The Obama administration's upcoming greenhouse gas rules are gaining unlikely acceptance from power companies, splitting the energy sector's normally unified opposition to new caps, Bloomberg's Mark Drajem and Mark Chediak report. Energy Secretary Ernest Moniz said yesterday that states are pressing for the EPA regulations to credit for efficiency programs, according to E&E's Hannah Northey.


TransCanada is looking into shipping Canadian crude to the U.S. by rail as an alternative to the Keystone XL pipeline project, Reuters reports.
Liberal billionaire Tom Steyer's super PAC, NextGen Climate Action, will target the Senate races in Colorado, Iowa, Michigan and New Hampshire and the governor's races in Florida, Maine and Pennsylvania, Politico Pro's Andrew Restuccia reports.
Today's Business Brief:

The Senate passed a bill to extend emergency rules allowing increased transportation of heating oil, natural gas and propane until May 31, The Hill's Ramsey Cox reports.


The Obama administration is reviewing a final policy on the Endangered Species Act. The draft would raise the threshold for when a species is considered threatened or endangered. But for species that meet that bar, it would grant protections across their entire range, E&E's Phil Taylor reports.


E&E's Peter Behr looks into the challenges to smart meter deployment and why it has been concentrated in certain areas around the country.
Today's Chart Review:

Bakken Oil Production
from Natural Gas Intelligence and Energy Information Administration
Mark Your Calendars (All Times Eastern):
Thursday: Distributed Solar Forum @ 8:30 am
Thursday: AEI book release, panel on conservative reform with McConnell, Cantor @ 9 am
Thursday: Center for Climate and Energy Solutions conversation on carbon pricing @ 9:30 am
Thursday: Environmental and Energy Study Institute briefing on climate change in the Southeast @ 10 am
NEWS ARTICLES

1-11: General
12-16: Oil
17-20: Natural Gas
21-23: Utilities and Infrastructure
24-25: Renewables
OPINIONS, EDITORIALS, PERSPECTIVES

26: Los Angeles Times
27: Bloomberg
28: Forbes
29: YG Network
RESEARCH REPORTS, ISSUE BRIEFS, CASE STUDIES

30: Energy Information Administration
31: Government Accountability Office
32: North American Electric Reliability Corporation
1) Obama Divides Power Players With Rule Utilities Accept
from Bloomberg by Mark Drajem and Mark Chediak
2) States Pressing EPA for Efficiency Credits in Power Plant Regs -- Moniz
from E&E by Hannah Northey
States are urging the Obama administration to get them credit for energy efficiency programs in U.S. EPA's carbon-curbing regulations for existing power plants. EPA will rely on states to craft plans to comply with the proposed rule that would set standards for carbon dioxide emissions under Section 111(d) of the Clean Air Act. Energy Secretary Ernest Moniz told reporters today at the 2014 Energy Efficiency Global Forum in Washington, D.C., that EPA Administrator Gina McCarthy is offering states as much flexibility as possible, and states are playing up efficiency programs.
3) Steyer's PAC Targets Seven Races for November
from Politico Pro by Andrew Restuccia
Liberal billionaire Tom Steyer is launching on-the-ground operations to aid Democrats and attack Republicans in seven Senate and gubernatorial races in the midterm elections, all part of his $100 million effort to make climate change a prime campaign issue. The former hedge fund executive's super PAC, NextGen Climate Action, is targeting the Senate races in Colorado, Iowa, Michigan and New Hampshire and the governor's races in Florida, Maine and Pennsylvania, according to NextGen officials who briefed reporters for the first time Wednesday about the scope of the group's plans. It could become one of the most expensive pro-environment campaigns in U.S. history.
4) Moniz: Energy Efficiency Bill Failure Reinforces Need for Presidential Action
from The Hill by Timothy Cama
Energy Secretary Ernest Moniz expressed disappointment Wednesday at least week's failure of energy efficiency legislation in the Senate, saying it strengthens the need for the Obama administration to take action on its own. "Let's face it, it's a poor reflection on our status of being able to move good governance forward," Moniz said at an event organized by the Alliance to Save Energy. The legislation's fate also demonstrated the importance of President Obama's push to take action on various fronts, including energy, in ways that do not require congressional approval. This includes regulation and executive actions, such as recent moves to increase federal buildings' efficiency.
5) Senate Passes Aiding Transport of Home Heating Fuels
from The Hill by Ramsey Cox
The Senate passed a bill Wednesday that would help states with home heating fuel shortages by relaxing transportation regulations. Sen. John Thune (R-S.D.) introduced S. 2086, the Reliable Home Heating Act, which would direct the Federal Motor Carrier Safety Administration (FMCSA) to extend emergency rules allowing the increased transportation of heating oil, natural gas and propane until May 31. Congress has allowed more fuels to be transported this year because several states ran low on home heating fuels after extremely cold weather this winter.
6) Regulatory Patchwork 'May Allow Unsafe Facilities to Operate' -- GAO
from E&E by Sam Pearson
More than a year after a deadly fire and explosion killed 15 people at a fertilizer storage facility in West, Texas, the federal government has wide gaps in its knowledge of where ammonium nitrate is stored, according to a new report from the Government Accountability Office. Top Democrats immediately criticized the gaps GAO identified as "unacceptable" and said the West explosion showed the consequences of shortfalls in chemical oversight. Sens. Barbara Boxer (D-Calif.), Bob Casey (D-Pa.) and Patty Murray (D-Wash.) and Reps. George Miller (D-Calif.) and Joe Courtney (D-Conn.) sent a letter to President Obama yesterday urging him to "carefully consider" ordering agencies to implement the report's recommendations "in order to better protect the safety of responders and residents in communities across the country."
7) White House Reviewing Hot-Button Policy Shift for Listings
from E&E by Phil Taylor
The Obama administration is reviewing a final policy to guide government scientists in determining whether wildlife species deserve protection under the Endangered Species Act, a proposal that will largely dictate the 1973 law's regulatory reach. The Fish and Wildlife Service last week submitted a final policy to the White House Office of Management and Budget for review, though details of the proposal are still confidential and it is unclear how soon OMB will sign off. The agency's draft policy in late 2011 got hit with strong criticism from environmental groups and one leading Democrat who argued it set too high a threshold for protecting wildlife and discounted the importance of habitat already lost to development. But the proposal drew measured praise from a coalition of homebuilders, miners, loggers, utilities and other businesses.
8) China's Global Search for Energy
12) TransCanada Eyes Shipping Oil by Rail Amid Keystone XL Delays-CEO
from Reuters by Catherine Ngai
TransCanada Corp is in talks with customers about shipping Canadian crude to the United States by rail as an alternative to its Keystone XL pipeline project that has been mired in political delays, Chief Executive Russ Girling said on Wednesday. "We are absolutely considering a rail option," Girling told Reuters on the sidelines of a conference in New York. "Our customers have needed to wait for several years, so we're in discussions now with them over the rail option." The comments are the first to confirm growing speculation that TransCanada might use more costly and controversial railway shipments as a stopgap alternative to the Keystone XL pipeline, whose approval has been delayed by the U.S. government.


13) Unions Raise Heat on Senate to Approve Keystone XL
from Houston Chronicle by Jennifer A. Dlouhy
Labor unions are beseeching senators to pass legislation that would approve the Keystone XL pipeline by circumventing a government review process that threatens to stretch into 2015.
In a letter to senators today, five unions, the National Association of Manufacturers and the American Petroleum Institute say the bill is essential to free the pipeline from "political limbo." "After nearly six years of countless polls and five exhaustive federal reviews stating the pipeline is safe to build and will create thousands of jobs, we have unfortunately seen political rhetoric and gamesmanship take precedence over policy and leadership," the groups say. The letter comes as conservationists send their own entreaty to Hillary Clinton, asking the former Secretary of State to join their crusade against Keystone XL. It also is delivered to Capitol Hill shortly after a Senate stalemate on an energy efficiency bill also killed a plan to bring the pro-Keystone legislation to a vote.
14) Bakken Crude Rail Transport Inevitable with Projected Production Growth, Say Speakers
15) Lawmakers Target Oil Companies in Capitol Hill Climate Rally
from Houston Chronicle by Jennifer A. Dlouhy
Dozens of Democratic lawmakers on Wednesday exhorted their colleagues to address climate change, with some blaming oil companies and big money for blocking substantive action to rein in greenhouse gas emissions and set a price on carbon. The rally was designed to invigorate environmentalists — even if it was unlikely to alter the political dynamic on Capitol Hill. At least 25 House and Senate members took to the stage, at times leading activists in cheers and pounding the podium. The lawmakers packed into a cavernous Senate hearing room with hundreds of activists to argue that Congress's inaction on the issue is jeopardizing the planet.
16) BP Will Take Oil Spill Case to the U.S. Supreme Court
from New York Times (AP)
The British oil company BP said it would ask the Supreme Court to decide whether businesses must prove they were directly harmed by the 2010 Gulf of Mexico oil spill to collect payments from a 2012 settlement. On Monday, the Fifth Circuit Court of Appeals, in New Orleans, refused to reconsider its earlier decision that businesses did not need to prove direct harm.
17) U.S. FERC Will Begin Pre-Filing Review of Gulf LNG's Export Plan
from Platts by Jasmin Melvin
The US Federal Energy Regulatory Commission will begin the early environmental review process for Gulf LNG Liquefaction Company's project to add liquefaction and export capabilities to its existing Gulf LNG Terminal in Mississippi, the commission said in a letter to the company Wednesday. FERC rejected Gulf LNG's application in December 2012 when it first applied to begin the National Environmental Policy Act pre-filing process as the company failed to follow certain pre-filing procedures outlined in FERC regulations at 18 CFR 157.21. The company again requested FERC approval to initiate the pre-filing process May 9, submitting additional information to the commission.


18) Sens.: Gas Deal Won't Hurt Russia Sanctions
from Politico Pro by Darren Goode
Gazprom's massive $400 billion, 30-year deal to supply natural gas to China wasn't a surprise, and it won't weaken the West's hand in levying sanctions against Russia, senators from both parties said Wednesday. "If Europe decides to be strong in its sanctions, there's no side deal that Russia can cut to mitigate the catastrophic effect on their economy," said Sen. Chris Murphy (D-Conn.), who chairs a Foreign Relations subcommittee overseeing Europe. "But that's still a question of whether or not Europe is prepared to do that." U.S. and European sanctions have so far targeted top officials at Russian oil giant Rosneft and other Russian energy players, but not Gazprom directly.
19) Kerry Says Russia-China Gas Deal Not Linked to Ukraine
from Reuters by Patricia Zengerle
A $400-billion gas supply deal signed between Russia and China on Wednesday was the result of 10 years of negotiations and is not tied to diplomatic tensions in Ukraine, U.S. Secretary of State John Kerry said. "We don't see any relationship whatsoever to an agreement with respect to gas and energy supplies between Russia and China that they've been working on for 10 years, for 10 years," Kerry told a news conference during a visit to Mexico City.
20) EU Outlines Plans to Wean Itself Off Russian Gas
from Wall Street Journal by Vanessa Mock
The European Union sketched out new plans to reduce its dependence on Russian natural gas and to bolster its energy security while warning Moscow not to cut off gas supplies to Ukraine. The push to forge closer energy ties among the bloc's 28 countries and find alternative suppliers has intensified over the past weeks, as Russian threats to shut off the flow of gas to Ukraine raise the specter of supply disruptions for Europe as well. The Ukraine crisis has galvanized the EU into mapping out a new energy-security strategy for the 28-country bloc that will be discussed by EU leaders at the end of June.
21) Reliability Group Says Key Interconnection Operation Metric Remains Stable
from Platts by Paul Ciampoli
Frequency response, a measure of an interconnection's ability to stabilize frequency immediately following the sudden loss of generation or load, remains stable across all interconnections, the North American Electric Reliability Corporation said in a new report issued Wednesday. NERC said in its "State of Reliability 2014" report that from 2009 to 2013 the Eastern Interconnection, Electric Reliability Council of Texas Interconnection, Quebec Interconnection and the Western Interconnection "have shown steady frequency response performance, trending above the recommended interconnection frequency response obligation (IFRO) at all times during the study period." NERC said the Eastern Interconnection data showed a slightly downward trend in frequency response, but that this trend is not statistically significant.
22) When Will Smart Meters' Day Come?
from E&E by Peter Behr
An estimated 46 million advanced meters had been installed in the United States as of mid-2013, according to the industry-sponsored Institute for Electric Innovation at the Edison Foundation. But the spread is spotty. A cluster of states on the two coasts and part of the Great Lakes region have replaced more than half of customer meters with advanced meters. But in a group of thinly populated Great Plains states, less than 15 percent of meters are the "smart" variety, configured for two-way communication with utility control centers. Residential and small commercial customers in New York and other states are beginning to benefit from smart grid technologies, including wireless air conditioners and thermostats and other devices, a New York state report noted. Other utilities have run pilot programs to test which technologies and incentives are most likely to alter customer behavior in favor of energy savings.
23) California Focuses on Drought, Plant Closures in Revamped Educational Campaign
from SNL by Mark Hand
The state of California relaunched its Energy Upgrade California program on May 20 with a set of wide-ranging goals, including educating residents about their energy and water usage and helping the state meet its climate goals. The program will include the use of a multicultural advertising campaign, retail education, community-based outreach and education, and social media. Through the education program, the state hopes residents will learn more about renewable energy and time-of-use rate options and how to respond to statewide calls to reduce power usage.
24) China Solar Makers Seek Talks to Resolve Trade Dispute with U.S.

from Houston Chronicle (Bloomberg)
Yingli Green Energy Holding Co. led China's biggest solar-panel makers in seeking talks to end a trade dispute with the U.S. before an American probe into the Asian country's exports reaches an initial conclusion in June. China's solar industry "strongly opposes the U.S. anti-dumping investigation" and denies any illegal subsidies are provided for its products, according to a joint statement from the group of Chinese producers and industry associations. The U.S. began investigating Chinese exports this year amid concerns loopholes are being used to avoid anti-dumping duties as high as 250 percent that America imposed from 2012. Trade tensions heightened this month as the U.S. charged five Chinese military officials with spying on companies including the U.S. unit of Solarworld AG, Germany's biggest solar panel maker.
25) First Solar Joins Developers Saying Dumping Probe Flawed
from Houston Chronicle by Natalie Obiko Pearson (Bloomberg)
First Solar Inc. (FSLR), one of the largest suppliers of photovoltaic panels to India, challenged in court the findings of a government probe that said U.S. and Asian suppliers dumped products in the local market.
The biggest U.S. solar-panel maker joined with an Indian trade group for project developers calling the outcome flawed, at a Delhi High Court hearing Tuesday, according to Sujoy Ghosh, First Solar's chief for India, and Welspun Energy Ltd. Managing Director Vineet Mittal, who heads the group. Welspun is India's largest solar developer and a major importer. Their petitions claim that the Ministry of Commerce & Industry in its 1 1/2-year anti-dumping investigation rejected data submitted by overseas competitors of Indian photovoltaic producers.
OPINIONS, EDITORIALS, PERSPECTIVES
26) Monterey Shale Finding is a Setback and an Opportunity for California
from Los Angeles Times by Editorial Board
A new federal report that drastically downgrades the short-term oil potential of the Monterey Shale is the most official word on the subject, but not the first. Two years ago, a Wall Street analyst, in a report titled "The Mystery of the Missing Monterey Shale," outlined possible reasons why the oil-rich California geological formation had been a disappointment in recent years and was unlikely to produce a fracking boom like the one in North Dakota. Jumbled geology, multiple fault lines and thick, sticky oil were among the explanations.
28) Accountability At FERC: Bullies Deserve The Boot, Not Promotions
from Forbes by William Pentland
In a nearly three-hour long hearing yesterday morning, the Senate Energyand Natural Resources Committee considered two candidates nominated by President Obama to lead the Federal Energy Regulatory Commission. Norman Bay, currently the head of FERC's Office of Enforcement, was nominated to serve as the Chair of FERC. Cheryl LaFleur, the interim Chair of FERC, was nominated to serve a second term as a FERC Commissioner. The majority of the Committee's questions and comments were directed at Bay. A few Democratic Senators sought to deflect criticism away from Bay's running of the Office of Enforcement by suggesting that to the extent there were any due process problems, it was the Commission, and not Bay, who made all the decisions currently being criticized. Turns out that is just not accurate.
29) Energy Reforms to Cut Utility Bills and Enable Growth and Innovation
from YG Network by Adam White

…In all of this, it is important to take seriously the concerns that Americans voice regarding new energy infrastructure's environmental impacts, as well as concerns about private property rights. It would be a mistake to downplay these concerns, when they are voiced in good faith by the very same Middle Class Americans whom the new energy revolution is supposed to benefit. To that end, regulators and legislators must themselves work in good faith, to respond to these concerns and make decisions truly in the public interest. Most of all, Americans must finally be given a voice charting the nation's energy future, instead of having radical new energy policies imposed upon them by regulators and ideologues.
RESEARCH REPORTS, ISSUE BRIEFS, CASE STUDIES


30) U.S. Consumers' Energy Spending Rose This Winter
from Energy Information Administration
U.S. consumer energy expenditures this past winter (fourth quarter of 2013 and first quarter of 2014) were $14.0 billion (4.4%) higher than the previous winter.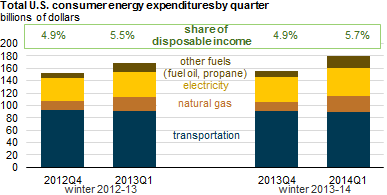 from Government Accountability Office
Large quantities of ammonium nitrate are present in the United States, although the precise number of facilities with ammonium nitrate is not known. While incidents involving ammonium nitrate are rare, this chemical can react in ways that harm significant numbers of people and devastate communities. Facilities may be required, in certain circumstances, to report their chemical holdings to federal, state, and local authorities for security and emergency planning purposes. However, given the various reporting requirements and numerous reporting exemptions, some facilities may be uncertain about what to report to whom. Through the new Executive Order, federal agencies including DHS, EPA, and OSHA have the opportunity to work together on data sharing initiatives to help identify facilities with ammonium nitrate fertilizer. Such data sharing could help federal agencies identify facilities that are not complying with their regulations and enable OSHA to target high risk facilities with ammonium nitrate for inspection. Without improved coordination among the various federal and state agencies that collect data on facilities that store potentially hazardous chemicals, identifying facilities with ammonium nitrate for purposes of increasing awareness of the hazards and improving regulatory compliance will remain a challenge.
32) State of Reliability Report 2014
from North American Electric Reliability Corporation
Key findings and recommendations include:
Sustained high performance for bulk power system reliability. In 2013, there were no high-stress days, including weather events. During the 2008-2013 period, the majority of high-stress days were weather-initiated or weather-exacerbated.
Frequency response remains stable. All interconnections have shown steady frequency response performance, trending above the recommended obligation at all times during the study period. Recommendations: NERC will examine incidents in 2013 where frequency response was less than interconnection frequency response obligation and determine actions to maintain and improve frequency response performance.
Protection system misoperations cause transmission events. Protection system misoperations continue to be a significant contributor to automatic transmission outage severity and more impactful than other events in 2013. This also was highlighted in the 2013 State of Reliability report. Recommendations: NERC will complete development of standard PRC-004-3 – Protection System Misoperation Identification and Correction and develop actions to address the three most common causes of protection system misoperations.
Substation equipment failures impact transmission event severity. AC substation equipment failures can exacerbate the severity of transmission outages. In response to 2013 State of Reliability recommendations, the AC Substation Equipment Task Force was formed and gathered equipment failure data to analyze with a report expected by year-end 2014. Recommendations: NERC will assess the effectiveness of NERC advisory that addressed 345 kV breaker failures and develop a plan to address the causes of substation equipment failures.
Use of Energy Emergency Alert Level 3 declines. In 2013, there were seven Energy Emergency Alert Level 3 events declared – only one of the seven required firm load to be shed to preserve grid reliability. Recommendations: Analyze system events that resulted in firm load shed to determine any common causes, trends.