From: Michael Waldman
To: Scott Jenkins,
Subject: The Second Amendment: A Biography
Date: Tue May 20 18:56:13 MDT 2014
Body:
---
Friends,
I wanted to let you know about my new book, The Second Amendment: A Biography, published today by Simon & Schuster. It takes a new look at one of the most controversial provisions in the Constitution. It's the story of America's enduring debate over the role of government, individual rights, race, and the singular role of the Supreme Court.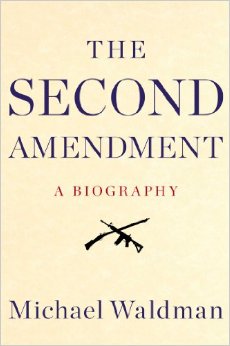 Politico Magazine just published an excerpt, "How the NRA Rewrote the Second Amendment."
We're delighted that Publishers Weekly called it "the best narrative of its subject." Pulitzer Prize-winning historian Joseph J. Ellis wrote, "Waldman's new book will not make the most zealous NRA advocates happy, but for anyone who wants his or her history of the Second Amendment straight-up, this is the most comprehensive, accessible, and compelling version of the story in print."
For more information go to the Brennan Center's website and stay informed by signing up for our newsletters. Follow the Brennan Center on Facebook and Twitter.

Best regards,

Michael Waldman
President
Brennan Center for Justice
Brennan Center for Justice at NYU School of Law | 161 Avenue of the Americas, 12th Floor | New York, NY 10013 | 646.292.8310 phone | 212.463.7308 fax | brennancenter@nyu.edu