From: Morning Consult
To: Scott Jenkins,
Subject: Morning Consult Energy: Fossil Fuel Interests Losing State Battles Over Renewables, Heartbleed Could Hit Electric Grid
Date: Mon Apr 28 13:33:25 MDT 2014
Body:
---
By Emily Holden (@emilyhholden)
Today's Washington Brief:
Today's Business Brief:

Environmentalists are key allies in an industry push to save old nuclear reactors that are threatened by cheap natural gas and rising production from wind energy, New York Times' Matthew L. Wald reports.


A little-noticed ruling by a federal appeals court has thrown into question the legaility of a widespread EPA emissions exemption and could lead to a rash of difficult-to-defend lawsuits for power plant operators, SNL's Corbin Hiar reports.
Today's Chart Review:

Projected CO2 Emissions Vary with Coal and Nuclear Power Plant Retirements
from Energy Information Administration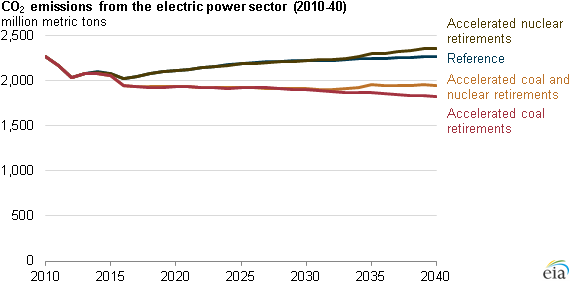 Mark Your Calendars (All Times Eastern):
Monday: House Transportation and Infrastructure hearing on federal water regulations @ 9 am
Monday: National Academy of Sciences webcast of annual meeting with McCarthy @ 9 am
Monday: Center for Climate and Energy Solutions discussion on role of nuclear power @ 9:30 am
Monday: EPA teleconference meeting on draft advisory report on water body connectivity @ 1 pm
Monday: National Hydropower Association Annual Conference @ 1 pm
Monday: Quarterly Earnings— Cleco Corp, UNS Energy Corp
Tuesday: National Hydropower Association Annual Conference with Moniz @ 9 am
Tuesday: FERC technical conference on critical infrastructure protection @ 10 am
Tuesday: House Natural Resources hearing on energy jobs @ 10 am
Tuesday: Energy and Commerce hearing on chemical review and regulation @ 10:15 am
Tuesday: Natural Gas Roundtable lunch with administrator of Energy Information Administration @ Noon
Tuesday: Environmental Law Institute discussion on preparing for high-profile industrial accidents @ Noon
Tuesday: Quarterly Earnings— Power Integrations Inc, Portland General Electric Co, TECO Energy Inc, REX Energy Corp
Wednesday: National Hydropower Association Annual Conference @ 8 am
Wednesday: Information Technology and Innovation Foundation discussion on energy efficiency @ 8:30 am
Wednesday: House Homeland Security markup of chemical facility anti-terrorism legislation @ 9:30 am
Wednesday: FERC seminar on environmental compliance for natural gas facilities in Seattle @ 11 am
Wednesday: American Council on Renewable Energy webinar on Latin America and Caribbean @ Noon
Wednesday: Senate Indian Affairs hearing on tribal energy development @ 2:30 pm
Wednesday: Quarterly Earnings—Dominion Resources, Exelon Corp, NextEra Energy Inc, Southern Co
Thursday: Senate Energy hearing on winter propane shortages @ 2:30 pm
Thursday: Quarterly Earnings—CenterPoint Energy Inc, Exxon Mobil Corp, ITC Holdings Corp, OGE Energy Corp, PG&E Corp, Southwestern Energy Co
Friday: EPA teleconference meeting on draft advisory report on water body connectivity cont. @ 1 pm
Friday: Quarterly Earnings—Cheniere Energy Partners, Chevron Corp, Consolidated Edison Inc, Northeast Utilities, Sempra Energy
NEWS ARTICLES

1-7: General
8-10: Oil
11-14: Natural Gas
15-17: Utilities and Infrastructure
21-23: Renewables
OPINIONS, EDITORIALS, PERSPECTIVES

24: New York Times
25: Washington Post
26: Wall Street Journal
RESEARCH REPORTS, ISSUE BRIEFS, CASE STUDIES

27: Environmental Protection Agency
28: Herter Energy Research Solutions
29: ICF International


1) Obama Announces New U.S. Sanctions on Russia Over Ukraine
from Reuters by Matt Spetalnick and Thomas Grove
U.S. President Barack Obama announced new sanctions against some Russians on Monday to stop President Vladimir Putin from fomenting the rebellion in eastern Ukraine, but said he was holding broader measures against Russia's economy "in reserve". On the ground, pro-Moscow rebels showed no sign of curbing their uprising, seizing public buildings in another town in the east. Interfax news agency reported that the mayor of a further major eastern city, Kharkiv, had been shot and was undergoing an operation. It gave no details of the shooting. The new sanctions, to be outlined in detail later on Monday, will add more people and firms to a list announced last month of figures whose assets are frozen and who are denied visas to travel to the United States. Some high tech exports will also be targeted, Obama said. But the measures do not yet include the wider sanctions, like curbs on the Russian financial and energy sectors, that would do the most serious damage to Russia's economy.

2) Heartbleed Could Hit Energy Grid
from Morning Consult by Emily Holden

The nation's electricity infrastructure could be exposed to the infamous Heartbleed security bug, a possibility that has experts worried hackers could use that vulnerability to access sensitive communications and coordinate a devastating attack that could shut down chunks of the U.S. power grid. The discovery of the gorily-named security gap—caused by a glitch in widely used OpenSSL software—sent tech giants scrambling several weeks ago for a patch for the websites people use most. But the problem is much more pervasive and poses risks far beyond making passwords and credit card information easier to steal. Attackers could also use Heartbleed to infiltrate the industrial control systems the energy sector uses to keep the electric grid running.

3) Climate Plan Support, not Keystone XL Opposition, Driving Environmental Endorsements
from Washington Examiner by Zack Colman
Support for the Keystone XL oil sands pipeline is not a deal-breaker when it comes to snagging endorsements from environmental groups for November's midterm elections. Environmental groups have spent the past few years building a "firewall" in the Senate to support environmental policies ranging from greenhouse gas emission regulations to conservation and to block rollback measures approved by the GOP-led House. But a handful of Senate Democrats running close contests in red-leaning states have presented a quandary: they back Keystone XL, and some oppose Obama administration-proposed greenhouse gas regulations for power plants, a cornerstone of President Obama's climate agenda. So now those groups face a dilemma — ruling out all Senate Democrats who back Keystone XL would put its environmental firewall in jeopardy. The litmus test this year, officials from those groups' political advocacy arms say, is whether incumbents and candidates support Obama's climate plan.

4) How Much is Mexico Really Opening to Drilling
from Houston Chronicle by Jennifer Hiller
The Eagle Ford Shale extends into Mexico, a country that has one of the world's great reserves of hydrocarbons. But Mexico's oil and gas production has been dropping. It hasn't tapped its shale fields the way the U.S. has. Now the Mexican government and national oil company Petróleos Mexicanos, known as Pemex, are opening the doors to foreign, privately owned companies for the first time since the 1930s. Just how wide will those doors open? Guillermo Dominguez-Vargas, a commissioner on Mexico's National Hydrocarbon Commission, said this week in San Antonio that it depends on the type of oil and gas field. Pemex had told the government it wants to keep about 63 percent of its prospects in shallow offshore waters where it has had a lot of success, as well as around 82 percent of conventional onshore fields. But Pemex is willing to let private companies have a crack at 85 percent of the country's shale prospects, Dominguez-Vargas said. It's also willing to release large areas of its deep water offshore. Both are areas that require a lot of technology to do well.

5) How a Gulf Settlement That BP Once Hailed Became Its Target
from New York Times by Campbell Robertson and John Schwartz
Four years ago the Deepwater Horizon oil rig caught fire and exploded, killing 11 men, spewing millions of barrels of oil into the Gulf of Mexico and staining, seemingly indelibly, the image of BP, the international energy giant responsible for the well. Its reputation in free fall, the company set aside billions of dollars and saturated the airwaves with contrite pledges to make thousands of businesses and workers whole, from shrimpers to hotel owners to charter boat operators. Four years on, BP is no longer on the defensive. In March, the federal government allowed the company, after a period of exile, to bid for oil and gas leases in the gulf. On April 15, BP announced the end of active shoreline cleanup with so much fanfare that the Coast Guard quickly reassured the public that the operation was far from over. In an op-ed article this month in Gulf Coast newspapers, John Mingé, the chairman of BP America, highlighted the coast's record tourism numbers, emphasized the $27 billion BP had spent and dismissed environmentalists skeptical of the gulf's recovery as advocates using the spill "to raise money for their causes." But perhaps nothing has been as drastic as the company's change in attitude toward the process it helped set up in 2012 to settle hundreds of thousands of economic damage claims. In full-page newspaper ads, interviews and a gusher of court filings, BP officials have insisted that their good intentions are being hijacked by greedy lawyers and underhanded claimants.
6) Rich Nations' Greenhouse Gas Emissions Fall in 2012, Led by U.S.
from Reuters by Alister Doyle
Industrialised nations' greenhouse gas emissions fell by 1.3 percent in 2012, led by a U.S. decline to the lowest in almost two decades with a shift to natural gas from dirtier coal, official statistics show. Emissions from more than 40 nations were 10 percent below 1990 levels in 2012, according to a Reuters compilation of national data submitted to the United Nations in recent days that are the main gauge of efforts to tackle global warming. Still, with emissions rising elsewhere, experts said the rate of decline was too slow to limit average world temperature rises to 2 degrees Celsius (3.6 Fahrenheit) above pre-industrial times, a ceiling set by almost 200 nations to avert droughts, heatwaves and rising seas.

7) U.S. Stock-Index Futures Climb Amid Pfizer, GE M&A Buzz
from Bloomberg by Inyoung Hwang
U.S. stock-index futures rose, following the Standard & Poor's 500 Index's decline last week, amid an increase in mergers-and-acquisitions activity…Futures on the S&P 500 expiring in June climbed 0.4 percent to 1,866.9 at 10:27 a.m. in London. The equity gauge declined last week, erasing gains in the final session, as disappointing results from Amazon.com Inc. triggered a selloff in technology shares and tensions over Ukraine intensified. Dow Jones Industrial Average contracts increased 69 points, or 0.4 percent, to 16,393 today.
8) Oil Underpinned by Russia-Ukraine Tensions
from Wall Street Journal by Cassie Werber
Crude oil is up and hovering around the $110 mark, still gaining support from the crisis in Ukraine. An escalation of the situation between Russia and Ukraine could lead to a leap in global energy prices, said David Hufton at oil brokerage PVM. "Were Russia to send troops into the Ukraine under the pretext of a peace-keeping role to protect its citizens a red line will have been crossed that not even very cautious European leaders could ignore," he said. "If the situation escalates it threatens to undermine the euro zone's recovery and deliver a global energy price spike."

9) BP: Disconnecting From the Operator
from Wall Street Journal by Helen Thomas
There is little point in acting large and in charge if someone else is actually calling the shots. Typically, a large oil or gas field will be owned by several partners, but only one operates it. So the behemoths of the oil and gas industry generally prefer to control and operate their main assets, rather than hand over the reins to a rival. Indeed, as competing oil-services firms and state-backed national oil companies have muscled in, management of complex energy projects has been touted as a raison d'être for the big oil companies. But one in particular looks less like a master of its own destiny these days: BP. The U.K. oil company derived only 30% of last year's output, after paying royalties, from assets in which it was the operator, according to data from sector consultant Rystad Energy. That is well shy of peers such as Chevron, at 74%, and Royal Dutch Shell, at 59%. It also is less than at Exxon Mobil, Total and Eni, which each got about 45% of their output from operated assets. One big reason for this is Russia. A 20% stake in Kremlin-controlled Rosneft accounts for about one-third of BP's production. Though it claims some sway over Rosneft's operations, including BP Chief Executive Bob Dudley's seat on the Russian company's board, recent tensions around Ukraine have reawakened concerns about BP's exposure. Excluding the Rosneft stake, BP's share of production that it operates would be much closer to that of its rivals, though still below the average.
10) Canada Still Betting U.S. Will Approve Keystone XL
from Reuters by Euan Rocha
Canada remains confident Washington will ultimately approve the Keystone XL pipeline to the U.S. Gulf Coast, two prominent cabinet ministers said on Friday, adding that the latest U.S. delay is political and not based on environmental concerns. In his first public remarks on the controversial project, the country's new energy minister, Greg Rickford, said he hoped the Obama administration will "depoliticize" its decision on Keystone XL and give it the green light. "On the Keystone, we're still very hopeful ... that this will go ahead sooner rather than later, and it will simply add to the economic benefits of pipeline transmission of energy products," Rickford told reporters after a speech in the Toronto suburb of Mississauga on Friday.


11) Lawmakers Look to Move Some Natural Gas Exports Higher in Energy Department Review, Says Industry Chief
from Washington Examiner by Zack Colman

Lawmakers are considering ways to give some natural gas export applications to nations that lack a free-trade agreement with the United States higher priority in the Energy Department review process, the head of a major natural gas trade organization told the Washington Examiner. The Ukraine crisis has "shed more of a light" on the pace of export approvals at the Energy Department, America's Natural Gas Alliance CEO Marty Durbin said in a Friday interview at the organization's Washington headquarters. That pace has Capitol Hill and Obama administration officials considering moving applications that have gone through a pre-filing process with the Federal Energy Regulatory Commission to the top of the DOE's queue, Durbin said. That would be a change from the current routine, in which the department rules on projects on a first-come, first-serve basis.

12) New England Democrats Seek More Natural Gas
from Washington Examiner by Zack Colman
New England's lawmakers want more natural gas flowing through their pipelines. It's an unusual position for the region's Democratic legislators, who tend to push for more climate-friendly energy sources. The region gets more than half its power from the fuel, which burns about twice as clean as coal. But while a natural gas boom has lowered U.S. electricity prices, New England has occasionally been left out in the cold. "[T]he high demand for natural gas to meet heating and electricity needs, coupled with significantly constrained pipeline capacity into the region, has driven up natural gas and wholesale electricity prices and threatened reliability in New England," a bipartisan group of 12 senators wrote to Energy Secretary Ernest Moniz in March.
13) Gazprom Says Won't Halt Gas Flows to Europe Over Ukraine Gas Price Row
from Wall Street Journal by Selina Williams
Russian natural-gas giant OAO Gazprom won't stop pumping gas to its European customers even if Ukraine doesn't pay its arrears—-expected to reach $3.5 billion next month—but it can't guarantee those supplies will reach its intended customers, the company's Deputy Chief Executive Alexander Medvedev said Friday. Russian state-controlled Gazprom supplies about 30% of Europe's gas needs, around half of which travels through pipes that cross Ukraine. Any disruption to those flows could have a significant impact on European customers, including utilities in Italy and Germany, and push up prices across the region. But Russia also depends on the revenues from its energy exports which account for around 50% of federal income.

14) EU, Ukraine Set to Sign Natural Gas Deal
from Wall Street Journal by Sean Carney
The European Union and Ukraine have agreed on terms to boost the flow of natural gas from the 28-nation bloc to the former Soviet state, Slovak pipeline operator Eustream said late Saturday…The two sides agreed that the fastest and least legally cumbersome way to provide Ukraine with a third EU-based gas delivery route--it already has gas-flow agreements with Hungary and Poland--is to use the pipeline between Vojany and Uzhgorod, an underutilized secondary pipe on Slovakia's eastern border.

15) D.C. Circuit Ruling Could Make Utilities More Vulnerable to Air Pollution Suits
from SNL by Corbin Hiar
A recent and little noticed ruling by a federal appeals court involving the cement industry could have dramatic impacts on the power industry because it has thrown into question the legality of a widespread U.S. EPA emissions exemption. Some legal experts are predicting that the decision could lead to a rash of difficult to defend lawsuits for operators of power plants and other major air polluters.
16) FERC Orders NorthWestern to Repay Overcharged Industrial Customers
from Missoulian by Mike Dennison
A federal commission says NorthWestern Energy overcharged large electric customers in Montana by millions of dollars for transmission "regulation" service and must repay them. The company, however, strongly disputes the ruling and said Friday it will examine how it can overturn it. "We don't think we owe anybody a refund," said NorthWestern Energy spokesman Butch Larcombe. "We don't agree with the decision and are exploring our options as to what the next step may be." NorthWestern said it has set aside $27 million in "cumulative deferred revenue" that could finance a refund to affected customers, which include large, industrial plants and electric co-ops. Yet Larcombe said it's too early to say what the exact refund may be – if NorthWestern has to pay it.
17) In User Test, Nest Thermostat—and its 'Smart' Competitors—Disappoint
from E&E by David Ferris
A comprehensive study of how people use thermostats has found that the one by Nest Labs Inc. -- the sleek unit that is supposed to be drop-dead easy to use -- fell in the middle of the pack on many criteria and has a design flaw that gave it a near-bottom rating for usability. Another important conclusion in the study of "smart" thermostats is that none was all that intuitive or helped users easily adjust settings in ways that save energy. The study was carried out last year by the Sacramento Municipal Utility District (SMUD) in California, where the thermostat plays an especially important role in energy use. Residential thermostats control one-quarter of all energy consumption, far more than any California utility. On a hot summer day in SMUD's service area in the Central Valley, home air conditioning accounts for about a third of the utility's 300-gigawatt peak demand. "What we found is that customers really do have a challenge using thermostats. They aren't able to use them very well, they find the interface nonintuitive," said Lupe Jimenez, a senior project manager at SMUD who managed the study. "You'd think by now the industry would have gotten around to it."
18) China's Inability to Achieve Nuclear Targets Will be a Boon for Coal: Woodmac
from Platts by Cecilia Quiambao
China will be unable to achieve its target of increasing nuclear power generating capacity to 200 GW by 2030, translating into opportunities for coal producers to capture additional demand growth, Wood Mackenzie said Monday. Coal will remain the dominant fuel, at 64% of China's power generation mix in 2030. China's target is to increase nuclear generating capacity to 200 GW in 2030 from the current 14.6 GW, it said. However, Woodmac said China will only be able to increase its nuclear generating capacity to 175 GW in 2030, as some of its planned and proposed projects will be delayed or canceled. "The missed targets will translate into opportunities for coal producers to capture additional demand growth," Woodmac said.

19) Oregon Gov. John Kitzhaber Firmly Opposes Ambre Energy Coal Export Terminal, Sets May Deadline
from The Oregonian by Rob Davis
Gov. John Kitzhaber has taken his strongest stand against a proposed coal export terminal proposed at the Port of Morrow in Boardman, saying it should be rejected and setting a May 31 deadline for a state decision on the project. "It is time to once and for all to say no to coal exports from the Pacific Northwest," Kitzhaber said in an April 19 speech to the League of Conservation Voters. "It is time to say yes to national and state energy policies that will transform our economy and our communities into a future that can sustain the next generation." It's the boldest statement Kitzhaber has made on Pacific Northwest coal exports, which he had previously questioned and said needed extensive review. Kitzhaber, a Democrat seeking reelection, has been under intense pressure from environmental supporters to oppose coal exports, having been targeted by a billboard campaign that urged: "Governor Kitzhaber: Oppose Coal Exports NOW." But while the governor had said exports concerned him, he hadn't flatly rejected them. Kitzhaber said Australia-based Ambre Energy had been given two years to show its proposed export facility would meet Oregon regulatory standards and hadn't yet been able to demonstrate that it could.
20) Nuclear Industry Gains Carbon-Focused Allies in Push to Save Reactors
from New York Times by Matthew L. Wald
Environmentalists and the nuclear industry are beginning a push to preserve old nuclear reactors whose economic viability is threatened by cheap natural gas and rising production of wind energy. They argue that while natural gas and wind are helpful as sources of electricity with little or no production of greenhouse gases, national climate goals will be unreachable if zero-carbon nuclear reactors are phased out. The Center for Climate and Energy Solutions, an independent nonprofit group based in Washington that was formerly known as the Pew Center on Global Climate Change, plans to release on Monday a research paper that charts the decline of the industry. "The loss of nuclear plants from the electricity grid would likely lead to millions of tons of additional carbon dioxide in the atmosphere each year," because the substitute would be fossil fuels, the paper concludes. "This is a prospect the global climate cannot afford."
21) A Battle Is Looming Over Renewable Energy, and Fossil Fuel Interests Are Losing
from Washington Post by Steven Mufson and Tom Hamburger

In state capitals across the country, legislators are debating proposals to roll back environmental rules, prodded by industry and advocacy groups eager to curtail regulations aimed at curbing greenhouse gases. The measures, which have been introduced in about 18 states, lie at the heart of an effort to expand to the state level the battle over fossil fuel and renewable energy. The new rules would trim or abolish climate mandates — including those that require utilities to use solar and wind energy, as well as proposed Environmental Protection Agency rules that would reduce carbon emissions from power plants. But the campaign — despite its backing from powerful groups such as Americans for Prosperity — has run into a surprising roadblock: the growing political clout of renewable-energy interests, even in rock-ribbed Republican states such as Kansas. The stage has been set for what one lobbyist called "trench warfare" as moneyed interests on both sides wrestle over some of the strongest regulations for promoting renewable energy.

22) Experimental Efforts to Harvest the Ocean's Power Face Cost Setbacks
from New York Times by Joshua Hunt and Diane Cardwell
At the Port of Portland sits a 260-ton buoy filled with technology that can turn the movement of the ocean into electricity to power 100 homes. It rolled off an assembly line to great fanfare two years ago and received the nation's first commercial license to operate. It was to be the start of the closely watched follow-up to a failed attempt in the 1990s to harness the power of the Pacific Ocean, in which one of the first test-buoy generators quickly sank. But this time, the buoy did not even get that chance. Its maker, Ocean Power Technologies, quietly abandoned the project this month without ever deploying its machine off the coast. Despite receiving at least $8.7 million in federal and state grants, Ocean Power told regulators that it could not raise enough money to cover higher-than-expected costs and would instead pursue a similar project in Australia, backed by a $62 million commitment from that country's government. The shuttering of the ambitious project — which, as the nation's first grid-connected commercial-scale wave park, was to have 10 buoys supplying power to about 1,000 homes — is the latest setback for the nascent wave energy sector in the United States, which remains in the experimental stage. Although some renewable energy technologies — conventional hydropower, solar and wind — have reached commercial viability and can compete in some markets with fossil fuels, the emerging water-based approaches called marine hydrokinetic technologies are far from meeting that mark.
23) Will Newer Turbines Mean Fewer Bird Deaths?
from National Geographic by Andrew Curry

…Since the 1960s, Altamont Pass has been a proving ground for wind power. Now it's a test bed for solutions to one of the industry's biggest downsides: Turbines kill thousands of birds and bats annually. The question of how to protect winged wildlife is becoming more pressing as deaths rise with the growth of wind power. Wind generation in the United States, for example, is up dramatically, but so are deaths of birds such as the federally protected golden eagle…Over the past several years, wind companies operating at Altamont Pass have made strides in reducing bird deaths across the wind resource area's 58 square miles…Now a larger effort, overseen by the wind operators and the counties spanned by Altamont Pass, is under way to "repower" the area, or decommission old turbines and replace them with new ones that, ideally, will kill fewer birds.
A message from the Independent Petroleum Association of America:
Launched by the Independent Petroleum Association of America in 2009, Energy In Depth is a research, education and public outreach campaign focused on getting the facts out about the promise and potential of responsibly developing America's onshore energy resource base – especially abundant sources of oil and natural gas from shale and other "tight" formations. It's an effort that benefits directly from the support, direction and technical expertise of America's oil and natural gas industry.
OPINIONS, EDITORIALS, PERSPECTIVES
24) The Koch Attack On Solar Energy
from New York Times by Editorial Board
At long last, the Koch brothers and their conservative allies in state government have found a new tax they can support. Naturally it's a tax on something the country needs: solar energy panels. For the last few months, the Kochs and other big polluters have been spending heavily to fight incentives for renewable energy, which have been adopted by most states. They particularly dislike state laws that allow homeowners with solar panels to sell power they don't need back to electric utilities. So they've been pushing legislatures to impose a surtax on this increasingly popular practice, hoping to make installing solar panels on houses less attractive…The coal producers' motivation is clear: They see solar and wind energy as a long-term threat to their businesses. That might seem distant at the moment, when nearly 40 percent of the nation's electricity is still generated by coal, and when less than 1 percent of power customers have solar arrays. (It is slightly higher in California and Hawaii.) But given new regulations on power-plant emissions of mercury and other pollutants, and the urgent need to reduce global warming emissions, the future clearly lies with renewable energy. In 2013, 29 percent of newly installed generation capacity came from solar, compared with 10 percent in 2012.

25) It is Time for the West to Move Ahead Without Russia
from Washington Post by John McCain, John Hoeven and Ron Johnson
…Hope of a constructive relationship with Russia under Putin has vanished. A friendly rival has become, at best, an unfriendly adversary. Putin will not compromise his quest to dominate Russia's sovereign neighbors (not least as a cynical way to build support at home for his corrupt and autocratic rule). He may play along with Western diplomats eager to avoid conflict, as happened recently in Geneva, but only as a way to consolidate his gains, divide the United States and Europe, play for time and prepare to push further. Western weakness emboldens Putin. The only thing he respects, and that can change his calculus, is greater strength.
26) The World's Resources Aren't Running Out
from Wall Street Journal by Matt Ridley
How many times have you heard that we humans are "using up" the world's resources, "running out" of oil, "reaching the limits" of the atmosphere's capacity to cope with pollution or "approaching the carrying capacity" of the land's ability to support a greater population? The assumption behind all such statements is that there is a fixed amount of stuff—metals, oil, clean air, land—and that we risk exhausting it through our consumption…But here's a peculiar feature of human history: We burst through such limits again and again.

A message from the Independent Petroleum Association of America:
Launched by the Independent Petroleum Association of America in 2009, Energy In Depth is a research, education and public outreach campaign focused on getting the facts out about the promise and potential of responsibly developing America's onshore energy resource base – especially abundant sources of oil and natural gas from shale and other "tight" formations. It's an effort that benefits directly from the support, direction and technical expertise of America's oil and natural gas industry.
RESEARCH REPORTS, ISSUE BRIEFS, CASE STUDIES
27) Greenhouse Gas Emission Standards for Light-Duty Vehicles
from Environmental Protection Agency

In the rulemaking for the 2012-2016 model years, we projected a fleet-wide standard of 295 grams/mile and that the industry as a whole would just meet that level (including the use of air conditioning and FFV credits). In fact, the fleet-wide 2012 model year standard (based on sales and footprint values for individual models) was 296 grams/mile, or 1 gram/mile higher than what we predicted. However, the actual performance for the 2012 model year was 286 grams/mile, or 9 grams/mile better than our rulemaking projection. The 2012 standard also represents a significant level of greenhouse gas reductions relative to the performance of manufacturers in the 2011 model year. Overall, the industry lowered tailpipe GHG emissions in model year 2012 relative to 2011 by about 19 grams/mile.
E&E's Jean Chemnick reports on the study.
28) SMUD's Communicating Thermostat Usability Study
from Herter Energy Research Solutions
E&E's David Ferris reports on the study.
29) ICF Study Sees Industry Ingenuity and Technological Improvements Driving Significantly Higher Natural Gas Production in the Marcellus and the Utica
from ICF International
The ICForecast Strategic Natural Gas Outlook for the second quarter of 2014 highlights a significant increase in production in the Northeast U.S. from the Marcellus Shale and the Utica Shale. For Marcellus, natural gas production growth continues unabated, driven by producers' continued improvements in drilling and fracturing technologies and techniques. High production continues to be a dominant theme despite decreased rig counts—another indication that innovative uses of technology are contributing to favorable production economics.