From: Morning Consult
To: Scott Jenkins,
Subject: Morning Consult Energy: Regulators to Propose Oil-By-Rail Rules Next Week, Baker Hughes to Disclose Fracking Chemicals
Date: Fri Apr 25 13:27:26 MDT 2014
Body:
---
By Emily Holden (@emilyhholden)
Today's Washington Brief:
U.S. transportation regulators will propose a "comprehensive rulemaking package" next week for rail tank cars carrying crude oil, Reuters reports.


Republicans in the Senate will likely delay consideration of a long-postponed energy efficiency bill unless they secure a vote on the Keystone XL oil pipeline, E&E's Nick Juliano reports.



Bloomberg reporters delve into how the Keystone battle has

has hurt U.S. relations with Canada.
Today's Business Brief:

Baker Hughes, the third-largest oilfield services provider, will divulge all the chemicals it uses in hyrdaulic fracturing. The company says the disclosures should eliminate claims from Harvard's environmental law program that oil producers withhold information on fracking fluids by asserting trade secret exemptions, Houston Chronicle's Collin Eaton reports.



The Connecticut Attorney General, consumer advocates and unions claim Capital Energy Partners was gaming the New England energy markets by closing the Brayton Point coal plant in Massachusetts in order to boost profits at its gas-fired facilities, E&E's Hannah Northey reports.


Today's Chart Review:

Global Upstream Oil and Gas Spending Continues to Favor Exploration and Development

from Energy Information Administration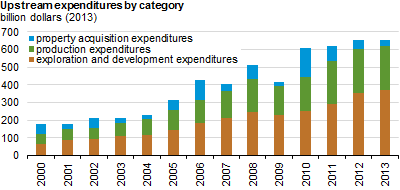 Mark Your Calendars (All Times Eastern):
Friday: DOE meeting on basic nuclear science research @ 9 am
Friday: Quarterly Earnings—American Electric Power Co Inc, DTE Energy Co, Forum Energy Technologies
Friday: Moniz discusses trade with Podesta moderating at Export-Import Bank Conference @ 10:30 am
NEWS ARTICLES

1-8: General
9-11: Oil
12-13: Natural Gas
14-15: Utilities and Infrastructure
20: Renewables

OPINIONS, EDITORIALS, PERSPECTIVES

21: Wall Street Journal
22-23: Washington Post
24-25: Forbes
RESEARCH REPORTS, ISSUE BRIEFS, CASE STUDIES

26: Rasmussen Reports
27: Yale Project on Climate Change Communication
28: Department of Energy Office of Environmental Management
1) Following Pipeline Delay, KXL Politics May Derail Efficiency Bill
from E&E by Nick Juliano
The Sisyphean push for a new energy efficiency law is in danger again of being crushed by the boulder of an unrelated policy fight. Senate Republicans would likely block consideration of the pending efficiency bill from Sens. Jeanne Shaheen (D-N.H.) and Rob Portman (R-Ohio) unless they secure a vote on whether to approve the Keystone XL pipeline, senior aides say. The Obama administration's decision last week to indefinitely delay a decision on whether to approve the controversial pipeline caught lawmakers and their aides off guard and may have roiled plans to squeeze Shaheen-Portman through a fairly narrow legislative window. Senate Majority Leader Harry Reid (D-Nev.) has not yet abandoned his plan to bring the bill to the floor early next month, but it is looking increasingly likely that he would have to allow at least one controversial amendment vote.
2) Baker Hughes to Reveal All Hydraulic Fracturing Chemicals
from Houston Chronicle by Collin Eaton
Baker Hughes says it's ready to divulge all the chemicals it uses in hydraulic fracturing, revelations that other big industry players have limited by asserting the potions they use to get at trapped oil and gas are trade secrets. In a statement recently posted on its website, the Houston-based oil field services firm says it "believes it is possible to disclose 100 percent of the chemical ingredients we use in hydraulic fracturing fluids without compromising our formulations — a balance that increases public trust while encouraging commercial innovation." Baker Hughes included a disclaimer: It would reveal its chemical data "where accepted by our customers and relevant governmental authorities." The company said it will take several months for it to negotiate with its suppliers before it can release its data. The new disclosures, the company said, would eliminate any trade secret claims about its reports to FracFocus, an industry-backed database that regulators in Texas and other states use as a clearinghouse for fracturing-fluid data…Last year, researchers from Harvard's environmental law program said FracFocus has "serious flaws" because it allows oil producers to withhold information on the fracturing fluids they use, by asserting trade secret exemptions.
3) Pemex Chief Touts Mexico's Energy Reform in Washington Visit
from Reuters by Valerie Volcovici
While energy reforms have opened the door for Mexico's state-run energy company to expand overseas, its focus for now will be on developing its "low-hanging fruit," the head of Pemex said on Thursday. Pemex Chief Executive Emilio Lozoya spoke in Washington, D.C., at the annual conference of the Export-Import Bank, the official U.S. export credit agency, on a panel discussing the next frontier of investment opportunities. Lozoya, a 39-year-old Harvard-educated executive and son of a former finance minister, touted the potential benefits of Mexico's massive energy reform to Mexico's economy, the central American region and the United States. While it has longer-term ambitions overseas, for now Pemex remains focused on attracting U.S. companies interested in Mexico's untapped potential.
4) Steyer Nets $10,050 for $100 Million Climate Super-PAC
from Bloomberg by Julie Bykowicz
Billionaire Tom Steyer is trying to enlist other wealthy donors in a $100 million climate-themed political organization, pledging at least half from himself. So far, he's landed one $10,000 check…Chris Lehane, a Democratic strategist advising Steyer on his political endeavors, said he's "completely comfortable" the super-PAC will have plenty of money at its disposal for November's congressional elections. NextGen will soon identify specific states "where we intend to both invest our own resources and raise resources on behalf of candidates," super-PAC spokeswoman Suzanne Henkels said in an e-mail. Would-be donors are waiting for that game plan, Lehane said.

5) China to Impose Tougher Penalties on Polluters Under New Law
from Reuters by Sui-Lee Wee
China on Thursday passed amendments to an environmental protection law imposing tougher penalties on polluters in the most sweeping revisions to the law in 25 years amid mounting public anger over pollution. The much-anticipated amendments follow a two-year debate among scholars, the government and state-owned enterprises over changes to the environmental protection law. The amendments enshrine environmental protection as the overriding priority of the government, but fall short of calls by non-governmental organisations to allow all such groups to file lawsuits against polluters…They include provisions to help the government impose rules on powerful industrial interests. In contrast, the environmental legal code in the past was focused on growth, said legal experts.
6) Al Gore is Not Giving Up
from Politico Magazine by Darren Samuelson
Al Gore is richer and skinnier than ever, 14 years out of the White House, a tech titan with elder statesman clout, whose disdain for politics in the capital where he lived most of his life has only grown with each year he's lived away from it. Sure, this new Gore has a great life, what with a net worth well over the $200 million mark following the sale of his Current TV network to Al Jazeera last year, that seat on the Apple board and his starring roles with two investment companies that tout their environmentally friendly business styles: London-based Generation Investment Management and Silicon Valley's Kleiner Perkins Caufield & Byers. But even in his fabulously wealthy, I'm-not-a-Washingtonian-anymore phase, Gore is still a policy wonk, of course…And the new Al Gore is just as steamed as the old Al Gore about the lack of clear progress in combating global warming, a failure that clearly eats at him.
7) Noble Energy Earnings Down 23 Percent
from Houston Chronicle by Ryan Holeywell
Exploration and production company Noble Energy saw first quarter profits slide 23 percent but pointed to growing production domestically and abroad. The company reported earnings of $200 million or $0.55 per share in the first quarter, down from $261 million or $0.72 per share a year ago…Noble officials also elaborated on their publicity campaign underway in Colorado. Noble, in partnership with Anadarko, is behind and effort known as Coloradoans for Responsible Energy Development that is trying to beat back potential ballot proposals that might restrict fracking in the state.
8) U.S. Stock-Index Futures Are Little Changed on Ukraine
from Bloomberg by Namitha Jagadeesh
U.S. stock-index futures were little changed, with equities heading for a second week of gains, as investors weighed corporate earnings and John Kerry warned of costs to Russia unless it eases tensions in Ukraine. Futures on the Standard & Poor's 500 Index expiring in June dropped 0.1 percent to 1,871.2 at 10:55 a.m. in London. The equity benchmark has advanced 0.7 percent this week as companies from Apple Inc. to Netflix Inc. reported earnings that beat estimates. Dow Jones Industrial Average contracts decreased 27 points, or 0.2 percent, to 16,404 today.
9) U.S. Regulators to Propose Enhanced Tank Car Standards
from Reuters by Patrick Rucker, Josephine Mason and Ros Krasny
U.S. transportation regulators will propose a "comprehensive rulemaking package" next week to address standards for tank cars that carry volatile crude oil on the nation's railroads. "The proposal will include options for enhancing tank car standards," a Department of Transportation official said in an email to Reuters…U.S. and Canadian authorities have been under pressure to address tank-car standards after several accidents involving the movement of oil by rail - especially a derailment and explosion in Quebec in July that killed 47 people. On Wednesday, Canada moved unilaterally, saying it would require older rail cars used for carrying crude oil to be phased out by May 2017.
10) How Obama Shocked Harper as Keystone Frustrator-in-Chief
from Bloomberg by Edward Greenspon, Andrew Mayeda, Rebecca Penty and Theophilos Argitis
On Thursday, Nov. 10, 2011, Canadian Prime Minister Stephen Harper, seated in his Ottawa office across from Parliament Hill, took an urgent call from U.S. President Barack Obama. Harper's advisers were listening intently around a muted speakerphone in an adjoining room. The State Department, Obama said, would be making an announcement later that day putting the Keystone XL pipeline project on hold. There was no choice, according to the president. Nebraska wanted the route changed to protect a key aquifer under millions of acres of prime farmland. This would necessitate a new environmental assessment. He assured Harper the call wasn't a game changer; neither a yes nor a no, just a delay…The president's call that day jolted the Canadians awake. It convinced Harper that Obama was treating a long-presumed "special relationship" between Canada and the U.S., enshrined in the 1989 Free Trade Agreement, as a political football. It would set a brittle tone on both sides of the border as the Keystone battle became a contest of contrasting political wills and sensibilities as much as a fight over oil development.
11) North Dakota Finds More Radioactive Oil Waste
from Houston Chronicle by Kevin Burbach (AP)
North Dakota confirmed Thursday the discovery of a new radioactive dump of waste from oil drilling, and separately a company hired to clean up waste found in February at another location said it removed double the amount of radioactive material originally estimated to be there. The Canadian company hired to clean up the largest dump found so far, located at an abandoned gas station in Noonan, also said that it suspects the soil at the site is contaminated and that samples were being analyzed. The twin disclosures highlight a growing problem from North Dakota's booming oil development — illegal disposal of oil filter socks, which are tubular nets that strain liquids during the oil production process and contain low amounts of radioactive material. Health officials have said that radioactive filter socks increasingly are being found along roadsides, in abandoned buildings or in commercial trash bins — sometimes those of competing oil companies.
12) Natural-Gas Prices Fall After Larger-Than-Expected Inventory Addition
from Wall Street Journal by Timothy Puko
Natural-gas futures fell Thursday after a larger-than-expected increase in stockpiles eased some concerns about a potential shortage of the heating fuel next winter. Producers added 49 billion cubic feet of gas to storage for the week ended April 18, the U.S. Energy Information Administration said. That is 7 bcf more than what 21 traders, brokers and analysts forecast in a Wall Street Journal survey. Natural gas for May delivery recently traded down 2.6 cents, or 0.6%, at $4.704, a million British thermal units on the New York Mercantile Exchange. Prices rose before the EIA's weekly report, as investors anticipated U.S. stockpiles would continue to grow slowly. With the amount of gas in storage near 11-year lows after a severe winter, the market has questioned whether supplies could be replenished in time to heat homes later this year. The increase in supplies last week--2 bcf more than the five-year average for the same time of year--showed the stockpiles are being rebuilt and sent gas prices down amid trading volume that picked up right after the data release.
13) Wyoming Natgas Facility Still Ablaze After Blast, Supplies Cut
from Reuters by by Selam Gebrekidan, Scott Disavino, Terry Wade and Eileen O'Grady
A fire was still raging at Williams Companies Inc's natural gas processing plant in southwestern Wyoming on Thursday, a day after an explosion rocked the site, disrupting supplies in a hub in the Rockies. Gathering pipelines that run to the facility remained shut, interrupting nearly 1 billion cubic feet per day of output, about a quarter of daily supply at the Opal, Wyoming gas hub, according to the company and the state pipeline authority. That grouping of five pipelines, including two owned by Kinder Morgan , and several processing plants move about 4-5 bcf/day of natural gas at this time of year, mostly to Western states. No injuries were reported and the cause of the fire is unknown. With the length of the outage unknown, traders said the cash natural gas basis in the Western United States was stronger on Thursday. One trader said the impact will be minimal, barring a prolonged shutdown as demand subsides after the winter.
14) Cuomo Unveils Plan to Reduce Power Usage
from Poughkeepsie Journal by Craig Wolf
New York's electric power system will do more to reduce usage as a way to cut costs under a new plan issued by Gov. Andrew Cuomo. Called Reforming Energy Vision, or REV, it focuses on consumers using technology to reduce energy costs. It also calls on utility companies to work toward more "distributed" systems, or ways to generate electricity from many small energy sources linked together. The Public Service Commission launched a proceeding to put the pieces together. Cuomo called the plan a "fundamental shift in utility regulation."
15) Few Fines for Utilities: New York's Public Service Commission Says Settlements Offer 'Greater Value'
from Wall Street Journal by Sean Gardiner
The regulator overseeing all gas utilities in New York state levied a total of two fines for $2,000 in 2013, the lowest amount collected since 2001, federal records show. The Public Service Commission said it prefers to reach settlements with companies that may have committed violations. The commission oversees 19 utilities, including Consolidated Edison, ED +0.51% which serviced two Park Avenue buildings that collapsed after an apparent March gas explosion that killed eight people in East Harlem. In the aftermath, federal officials said their investigation would include an examination of how the commission—tasked in part with enforcing penalties on gas companies that violate rules—regulates ConEd. Some utility experts and critics said the amount of penalties collected in 2013 seems low. Richard Kuprewicz, president of pipeline-safety consulting firm Accufacts Inc., based in Redmond, Wash., said given the roughly four million gas customers in New York, the utilities servicing them and the area's thousands of miles of gas pipes, "something doesn't look right" with the fine totals.
16) Power Plant Closure Once Drew Cheers—Now Controversy
from E&E by Hannah Northey
…Owners of the 1,492-megawatt Brayton Point Power Station announced last year that the behemoth plant would power down in 2017. EquiPower, a subsidiary of Energy Capital Partners that owns the plant, decided to retire the unit after learning its estimated operating costs would be $35 million more than the New England independent system operator's (ISO) independent market monitor-approved bid price. At the time, the pending closure of the plant in Somerset, Mass., was met with thunderous applause from environmental groups like the Sierra Club, which hailed the demise of the 150th coal-fired power plant -- one of the biggest polluters in New England's six states -- since 2010. But in a sharp turnaround, the closure is now triggering debates and calls for investigations by unions, Connecticut's attorney general and consumer advocates. Last week, Public Citizen, Connecticut Attorney General George Jepsen (D) and a local union in Somerset accused Capital Energy Partners, a private equity firm that bought the Brayton Point plant from Dominion Power last year, of gaming the New England energy markets by closing the Massachusetts facility to boost profit at its other gas-fired facilities…Jepsen argued that Energy Capital Partners' decision to close the plant triggered a shortage of capacity in ISO New England's annual capacity auction for 2017-2018, pushing up prices from $277 million per year to $617 million per year.
17) Peabody Energy First-Quarter Loss Widens as Prices, Demand Stay Soft
from Wall Street Journal by Ben Fox Rubin
Peabody Energy Corp. said its first-quarter loss widened, as the coal producer continued to struggle with softer coal prices. The company reported a loss of $48.5 million, or 18 cents a share, versus a year-earlier deficit of $23.4 million, or 9 cents a share. Excluding discontinued operations and other items, the company posted a loss of 19 cents per-share, compared with a loss of 5 cents a year earlier. First-quarter revenue declined 6.9% to $1.63 billion…Though coal sales have shown some signs of a rebound, relatively low natural-gas prices continue to pressure coal demand and pricing. Peabody also faces pressures abroad, as prices of metallurgical coal, used for steelmaking, have fallen significantly amid lower demand in Europe and slowing economic activity in China. In the past year, several coal-mining companies have temporarily stopped or completely closed mine operations amid the soft market conditions.
18) Dominion Talking to NRC About License Extensions for Four Nuclear Units
from Platts by Mary Powers
Dominion is in early discussions with the US Nuclear Regulatory Commission for 20-year license extensions for its four nuclear units serving Virginia customers, Thomas Wohlfarth, the company's senior vice president for regulatory affairs, said Thursday. The four units are located at Dominion's two Virginia power stations, Surry and North Anna. Receiving the extensions would bode well for the development of a third unit at North Anna, Wohlfarth said during a State Corporation Commission hearing on the utility's integrated resource plan, which was webcast.

19) Radioactive Release at New Mexico Waste Site Called 'Preventable'
from Wall Street Journal by John R. Emshwiller
A radioactive release above ground during a February accident at an underground federal nuclear-waste repository in New Mexico was preventable and the result of management's "failure to fully understand" and control the risks at the site, according to an Energy Department report issued Thursday. The report, resulting from an investigation of the Feb. 14 accident at the Waste Isolation Pilot Plant, or WIPP, criticized programs at the facility ranging from the maintenance of important safety equipment to preparation for emergencies. The accident occurred in one of the facility's waste-storage vaults, which are more than 2,000 feet underground. But some radioactive contamination reached the above-ground environment, and 21 workers were exposed to it at the site. The exposures aren't expected to cause health problems, Energy Department officials said.
20) GE Plans to Invest $1 Billion Annual on Solar, Wind Farms
from Bloomberg by Christopher Martin
General Electric Co.'s Energy Financial Services unit plans to invest more than $1 billion a year on renewable-power projects. That will build upon the $10 billion that GE has already invested in 17 gigawatts of mostly wind and solar plants since forming the unit in 2006, said EFS Chief Executive Officer David Nason. Those plants help avert 26 million tons of greenhouse-gas emissions annually, the equivalent of 5.6 million cars. Renewable power is EFS's fastest-growing energy market, and investing in power plants is also a way to spur sales of equipment from Stamford, Connecticut-based GE, Nason said…GE also is considering buying solar and wind power projects in countries including Japan, Ireland and Chile, and prefers to invest in projects that use GE equipment such as wind turbines and inverters.
A message from the American Petroleum Institute:
November's election gives voters a powerful choice on energy. Smart energy policies can grow our economy, create jobs and establish America as a global energy leader. The oil & natural gas industry supports $1.2 trillion of America's GDP. America is now the world's number-one natural gas producer and is projected to be number one in oil by 2015. This election, get involved at ChooseEnergy.org: http://bit.ly/1ibtGlZ


OPINIONS, EDITORIALS, PERSPECTIVES
21) Tom Steyer's Glass House: The Anti-Keystone Billionaire Throws Stones at the Kochs, but What About His Motives?
from Wall Street Journal
...It's old news that the billionaire reaped his fortune at hedge fund Farallon Capital, via investments in "dirty" oil and coal projects. Mr. Steyer, who retired from the firm in late 2012, has since publicly repented for his prior investment ways. But what many greens remember is that he didn't do so until he was caught. Mr. Steyer had spent months fighting Keystone, attending anti-coal rallies and urging colleges to divest from "fossil fuels," before the press noted that his money was still parked at Farallon, still profiting from Kinder Morgan pipelines and coal projects. It was only then, last July, that Mr. Steyer issued a press release saying he'd directed his money be moved to a fund that didn't invest in "tar sands" or "coal" and pledged this process would be complete by the end of 2013. And don't think that environmentalists failed to notice Mr. Steyer's specific divestment instructions. He did not say in that July press release that he was pulling his money from "fossil fuels"—only tar sands and coal. That may be because Mr. Steyer as recently as 2012 wrote an op-ed in this newspaper supporting more natural-gas extraction, and last year (as the Keystone debate raged) he helped fund a University of Texas study that supported fracking. Farallon over the years has held positions in natural-gas companies.
22) Will U.S. energy companies disrupt Obama's Russia policy?
from Washington Post by Rachel Maddow
It probably wouldn't be fair to call it a moment of humility. It was more like a little hitch in the swagger. The man himself would never show that he was awed or intimidated, but even he paused to appreciate the magnitude of what was being done. "The scale of the investment is large," said Russian President Vladimir Putin. "It is scary to utter such huge figures." That scary-large 2011 deal — the mother of all oil deals — was sealed in the living room of Putin's vacation home in Sochi. It knitted together Exxon Mobil, the most profitable U.S. corporation in the history of U.S. corporations, with the mostly state-owned Russian firm Rosneft, the largest oil company in the world. In the half-trillion-dollar deal , the two companies agreed to frack in Siberia, to drill parcels of the Arctic Ocean larger than the state of Texas and to build a huge natural gas terminal in Russia's far east. In North America, Rosneft and its subsidiaries got big stakes in Exxon parcels in west Texas, the Alberta oil fields, deep-water drilling sites in the Gulf of Mexico and a huge stake in Alaskan natural gas. No wonder Putin professed to being a little scared of the size of this thing. But the Exxon deal isn't the only one. Last week, on the same day that national security adviser Susan Rice threatened that sanctions on "very significant sectors" of the Russian economy would be the price of Putin pushing further into Ukraine, the CEO of Royal Dutch Shell was visiting Putin's residence, saying, "We are very keen to grow our position in the Russian Federation."
23) On Keystone XL, Put Policy Ahead of Politics
from Washington Post by Terry O'Sullivan
Upon the latest exasperating delay of the Keystone XL pipeline project, our union — the Laborers' International Union of North America — suggested that the Obama administration grow a set of antlers or take a lesson from Popeye and eat some spinach. After all, the evidence points to federal approval of the pipeline. After nearly six years of delay, thousands of pages of research, five environmental impact statements confirming the evidence and millions of public comments, a pipeline that could put thousands of Americans to work and help ensure our nation's energy security remains stalled.The evidence is clear: It's the politics that are tricky. And that's where courage comes in. No one seriously believes that the administration's nearly-dark-of-night announcement last week, on Good Friday, that the pipeline would again be delayed was anything but politically motivated. For the record, our union was among those that twice supported the Obama-Biden ticket, and we continue to support many of the president's initiatives. But that does not negate our right and obligation to speak out when, because of politics, the administration fails to stand up for working people and the men and women we represent.
24) Can Shale Save Europe?
from Forbes by Christopher Coats
Regardless of how Russia's foray into Ukraine finally works out, these last few weeks have offered a stark reminder of Europe's desperate need to diversify its energy options. Although Russia has stopped short of halting gas deliveries to Ukraine or the rest of Europe, the threat remains real and worthy of concern. Russia currently supplies about a quarter of the continent's natural gas demand, with a third of that flowing through Ukrainian transmission lines. With so much at stake, Europe's leaders are looking just about everywhere for viable alternatives. Sure, there's the promise of U.S. gas easing European dependence on an increasingly iffy relationship with Russia, but as The New York Times noted on the 7th of April, in "the short term, the United States can offer little hope for Europeans eager to diversify their gas sources as Russia occupies Crimea and may threaten other parts of eastern Ukraine." So, what's left? Traditional domestic production remains scarce and efforts to beef up energy trade with North African suppliers have been limited by a steady stream of unrest and uncertainty. So where else can Europe look for new energy resources? An increasing number are saying shale.
25) Solar Power Is Booming, But Will Never Replace Coal. Here's Why.
from Forbes by Christopher Helman
Solar power has been growing like crazy. Last year the solar industry installed a record amount of solar capacity. The impact can be seen in the data. According to the Energy Information Administration, in 2012 there were 3.5 million megawatthours of electricity generated by solar photovoltaic panels. In 2013 that more than doubled to 8.3 million Mwh. And to think that a decade ago the U.S. generated just 6,000 Mwh from solar PV. Solar is closing in on price parity with the likes of coal — with full-cycle, unsubsidized costs of about 13 cents per kilowatthour, versus 12 cents for advanced coal plants…So is the solar revolution finally here? Not quite. Even after a decade of rampant growth solar energy still barely moves the needle in the U.S. energy mix…This is all important to keep in mind in light of pending efforts by the EPA to initiate draconian new regulations governing carbon dioxide emissions from coal-burning power plants. Coal is responsible for about 1.7 billion metric tons a year of carbon dioxide out of the 5.3 billion ton annual total…But coal is certainly not dead. Not even close to it…This winter showed that "declaring the death of coal is premature," says Bob Yu, analyst at Bentek, a division of Platts. "Winter was a reminder that natural gas is used for heating.
A message from the American Petroleum Institute:
America is now the world's number-one natural gas producer and is projected to be number one in oil by 2015. The oil & natural gas industry supports $1.2 trillion of America's GDP. November's election gives voters a powerful choice on energy. Smart energy policies can grow our economy, create jobs and establish America as a global energy leader. This election, get involved at ChooseEnergy.org: http://bit.ly/1ibtGlZ
RESEARCH REPORTS, ISSUE BRIEFS, CASE STUDIES
26) New High: 61% Favor Building the Keystone XL Pipeline
from Rasmussen Reports
Support for building the Keystone XL pipeline is now at its highest level ever. The latest Rasmussen Reports national telephone survey finds that 61% of Likely U.S. Voters now at least somewhat favor building the major oil pipeline from Canada to Texas, while just 27% are opposed. This includes 37% who Strongly Favor the project and 10% who Strongly Oppose it. Thirteen percent (13%) are undecided. (To see survey question wording, click here.) Support for building the pipeline is up four points from 57% in January and now has edged above the previous high of 60% found in November 2011 when President Obama first delayed the project for further environmental study.
27) Americans Support CO2 Limits on Coal-Fired Power Plants
from Yale Project on Climate Change Communication
Each year in the United States about 40 percent of carbon dioxide emissions – the primary cause of global warming – comes from electric power plants, especially those powered by the burning of coal. This June, the EPA is expected to propose new limits on CO2 emissions from existing coal-fired power plants. These regulations are likely to face fierce resistance from the coal industry.
What do Americans think about these regulations? Our new survey this month finds that – by nearly a two to one margin – Americans support setting strict limits on carbon dioxide emissions from existing coal-fired plants, even if the cost of electricity to consumers and companies increases. Most Democrats support setting such limits, over half of Republicans oppose it, while Independents are evenly divided.
28) Accident Investigation Report on Waste Isolation Pilot Plant: Phase 1
from Department of Energy Office of Environmental Management
The Board concludes that a thorough and conservatively considered hazard analysis, coupled with a robust, tested and well maintained HEPA filter capable exhaust ventilation system could have prevented the unfiltered above ground release that occurred on February 14, 2014…The Board also determined that weaknesses in oversight by the contractor, CBFO, Headquarters, and outside organizations missed opportunities to identify inadequacies in the safety basis, as well as the configuration management and maintenance of the U/G ventilation system at WIPP.