From: Morning Consult
To: Scott Jenkins,
Subject: Morning Consult Energy: Democratic Senators Call for Keystone Decision, Oil-by-Rail Slowing Coal, Farm Shipments
Date: Fri Apr 11 13:40:30 MDT 2014
Body:
---
By Emily Holden
Today's Washington Brief:
-Democratic senators are urging the Obama administration to make a Keystone decision by May 31, but the White House doesn't intend to change the review trajectory, Reuters reports.
-The Federal Energy Regulatory Commission has ordered an internal investigation following an Inspector General report that found staff improperly handled sensitive material about grid vulnerabilities, Wall Street Journal's Amy Harder reports.

-The Interior Department announced a strategy to standardize oil and gas drilling permits on federal lands, The Hill reports.


-A Pennsylvania-based hedge fund is challenging FERC nominee Norman Bay for his investigation of the firm as head of enforcement, according to Politico's Darius Dixon.

Today's Business Brief:
-Bloomberg's Mario Parker and Eliot Caroom explore how oil-by-rail congestion is slowing down coal shipments to power plants and grain supplies to biodiesel makers. An increase in oil production is also holding up farm commodities and travelers, according to witnesses at a Department of Transportation hearing, Reuters reports.
-The International Energy Agency says OPEC will need to pump more oil in the second half of the year after its production plunged to a five-month low in March, Bloomberg reports.
Today's Chart Review:

Lower Prices Pull Down Natural Gas Reserves in 2012
Energy Information Administration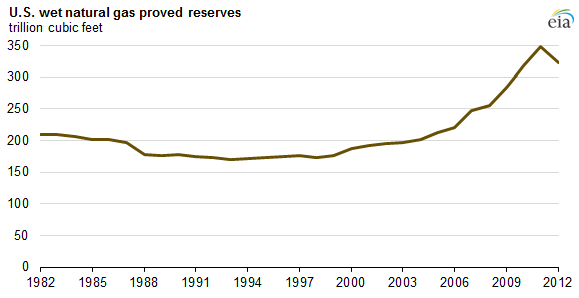 Mark Your Calendars (All Times Eastern):
Friday: NRC advisory committee meeting on reactor safeguards @ 8:30 am
Friday: American Council on Renewable Energy meeting @ 8:30 am
Friday: DOE public meeting on Quadrennial Energy Review @ 10 am
NEWS ARTICLES

1-7: General
8-15: Oil
16-17: Natural Gas
18: Utilities and Infrastructure
19: Nuclear
20-21: Renewables
OPINIONS, EDITORIALS, PERSPECTIVES

22: Live Science
23: Forbes

RESEARCH REPORTS, ISSUE BRIEFS, CASE STUDIES

24: Energy Information Administration
25: American Wind Energy Association
1) Federal Energy Regulator to Take Steps to Protect Grid
from Wall Street Journal by Amy Harder
The federal agency that regulates the U.S. electricity grid is clamping down on public disclosure of potentially sensitive material after criticism of how it handled an analysis of the grid's vulnerability to physical attack, the agency's acting head told Congress on Thursday. Cheryl LaFleur, acting chairman of the Federal Energy Regulatory Commission, testified at a hearing that she has "ordered a full internal review of the chain of custody of all documents," in the wake of a preliminary report issued by Energy Department Inspector General Gregory Friedman. The inspector general report, issued Wednesday, found that at least one grid-related presentation that FERC staff created "should have been classified and protected from release at the time it was created," and suggested that the commission doesn't have adequate controls for identifying and managing sensitive material with potential national-security implications.

2) PG&E to Offer Reward for Information on Transmission Substation Attack
from Wall Street Journal by Rebecca Smith
PG&E Corp. will offer a $250,000 reward for information resulting in the arrest and conviction of people who attacked its Metcalf transmission substation near San Jose, Calif., last year. The reward offer comes almost a year after gunmen knocked the substation out of commission. As The Wall Street Journal reported earlier this year, the attack began on April 16, 2013, with the slashing of fiber optic cables in underground vaults near the substation that were owned by AT&T and Level 3 Communications, which disrupted local phone and data communications. A few minutes later, gunmen opened fire on the substation, seriously damaging 17 large transformers that help send electricity to Silicon Valley. It took the utility a month to make repairs, at a cost of about $16 million.
3) ConocoPhillips Raises Estimates for Eagle Ford Assets
from Wall Street Journal by Tess Stynes
ConocoPhillips raised its estimates for the size of its resources in the Eagle Ford play in Texas by 40% as the production-and-exploration company also affirmed its long-term production and margin growth targets and capital spending plans. Company executives outlined the oil-and-gas producer's long-term objectives at an analysts meeting Thursday in New York. ConocoPhillips has been selling noncore assets to focus on those with higher returns, such as U.S. shale formations, which have been fueling a drilling boom. The company raised its estimates for its Eagle Ford resources to 2.5 billion barrels from 1.8 billion barrels. Production is projected to increase to more than 250,000 barrels of oil equivalent a day by 2017.
4) Interior Moves to Standardize Oil and Gas Permits on Federal Lands
from E&E by Timothy Cama
The Interior Department released a strategy document Thursday that it said will create certainty and predictability for oil, natural gas and other energy developers using federal land while taking a "landscape-scale" approach to mitigating impacts. The strategy emphasizes siting and design features in development to mitigate the impacts to federal lands, while seeking to protect or restore resources that must be harmed. It comes as energy development is increasing rapidly on federal property, and the Obama administration is under constant pressure to allow more…Going forward, Interior said its policies with development will focus on four areas to determine the impacts to resources: geospatial assessments, landscape-level strategies, mitigation programs that compensate for impacts; and monitoring and evaluating projects as they proceed.
5) Hedge Fund Takes Aim at FERC Nominee Bay
from Politico Pro by Darius Dixon
Two brothers that run a Pennsylvania-based hedge fund have officially declared war on President Barack Obama's latest pick to lead FERC. The brothers, who are Democrats, argue that Norman Bay, in his current position as the chief of FERC's enforcement office, picked the fight with them. Powhatan Energy Fund LLC, run by Kevin Gates and his twin brother, Rich, has been under investigation by Bay's enforcement operation since 2010 for alleged manipulation in the PJM market, which includes several Midwestern and Mid-Atlantic states. The brothers have disputed FERC's preliminary finding that a trader working with the firm made $4.7 million in profit through manipulative activities. And last month, they made the unusual move of disclosing the investigation to the public, and soliciting comments from former FERC, SEC and CFTC officials who back their position.
6) EPA Defends Enforcement Plan to Focus on Biggest Polluters
from Reuters by Valerie Volcovici
The U.S. Environmental Protection Agency's plan to focus on cracking down on just the largest polluters will deliver "lasting returns" to the American public, its top enforcement official said on Thursday. Cynthia Giles, assistant administrator for the EPA's office of enforcement, wrote in a blog post that the agency remained committed to punishing polluters that violate U.S. rules but needed to prioritize because of budgetary and staffing constraints. "Focusing on large, high impact cases requires significant investment and long-term commitment. But this is the right way to invest our resources to achieve tangible and lasting returns to the public," Giles wrote. In a strategic plan for 2014 to 2018 that it released on Thursday, the EPA said it would enforce fewer cases overall compared with recent years.
7) U.S. Stock-Index Futures Decline as JPMorgan Retreats
from Bloomberg by Inyoung Hwang
U.S. stock-index futures dropped, with the Standard & Poor's 500 Index heading for its biggest weekly decline in a month, as JPMorgan Chase & Co. slid after posting a decline in earnings…S&P 500 (SPX) futures expiring in June dropped 0.3 percent to 1,821 at 8:05 a.m. in New York. The gauge has fallen 1.7 percent this week. Dow Jones Industrial Average contracts lost 61 points, or 0.4 percent, to 16,049 today. Futures on the Nasdaq 100 fell 0.6 percent.
8) IEA Says OPEC Will Need to Pump More Crude in Second Half
from Bloomberg by Lananh Nguyen
OPEC will need to pump more crude in the second half of the year to meet demand after its production plunged to a five-month low in March, according to the International Energy Agency. Supplies from the Organization of Petroleum Exporting Countries "plummeted" by 890,000 barrels a day to 29.62 million barrels a day in March, the Paris-based IEA said today in its monthly oil market report. That's below OPEC's collective 30 million production target and means the group will have to increase output in the second half of the year, it said.
9) Chicago 30-Hour Tie-Up for Buffett's Trains Slow Coal: Freight
from Bloomberg by Mario Parker and Eliot Caroom
Come to the west side of Chicago to find out why a power plant in Michigan is short of coal and a biodiesel maker in Brewster, Minnesota, can't get enough grain. The answer is found near Western Avenue, where rail cars from Archer-Daniels-Midland Co. (ADM), the largest U.S. publicly traded ethanol producer, rest idle on the track above the Dwight D. Eisenhower Expressway. A short drive away a burnt orange, yellow and black locomotive from Warren Buffett's BNSF railway sits on an overpass as motor traffic is snarled below. They can't move because increasing oil production from North Dakota's Bakken field, a record grain crop and unprecedented cold weather overwhelmed the U.S. railroad system. In part because of transport delays, coal inventories were down 26 percent in January from a year ago. A quarter of all U.S. freight rail traffic passes through Chicago, or 37,500 rail cars each day. The trip through the city can take more than 30 hours.

10) Oil-by-Rail Traffic Hurts Farmers, Travelers, U.S. Officials Told
from Reuters by Ros Krasny
Midwestern farmers and Amtrak passengers are among those being hurt by rail congestion caused in part by an energy boom that has spurred the massive movement of oil by rail, U.S. officials were told on Thursday. Rail shipments of oil have been on the rise in regions that lack sufficient pipelines as alternatives, such as North Dakota's Bakken energy patch, where production is nearing 1 million barrels per day and roughly 72 percent of that fuel moves on the tracks. Rail lines clogged with 100-car trains carrying oil heading to refineries, as well as coal hoppers bound for export terminals, help explain why passengers are often delayed and farm commodities are late to market, witnesses told the Surface Transportation Board, a regulatory agency that arbitrates rail disputes.

11) Offshore Safety Problems Linger Despite New Efforts, Coast Guard Admiral Says
from Houston Chronicle by Collin Eaton
Offline emergency generators. Inoperable fire-detection systems. Cracked rescue boats. Despite mandatory offshore safety codes, the U.S. Coast Guard continues to find dozens of problems on deep-water drilling rigs and other vessels, even after oil companies have complied with rules for years and have anticipated inspections for months, a federal regulator said Thursday in Houston. "We're not where we need to be," said Coast Guard Rear Admiral Joseph Servido. "There is evidence that for some, (offshore safety systems) are an administrative exercise, based on the deficiencies and the problems we're seeing."

12) Interior Seeks to Rewrite EIS on Chukchi Lease Sale
from E&E by Margaret Kriz Hobson
The Obama administration is asking a federal court judge to let the Interior Department rewrite a flawed environmental impact statement that regulators used to support the 2008 sale of oil leases in the Chukchi Sea. In a status report filed last week with the U.S. District Court for the District of Alaska, the Justice Department proposed that the court remand the issue to the Bureau of Ocean Energy Management for further analysis. Justice also asked that BOEM be allowed to review oil drilling requests in connection with the Chukchi leases. Regulators would not, however, seek to "approve or 'deem submitted' any proposed exploration plans for Sale 193 leases," the government said in its proposed remand order.

13) Libya Poised to Boost Oil Shipments After Port Reopens
from Bloomberg by Maher Chmaytelli
Libya, the OPEC nation producing at about 10 percent of capacity, is set to raise oil shipments next week as the first of four ports seized by rebels reopens. State-run National Oil Corp. lifted force majeure on the Hariga terminal yesterday, according to a statement on its website. Hariga can load 110,000 barrels of crude a day, according to the oil ministry. That's 8.5 percent of Libya's daily export capacity of 1.3 million barrels. Brent crude, a benchmark of half the world's oil, has fallen more than 3 percent this year amid speculation that Libya would restart shipments. The possible return of supply is weighing on prices, said Seth Kleinman, Citigroup Inc.'s London-based head of energy research, after the rebels agreed to surrender the Hariga and Zueitina terminals this week.
14) Democratic Senators Press Obama for Keystone Decision by May 31
from Reuters by Ros Krasny
Eleven U.S. Democratic senators urged President Barack Obama on Thursday to make a final decision on whether to approve TransCanada Corp's Keystone XL crude oil pipeline from Canada to the U.S. Gulf Coast no later than May 31. "We need a definitive timeline laid out, a timeline that reduces the comment period for federal agencies, officials and other entities," the senators wrote to Obama. "We cannot miss another construction season." The group included several lawmakers expected to face tough re-election battles this year, notably Mary Landrieu of Louisiana, who chairs the Senate Energy Committee. Also signing on were Heidi Heitkamp of North Dakota, Mark Begich of Alaska, Joe Donnelly of Indiana, Kay Hagan of North Carolina, Joe Manchin of West Virginia, Claire McCaskill of Missouri, Mark Pryor of Arkansas, Jon Tester and John Walsh, both of Montana, and Mark Warner of West Virginia.
15) BP Says Can Act as Bridge Between Russia and West
from Reuters by Dmitry Zhdannikov
BP will use its presence in Russia to help enhance relations between Moscow and the West, Chief Executive Bob Dudley said on Thursday as he restated his company's commitment to the country. Russia and the West are in a stand-off over Ukraine that is reminiscent of the Cold War. In the last few days, tensions have risen in the mainly Russian-speaking eastern part of Ukraine. Britain's BP is the most exposed to Russia of the oil majors through its stake of just under 20 percent in the Kremlin's state oil champion Rosneft.
16) Natural Gas Rises After Stockpile Growth Misses Expectations
from Wall Street Journal by Christian Berthelsen
Natural-gas prices rose on Thursday after new data raised some concerns about producers' ability to meet future demand. Gas for May delivery rose 6.9 cents, or 1.5%, to settle at $4.655 a million British thermal units on the New York Mercantile Exchange. Trading was volatile--after falling early in the day, prices soared as much as 4% following the release of U.S. inventory data. Last week, more gas flowed into storage than was taken out for the first time this year. Analysts had expected the increase would be 14 billion cubic feet; instead, stockpiles grew by four billion cubic feet, the U.S. Energy Information Administration said in its weekly storage report. "This is very disconcerting. It's a slow start," said Teri Viswanath, natural-gas strategist at BNP Paribas. "The industry is going to have to work that much harder to ensure" there is enough gas in storage before the start of next winter, she said.

17) Judge Allows Ohio Fracking Lawsuit to Proceed
from Houston Chronicle (AP)
A couple who sued to try to stop gas drilling around a state-owned lake in eastern Ohio won an early victory in court. A judge ruled that the Guernsey County couple has legal standing to move forward with a lawsuit that seeks to stop hydraulic fracturing — known as fracking — around and beneath Seneca Lake.
18) MISO to Limit Flow to MISO South to 1000 MW Beginning Saturday
from Platts by Mark Watson
Midcontinent Independent System Operator will begin limiting flows between MISO South and the rest of MISO's footprint to about 1,000 MW Saturday to reduce risk in MISO's dispute over its use of Southwest Power Pool transmission facilities, stakeholders learned Thursday. "This is being done out of an abundance of caution, to mitigate additional stakeholder risk associated with the [Federal Energy Regulatory Commission's] order conditionally accepting SPP's unexecuted service agreement," a notice emailed to stakeholders Thursday stated. FERC on March 28 ordered an administrative hearing in the long-running MISO/SPP transmission dispute over a joint operating agreement and MISO's use of SPP transmission assets to move power between MISO's North and Central regions to the MISO South region, most of which is served by Entergy utilities in Arkansas, Louisiana, Mississippi and Texas. SPP claims MISO is using SPP facilities without paying for their use. Other transmission owners, the Tennessee Valley Authority and Southern, are also seeking compensation because MISO is allegedly using their transmission assets on an unauthorized basis.
19) Japan Approves Energy Plan Reinstating Nuclear Power
from Reuters by Osamu Tsukimori and Aaron Sheldrick
Japan's Cabinet on Friday approved a new energy policy, reversing the previous government's plans to gradually mothball nuclear power plants following the 2011 Fukushima disaster. The plan defines nuclear as an "important baseload power source" and says Japan will do as much as possible to increase renewable energy supplies, Industry Minister Toshimitsu Motegi told a news conference after the Cabinet meeting.
20) Wind Industry Shed 30,000 Jobs in 2013
from Politico Pro by Alex Guillen
The U.S. wind industry shed 30,000 jobs in 2013 because of uncertainty over the production tax credit, according to a new industry report. The job loss figure provides supporters of the incentive with a concrete example of the PTC's importance to the wind industry, though it is unlikely to persuade opponents who feel the federal government is unfairly propping up the renewable energy source. Industry employment dropped from 80,700 full-time equivalent jobs at the end of 2012 to just 50,500 at the end of 2013, according to AWEA's 2013 market report. The loss in jobs accompanies a 92 percent drop in new wind installations in 2013. The U.S. added just 1,087 megawatts of new wind capacity, most of it in the final quarter, following the brief but critical suspension of the PTC early last year.
21) EU Backs Duties on Chinese Solar Glass Imports: Sources
from Chicago Tribune by Philip Blenkinshop (Reuters)
The European Union has cleared the imposition of hefty duties on Chinese imports of glass used in solar panels, claiming they receive illegal subsidies and are sold at unfairly low prices that threaten European manufacturers. The EU solar glass market is valued at less than 200 million euros ($276.5 million), a tiny fraction of the EU's total imports from China worth 290 billion euros in 2012, but the complaint marks an EU challenge to China and its exporters. A majority of the European Union's 28 members backed the proposed duties, ranging from 17.1 percent to 42.1 percent, according to EU sources. The imports are already subject to provisional duties at these levels, imposed by the European Commission in November, but they required clearance from the EU's member states to extend the duration of the duties to five years.
OPINIONS, EDITORIALS, PERSPECTIVES
22) With Money to be Made, Wind Power Booms in Oil-Rich Texas
from Live Science by Ian Partridge
Wind power is now big business in the US, and it is getting bigger. Last year, the US wind industry added 1,087MW of new wind power capacity, about the same as is currently installed in Austria, and by the year's end 12,000MW was under construction, almost double that currently installed in the UK. New records for power output are set every year – for example, during the evening of March 26 this year wind provided 10,296MW of power to Texas electricity grid, meeting 29% of demand at that time. So why is wind booming in the US now, especially in Texas, known more for its rich oil and gas deposits? To understand what is going on we have to look at three factors: subsidies, transmission lines and the interplay of state and federal policies.
23) Is Libyan Energy Ready for a Comeback?
from Forbes by Christopher Coats
After eight months of delays and closures for Libya's energy sector, rebel groups finally announced some progress in talks with the country's current government. Having occupied a number of oil and gas facilities for months, protesting an array of grievances, the groups had stifled Libya's energy output, costing the country's an estimated $7 billion in lost revenue by reducing exports to just 85,000 barrels per day, down from 1.6 million bpd the day before the Arab Spring uprising…Although state officials in Tripoli have downplayed the impact of the closures on the government's overall financial standing, the reopenings are welcome news for an economy so heavily dependent on energy revenue.
RESEARCH REPORTS, ISSUE BRIEFS, CASE STUDIES
24) Weekly Working Gas in Underground Storage
from Energy Information Administration
Natural gas underground storage for April 4 rose 4 billion cubic feet to 826 billion cubic feet.
25) AWEA State Renewable Portfolio Standard Market Assessment 2013
from American Wind Energy Association
The top five states in terms of wind-eligible-to-comply RPS demand are California, Ohio, Illinois, New Jersey and North Carolina. These five states contain 56% of all wind-eligible RPS demand. Six states, including California, New York and North Carolina, require new renewable generation this year. A full five states have added enough renewable generation in recent years to meet interim RPS requirements out to 2020. Ohio's RPS is expected to drive the most installations.