From: Morning Consult
To: Scott Jenkins,
Subject: Morning Consult Energy: Congress Resists Regulators' Calls for Grid Security Authority, Gulf Coast Oil Tanks Filling Up Without Export Ability
Date: Thu Apr 10 13:39:18 MDT 2014
Body:
---
By Emily Holden
Today's Washington Briefing:
-Congress is resisting energy regulators' requests for more authority to counter electric grid threats from cyber and physical attacks and massive solar blasts, E&E's Hannah Northey reports, in advance of a Senate Energy hearing on grid security this morning.
-An Energy Department Inspector General report found the Federal Energy Regulatory Commission's controls for protecting sensitive electric grid information might be inadequate, Wall Street Journal's Rebecca Smith reports.
-A House panel advanced a bill to fast-track U.S. natural gas exports, Houston Chronicle's Jennifer A. Dlouhy reports.

- Despite Democratic support, a House committee did not discuss renewing the wind production tax credit at a hearing on tax extenders, SNL's Corbin Hiar reports. A Senate bill would renew the credit.

Today's Business Briefing:

-Oil storage tanks in Houston and the Gulf Coast are nearly full, due to light, sweet crude from shale formations. The 13 ships that can legally move between U.S. ports are booked solid and federal law prevents crude oil exports, Bloomberg's Naomi Christie and Dan Murtaugh explain.

-Energy spinoffs are in tax limbo as the Internal Revenue Service reviews its guidance for companies seeking to form master limited partnerships, Wall Street Journal's Alison Sider reports.

-U.S. regulators will require two-person crews on oil trains, according to Bloomberg's Jim Snyder. They have also asked oil-by-rail leaders to create a tank car fit to carry the kinds of fuels involved in recent fiery derailments, Reuters' Patrick Rucker reports.
Today's Chart Review:

Crude Oil Reserves at Start of 2013 Reach Highest Level Since 1976
from Energy Information Administration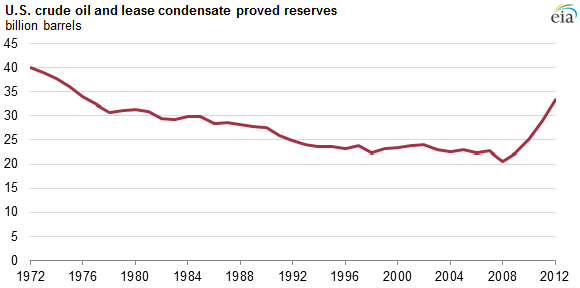 Mark Your Calendars (All Times Eastern):
Thursday: NRC Reactor Safeguard Committee meeting @ 8:30 am
Thursday: Energy Information administration releases annual oil/gas reserves report @ 8:30 am
Thursday: House Science hearing on DOE priorities with Moniz @ 9 am
Thursday: Center for Strategic and International Studies meeting on energy and geopolitics @ 9 am
Thursday: Senate Energy hearing on grid security @ 9:30 am
Thursday: Resources for the Future discussion on shale gas development @ 12:30 pm
Friday: DOE public meeting on Quadrennial Energy Review @ 10 am
NEWS ARTICLES

1-5: General
6-12: Oil
13-15: Natural Gas
16-20: Utilities and Infrastructure
21-22: Renewables
OPINIONS, EDITORIALS, PERSPECTIVES

23: Wall Street Journal
24: Roll Call

RESEARCH REPORTS, ISSUE BRIEFS, CASE STUDIES

25: Energy Information Administration
26: Energy Department Office of Inspector General
27-28: Government Accountability Office
1) Energy Spinoffs Are Moving Into Tax Limbo
from Wall Street Journal by Alison Sider
For U.S. energy companies, it has been a simple and profitable strategy: spin off a piece of the business and secure a special tax treatment. Now, the IRS is wondering if some firms are pushing the popular tactic too far. The Internal Revenue Service is conducting an internal review and taking a temporary break from giving guidance to companies looking to form or expand master limited partnerships. The MLP structure, which allows companies to forgo paying corporate income taxes, has long been used by pipeline operators and other energy-logistics outfits to raise capital. But a crush of new inquiries from tangential businesses, including water recyclers and sand mines, has given the agency pause, energy lawyers said.

2) Panel: Independent Producers' Shale-Fueled Growth is Nearing Plateau
from Houston Chronicle by Collin Eaton
Big Oil will be priced out of North American corporate acquisitions until the stock market adjusts its high expectations for smaller shale-oil producers, a panel of experts said Wednesday. Surging oil and gas production in major U.S. shale plays has lifted the stock prices of smaller producers like Continental Resources to levels the energy industry hasn't seen in 25 years, mirroring the early days of Dell and other technology companies that rose quickly in the stock market until sales growth began to plateau. Independent energy producers will likely see a similar plateau in coming years, said Ben Lett, a managing director at Bank of America Merrill Lynch.

3) Slash Greenhouse Gases to Meet Climate Goals, U.N. Draft Says
from Wall Street Journal by Gautam Naik
A key United Nations report is expected to suggest that governments will have to drastically reduce greenhouse-gas emissions to meet international goals to reduce the impact of global warming. Based on the current trend of emissions, the global temperature is projected to increase by 2 degrees Celsius (3.6 degrees Fahrenheit) above preindustrial levels in less than three decades, according to a draft summary reviewed by The Wall Street Journal. Projections suggest that beyond the two-degree point the risks of large and high-impact changes—such as melting of the Greenland ice sheet—could become unacceptably high. To have a 50-50 chance of avoiding that level, the draft concludes, countries will need to cut emissions by at least 40% by 2050 from 2010 levels.
4) Obama Admin, Company Align Against N.C. Dump's Neighbors in Supreme Court Showdown
from E&E by Jeremy P. Jacobs
…CTS Corp. v. Waldburger, will be heard by the Supreme Court this month. CTS is attempting to use a technical legal argument to prevent the landowners from a full trial. The company claims that Asheville residents took too long to file their claims. The case is complicated and entangled in esoteric legal terms, so it has gone largely unnoticed by Supreme Court watchers. But it has grabbed the attention of at least one major player, the federal government, which has intervened and sided with CTS. The Department of Justice claims it has a "substantial interest" in the precedent that could be set in the case, because it is facing nearly a dozen claims from former Marines and their families who were exposed to contaminated water at Marine Corps Base Camp Lejeune.
5) U.S. Stock-Index Futures Are Little Changed Amid Earnings
from Bloomberg by Namitha Jagadeesh
U.S. stock-index futures were little changed, after the benchmark Standard & Poor's 500 Index posted its biggest gain in five weeks, as investors watched earnings reports in the world's largest economy. Futures on the S&P 500 expiring in June fell 0.1 percent to 1,862.4 at 7:19 a.m. in New York. Contracts on the Dow Jones Industrial Average slipped 18 points, or 0.1 percent, to 16,342.
6) Houston Fills With Crude Oil That Can't Be Shipped Out
from Bloomberg by Naomi Christie and Dan Murtaugh

Houston and the rest of the U.S. Gulf Coast have more crude oil than the region can handle. Stockpiles in the region centered on Houston and stretching to New Mexico in the west and Alabama in the east rose to 202 million barrels in the week ended April 4, the most on record, Energy Information Administration data released yesterday show. Storage tanks are filling as new pipelines carry light, sweet oil found in shale formations to the coast and U.S. law keeps companies from moving it out. Most crude exports are banned and the 13 ships that can legally move oil between U.S. ports are booked solid. The federal Jones Act restricts domestic seaborne trade to vessels owned, flagged and built in the U.S. and crewed by citizens.

7) Two-Person Crews on Oil Trains to Be Required in U.S.
from Bloomberg by Jim Snyder
U.S. regulators, acting after a oil-train derailment last year ignited a fireball that killed 47 people in Canada, said they intend to require at least two crew members for crude shipments, a proposal opposed by the railroads. The Federal Railroad Administration also will establish minimum crew size standard for most freight trains and passenger rail lines, the agency said in a statement today…The agency is acting after a train that was operated by one person was left unattended for the night in July and rolled into the center of Lac-Megantic, triggering a fatal explosion that destroyed half the town. The Association of American Railroads, whose members include Berkshire Hathaway Inc.'s BNSF, said large railroads already run oil trains with at least two crew members. Nevertheless, Edward Hamberger, the group's chief executive officer, said the Federal Railroad Administration "has never shared an iota of data that shows or proves two-person crews are safer."


8) U.S. Urges Oil-by-Rail Sector to Agree a Safer Tank Car
from Reuters by Patrick Rucker
U.S. Transportation Secretary Anthony Foxx on Wednesday asked oil-by-rail leaders to create a tank car fit to carry the kinds of fuel involved in recent fiery derailments even as he dodged lawmaker questions about when such a plan would be ready. Rail shipments of oil have been on the rise in regions that lack sufficient pipelines such as North Dakota's Bakken energy patch, where production is nearing 1 million barrels per day and roughly 72 percent of that fuel moves on the tracks. But several accidents saw the rail cargoes explode with surprising force since summer, prompting demands for a tougher tank car to carry the fuel. Foxx said his agency was working hard to come up with a new tank car design.

9) Researcher: 2014 Slated to be Most Active Year for Global Shale Drilling
from Houston Chronicle by Collin Eaton
This year is slated to be the most active year for international drilling yet, even as investors show less interest in risky ventures, a Wood Mackenzie researcher said this week. Oil companies are planning to drill nearly 400 shale wells in countries outside of North America, with most in Argentina, China, Australia this year, according to Wood Mackenzie. But only one in five global shale regions may succeed in producing significant amounts of oil and gas as countries from China to Argentina seek to emulate the U.S. boom, said Andrew Latham, Wood Mackenzie's vice president for exploration research, in an interview in Australia this week, according to Bloomberg

10) Chevron Expects First-Quarter Profit to Slip
from Reuters by Ernest Scheyder
Chevron Corp, the second-largest oil company in the United States, said on Wednesday it expected first-quarter income to slip because of high currency conversion costs and environmental charges in its mining unit. Output from the company's oil and natural wells fell because of bitterly cold weather throughout the United States, Canada and Kazakhstan…Chevron's average U.S. oil and natural gas production fell to 637,000 barrels of oil equivalent per day (boed) in January and February from an average 650,000 for the entire fourth quarter. Worldwide, the company's output rose slightly, with the company producing 1.94 million boed, up from 1.93 million boed in the first quarter.

11) Riding Shale Boom, U.S. to Become Major LPG Supplier to China
from Reuters by Chen Aizhu
A deal between China's top refiner Sinopec Corp and Phillips 66 could be a game changer that signals the United States is on track to become one of the top suppliers of liquefied petroleum gas to the world's second-biggest economy. China is the biggest consumer of LPG, a compressed mix of propane and butane, used for heating and transport, and now increasingly being considered for making petrochemicals. As demand in China soars, the U.S. shale boom has led to a surge in production of LPG, which is bringing down global prices and challenging established suppliers in the Middle East. Washington restricts exports of crude and has only slowly opening up liquefied natural gas shipments for energy security reasons, but there are no such limits on LPG sales.

12) Oil-Rich North Dakota Needs Advisers
from Wall Street Journal by Matthias Rieker
For two years, Wells Fargo financial adviser Melissa Moulton would commute from Sioux Falls, S.D., to western North Dakota, spending two work weeks a month with clients who needed advice on how to handle their newfound wealth.She kept getting invited to weekend barbecues and fishing excursions, so she decided to make a permanent move up north. "I saw an opportunity to reach new clients," Ms. Moulton says. Today, advisory firms such as Wells Fargo hope there are more advisers like Ms. Moulton willing to take a chance on a state getting richer but where advisers are scarce. The state's historic oil boom, and businesses from trucking to restaurants that benefit from it, are creating more millionaire households that need financial advice.

13) Natural-Gas Futures Climb Ahead of Key Storage Report
from Wall Street Journal by John Kell
Natural-gas futures climbed to a four-week high as traders focused on forecasts calling for another late-season cold snap and fretted about a potentially disappointing storage report due Thursday. Natural gas for May delivery settled up 5.2 cents, or 1.2%, at $4.5860 a million British thermal units, the highest since March 11, on the New York Mercantile Exchange. Lower-than-average temperatures in the U.S. are expected to persist over the next week or two, supporting the need for gas to heat homes. Market observers appear divided over the ability of producers to replenish stockpiles that were depleted during the recent harsh winter. Energy-advisory firm Gelber & Associates said traders are "trying to make sense of tomorrow's storage report, expected to be the first injection of the season." A survey of 20 analysts by The Wall Street Journal predicted the report would show 13.75 billion cubic feet of natural gas were added to storage last week.

14) House Panel Advances Plan to Fast-Track Gas Exports
from Houston Chronicle by Jennifer A. Dlouhy
A House panel on Wednesday approved legislation that would fast track U.S. natural gas exports, over objections the foreign sales would send domestic prices higher. The measure by Rep. Cory Gardner, R-Colo., would give near-automatic Energy Department approval to plans to sell natural gas to World Trade Organization nations, short-circuiting a current review process that requires regulators to first affirm that those proposed exports are "consistent with the public interest." Gardner's bill would effectively put 159 WTO nations on the same legal footing as countries that have free-trade agreements with the United States. Twenty-four pending applications to export natural gas to non-free-trade partners would be immediately green-lighted under the legislation, joining six others that have already won approval.
15) Ride to Lower Costs for LNG-Run Trucks Rockier Than Expected
from Reuters by Julie Gordon
Just over a year ago, Canadian trucking firm Bison Transport took a bet on a potentially game changing technology, buying 15 big rigs powered by liquefied natural gas. The privately-held company was attracted by the promise of a cheap and abundant fuel source and lower greenhouse gas emissions. If all went well, it would be the first step toward converting more of its 1,250-strong fleet to a type of fuel that costs about $1.50 less per equivalent gallon than diesel. After 14 months on the road, though, the Winnipeg-based company has found that the reality - at least initially - is less rosy. The savings on fuel have been offset by other costs that are much higher than expected.
16) DOE: Information on Power Grid Threats Should Have Been Classified
from Wall Street Journal by Rebecca Smith
The Department of Energy's inspector general said Wednesday that information about the U.S. electric grid's vulnerability to physical attacks should have been classified for national security reasons, and called on federal regulators to change the way they handle such material. As The Wall Street Journal reported earlier this year, the Federal Energy Regulatory Commission briefed many utility executives, congressional leaders, trade groups and government officials about an attack by gunmen on an electrical substation in California in April 2013. The briefings included results of a computer model suggesting that knocking out a small number of critical transmission substations could result in cascading blackouts across North America. Inspector general Gregory Friedman's office said all this information "should have been classified and protected from release at the time it was created," according to a "management alert" released Wednesday, just ahead of a Thursday Senate hearing on grid vulnerabilities.

17) Regulators, Overseers Want More Power to Thwart Attacks—but Congress Needs More Convincing
from E&E by Hannah Northey
Federal regulators tasked with protecting the U.S. electric grid from cyber and physical attacks and massive solar blasts have for years asked Congress for more authority to counter sudden, serious threats. But Capitol Hill has resisted. "I guess we're not totally convinced [the Federal Energy Regulatory Commission] needs additional authority, but I do understand there are different views about that," Rep. Ed Whitfield (R-Ky.) said during an interview last week. "We're still having discussions about it." FERC acting Chairwoman Cheryl LaFleur was the most recent of the commissioners to call for Congress to empower a federal agency -- not necessarily FERC -- with clear and direct authority during a cyber or physical attack on the country's grid.

18) General Electric Funneling Billions Into New Energy Infrastructure
from Houston Chronicle by Collin Eaton
A natural gas pipeline stretching 435 miles across Mexico's Yucatan Peninsula is just one piece of General Electric's multibillion-dollar bid to shore up energy infrastructure in North America, where an oil and gas boom has drawn a wave of investments to new pipelines. GE's energy investing arm has more than $3 billion tied up in 43,500 miles of pipeline, the largest U.S. liquefied natural gas export facility and other energy transportation and storage ventures. But it has started to shift its attention to early-stage ventures as U.S. and Canadian pipeline operators collect billions for new projects that link remote shale plays to U.S. markets.

19) Pipeline Violation Penalties Break Record in 2013
from Houston Chronicle by Patrick Ambrosio (Bloomberg BNA)
The Pipeline and Hazardous Materials Safety Administration proposed $9.78 million in civil penalties against pipeline operators for alleged violations of federal law in 2013, the agency announced this week. PHMSA said in a statement that 2013 saw the highest yearly amount of proposed penalties in the agency's history. The agency has proposed more than $33 million in penalties in pipeline enforcement cases since 2009, while seeing the number of serious pipeline incidents resulting in fatalities or major injuries decline each year during that time period, according to PHMSA.
20) California Issues First Forestry Offset for Carbon Market
from Reuters by Rory Carroll
California air regulators on Wednesday issued the first carbon offset credits for a forest protection project, credits that power companies and others large emitters can use to meet their compliance obligations under the state's greenhouse gas reduction program. The California Air Resources Board, which administers the program, issued 836,619 offset credits for the Yurok Tribe Sustainable Forest Project, which covers about 8,000 acres of tribal land in California's Humboldt County. In return for the credits, the landowners have agreed to maintain or increase carbon stored in the trees for more than 100 years…Utilities such as Pacific Gas and Electric and Southern California Edison, a subsidiary of Edison International , have recently expressed interest in buying offset credits to help them meet their compliance obligation under the program.
21) House Hearing on Tax Extenders Does Not Include Wind Subsidies
from SNL by Corbin Hiar
An April 8 discussion of lapsed tax incentives in the House Ways and Means Committee was notable mainly for what went unmentioned: the renewable energy production tax credit, a crucial incentive for the wind industry. The lack of discussion about the PTC was partially by design. Chairman Dave Camp, R-Mich., convened the 140-minute hearing to talk about the potential implications of the tax reform draft he released Feb. 26. That long-shot proposal to overhaul and simplify the nation's tax code slashed all manner of energy subsidies and sought to make permanent the research and development credit and six other expired business tax provisions. But committee Democrats, who raised concerns about the focus of the hearing and mentioned many other lapsed incentives, did not push the issue either.
22) Plane Unveiled for First Solar-Powered Flight Around the World
from Houston Chronicle by John Heilprin (AP)
The Swiss-made airplane built for the first round-the-world solar flight has wings longer than a Boeing 747 jumbo jet yet weighs only about as much as a large car. The Solar Impulse 2, unveiled to the world Wednesday at Switzerland's Payerne Air Force Base, is a bigger and better version of the single-seater prototype that first took flight five years ago. The original plane demonstrated that a solar-powered plane can fly through the night, hop from Europe to Africa and cross the width of the United States. But its successor needs to be able to stay in the air far longer, because the pilots expect the lumbering aircraft to take at least five days and five nights to cross the Pacific and Atlantic oceans on its journey around the globe next year.
OPINIONS, EDITORIALS, PERSPECTIVES
23) Bird Nests and Kit Foxes vs. Renewable Energy
from Wall Street Journal by Chris Carr and Robert Miller
California has been at the forefront of renewable-energy development, setting an aggressive goal to source one-third of its electricity from renewables by 2020. Gov. Jerry Brown signed a "green tariff" program in September that allows customers of the state's largest utilities to purchase up to 100% renewable electricity. But efforts to wean the state from fossil fuels are being hamstrung by the misuse of laws that drive up the costs of renewables projects, which amounts to a tax on consumers. Modest reforms to the California Environmental Quality Act and the way the California Fish and Game Code is implemented could immediately advance renewable-energy development without compromising environmental protections.
24) Natural Gas: An Opportunity for All Americans
from Roll Call by Jim Fitterling
Changing energy dynamics are reshaping America's energy future and creating a new era of possibility for U.S. consumers and businesses. This new energy future is reinvigorating American manufacturing, creating new jobs and driving economic growth, and it is saving Americans billions in heating and cooling bills — $1,200 per year on average according to IHS. Just a decade ago, manufacturing jobs were something that existed overseas, not here at home. But that was before America's oil and gas industry discovered new ways to affordably access the vast sums of natural gas right beneath our feet. Now America has an amazing competitive advantage — and this new energy bounty is fueling a manufacturing renaissance across the country….At last count, more than $100 billion in private investment is planned in new manufacturing projects, and more is on the way. Unfortunately, in the absence of a comprehensive national energy policy none of these outcomes are guaranteed as of yet.
RESEARCH REPORTS, ISSUE BRIEFS, CASE STUDIES
25) U.S. Crude Oil and Natural Gas Proved Reserves
from Energy Information Administration
Highlights:
-U.S. crude oil and lease condensate proved reserves increased year-over-year by 4.5 billion barrels (15.4%) because of a large volume of extensions to existing fields (5.2 billion barrels) particularly in Texas and North Dakota.
-U.S. wet natural gas proved reserves decreased 26 trillion cubic feet (7.5%) in 2012. Low natural gas prices, reflected in a 34% decline in the 12-month, first-of-the-month, average spot price of natural gas at the Henry Hub between 2011 and 2012, led to large negative net revisions (-45.6 trillion cubic feet) to the reserves of existing fields that offset almost all gains from extensions of existing fields.
-Proved crude oil reserves in the Eagle Ford tight oil play in southwest Texas surpassed those in the Bakken Formation of North Dakota to become the largest tight oil play in the United States.
-Proved natural gas reserves in the Marcellus Shale gas play in Pennsylvania and West Virginia surpassed those in the Barnett Shale play of Texas to become the largest shale gas play in the United States.
-U.S. oil and natural gas production both increased in 2012—crude oil and lease condensate production rose about 16%, and, despite the drop in proved natural gas reserves, wet natural gas production rose about 6%.
-EIA anticipates that natural gas proved reserves for 2013 will be affected positively by the recovery in natural gas prices from 2012 to 2013.
26) Review of Internal Controls for Protecting Non-Public Information at the Federal Energy Regulatory Commission
from Department of Energy Office of Inspector General
The Department's subject matter experts have confirmed that at least one electric grid-related presentation created by Commission staff should have been classified and protected from release at the time it was created. Based on preliminary information, we determined that the presentation was accessible to, and in specific instances, was viewed and handled by Commission employees who many not have had personnel security clearances and thus, were not fully aware of their obligation to protect the information. Similarly, the document was reported to have been maintained on portable electronic equipment and transmitted via unsecured means. Finally, the document, and/or the essence of its contents, may, in whole or in part, have been provided to both Federal and industry officials in unclassified settings.
27) Basis for Proposed Exposure Limit on Respirable Coal Mine Dust and Possible Approaches for Lowering Dust Levels
from Government Accountability Office
The Department of Labor's Mine Safety and Health Administration (MSHA) appropriately did not use recent trend data on coal workers' pneumoconiosis (CWP) as a basis for its proposal to lower the permissible exposure limit for respirable coal mine dust. These recent data from the Department of Health and Human Services' National Institute for Occupational Safety and Health (NIOSH) are inappropriate for this purpose because they do not include the types of detailed information about individual miners needed to estimate the likelihood that miners would develop CWP at different exposure levels, such as historical dust exposures. MSHA primarily based its proposed new limit on two reports and six epidemiologic studies, which each concluded that lowering the limit on exposure to coal mine dust would reduce miners' risk of developing disease.
28) 2014 Annual Report: Additional Opportunities to Reduce Fragmentation, Overlap, and Duplication and Achieve Other Financial Benefits
from Government Accountability Office
In our first three annual reports issued from 2011 through 2013, we presented 162 areas where opportunities existed for executive branch agencies or Congress to reduce, eliminate, or better manage fragmentation, overlap, or duplication; achieve cost savings; or enhance revenue…This report is our fourth in the series, and it identifies additional areas where a broad range of federal agencies may be able to achieve greater efficiency or effectiveness.
E&E's Robin Bravender reports the study finds green buildings and diesel emissions are areas where overlapping government work could be costing taxpayers big bucks.