From: Cherilyn Eagar - American Leadership Fund
To: David Lifferth,
Subject: Breaking News - US Supreme Court to Hear Marriage Cases; Last Call - Sen. Mike Lee, Glenn Beck's Pat Gray - Eagle Forum Conference
Date: Fri Jan 16 23:47:01 MST 2015
Body:
---
BREAKING NEWS!
US Supreme Court WILL Hear Marriage Cases

David
The U.S. Supreme Court has just announced today that it will hear four cases during the Court's session and will likely decide whether to uphold the voice of over 50 million people who voted for and who support marriage between a man and a woman. The Court has until June to weigh in on whether a child deserves a mom and a dad or whether to ignore the rational basis standard of its own Court.
It is now time for the People to stand up in this final battle and to speak out and let your state elected officials and the U.S. Supreme Court know that your state will not take this travesty against voiceless children lying down.
Action!
Stand for the Preservation of Sovereignty and Marriage today!
We will send these petitions to your state leaders - please share and ask friends to sign.

Action!
American Leadership Fund will be filing a brief in the U.S. Supreme Court.
We need your help today.

We are so grateful for your support in the past. You have made a difference! Please send YOUR message to the Supreme Court by supporting this amicus brief today in whatever way you can. Whether as a sustaining member with a pledge of a monthly donation of $20.15 for the next year or a one time donation of $10, $25, $50, $100 or more, your contribution.
DONATE $100 OR MORE (See FREE complimentary offer below)*

---
Regional Eagle Forum Conference - Last Call!
If you are in the vicinity of Utah and Salt Lake City Saturday, January 17, 2015 from 8:30 AM - 8:30 PM, we hope you will join us. We will be broadcasting our radio show LIVE on location from this event.
If you have not already registered for this conference, please act TODAY. You will not be able to order lunch or dinner, but you can register or get a ticket at the door.
This is the most important event you can attend to hear from members of Congress and national experts on the issues - from Common Core to Sex Trafficking to the Chairman of Oversight Committee on Benghazi. Please pass this information on to your friends and family, especially those that reside near Salt Lake City, Utah.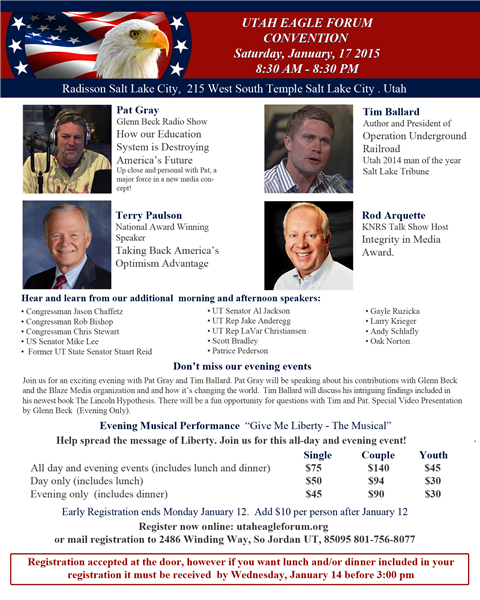 ---
The Cherilyn Eagar Radio Show will be broadcasting LIVE from this event to the KLO studios between Noon-1:00 PM Mountain Time.
On Saturday January 17, 2015, we'll air brief interviews with as many speakers at the Eagle Forum convention as we can fit into one hour.
You can also listen LIVE locally at AM 1430 or online at www.KLOradio.com.
January 24, 2015 our show will broadcast from the Sundance Film Festival with interviews from Hollywood celebrities.

We'll discuss the propaganda machine that Hollywood has become - and what we're doing about it.

---
We have extended our special offer of a MUST-read book. As presidential hopefuls line up in 2015, get informed about what this establishment does in this expose of how Kingmakers "anoint" our presidential nominees. This is vital information for you and your children to have.
GIVE A MONTHLY DONATION OF $20.15 OR MORE FOR ONE YEAR
AND RECEIVE
2 COMPLIMENTARY COPIES
- OR -
*GIVE A ONE-TIME DONATION OF $100+

AND RECEIVE ONE COMPLIMENTARY COPY!
DEADLINE: JANUARY 31, 2015


Donate $100 or more and
get your FREE Complimentary Book*

Or mail check of any amount from a personal or
corporate account to:
American Leadership Fund
999 Murray-Holladay Road Suite 202
Salt Lake City, UT 84117

Blessings to you for a Prosperous New Year!

Faithfully,
President, American Leadership Fund
Read more about Cherilyn here.

---
STOP!
Share this email with your friends, but before you do, delete the subscription text at the bottom of this email. Otherwise, your friend might mistakenly unsubscribe you from this list!

---
As a voter, volunteer, donor, event attendee, or petition signer, you opted in to receive political messages about candidates and issues. CAN-SPAM laws do not apply to religious or political email communications because they are considered a First Amendment protection. If you do not wish to receive these messages or if you have received this message in error, you may simply unsubscribe below.

---
American Leadership Fund
999 Murray-Holladay Road Suite 202
Salt Lake City Utah 84117
United States


---