Utah State Legislature's Back to School Program
The Utah State Legislature has participated in the NCSL America's Legislators Back to School Program since 2000. This background (PDF) provides a more detailed overview and objectives of the program.
Ranked as No.1 in the nation for many years and always in the Top 3, Utah legislators teach students about the legislative process through meaningful and interactive sessions in the classroom, other venues, and on Capitol Hill.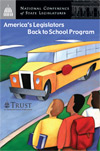 Click here for more program information that includes downloadable materials.

Would you like to prepare students for a meaningful interaction with a legislator?
Review classroom materials (PDF) that legislators can leave with students K-12.
Prepare students to get involved in the political process. Their ideas count and can affect public policy decisions.
Invite a legislator to visit your classroom and ask how his/her involvement can enhance your lesson objective. Who do you ask? Find legislators here by your school address.
The charts below demonstrate admirable outreach efforts that Utah legislators make in their districts as they take time to meaningfully interact with Utah's youth about the legislative process.

---
2013-2014 - NCSL lost funding for the supplemental materials and conferences that educated and trained Back to School Coordinators for state legislatures. Nevertheless, Utah legislators continue to engage students in the classroom and on Capitol Hill.
---
2012-2013 - NCSL didn't announce the continuance of ranking participation of state legislatures after the passing of Jan Goehring, the heart and soul behind this civic education program, until later in the year. With no new funds to grow the program, data was not tabulated for this school year.
Article
Rep. Carol Spackman Moss (Huffington Post, September 26, 2012)
---
2011-2012 - Utah was ranked No. 1 in the nation again for a state legislature's highest participation at 96 percent, and Utah's highest rate yet.
Article
2012 August Interim Highlights Article (page 8) (PDF)
---
2010-2011
National Coverage
NCSL's Top 10 (PDF)
---
2009-2010
National Coverage
NCSL's Top 10 (PDF)
Articles
2009 August Interim Highlights (PDF) Article (page 5)
2010 August (PDF) Interim Highlights (PDF) Article (page 6) (PDF)

---
2008-2009
Legislation
S.C.R. 2, Resolution Promoting Legislators Back to School Program (PDF)
Articles
2008 August Interim Highlights Article (page 5) (PDF) and 2009 August Interim Highlights Article (page 5) (PDF)

---
2007-2008
Legislation
SCR 2, Resolution Recognizing Utah's Legislators Back to School Program (PDF)

---
2006-2007
Legislation
HCR 2, Resolution Recognizing Utah's Legislators Back to School Program (PDF)
Articles
2007 July Interim Highlights Article (page 5) (PDF)
Senator Margaret Dayton (Senate Site Blog, January 22, 2007) (PDF)

---
2005-2006
Legislation
HCR 6, Resolution Recognizing Utah's Legislators Back to School Program (PDF) | News Release (PDF)
News Coverage
Speaker Greg Curtis (Deseret Morning News, Tuesday, September 20, 2005)
Utah Policy.com (Tuesday Buzz, September 20, 2005)
---
2004
Legislation
HCR 7, Resolution Recognizing Legislators Back to School Week (PDF) | News Release | News Release Kick-off
News Coverage
News Articles Standard Examiner (News, School) Tuesday, September 23, 2004
Daily Herald (Our Towns) Saturday, September 25, 2004
---
2003
Legislation
SCR 3, Resolution Designating Legislators Back to School Week (PDF) | News Release (PDF) | Wrap-up
News Articles
Tues, Sep. 23: Provo Herald (Valley & State section) | Deseret News (Utah section) | Standard Examiner (At-a-Glance section)
Fri, Sep. 26: The Herald Journal (Local News section)
Sun, Oct. 5: Deseret News(Utah section)
Tues, Oct. 7: The Davis County Clipper (People/Places section)
Tues, Oct. 7: Standard Examiner (Opinion section)
TV Coverage
Mon, Sep. 22: FOX 13
Tue, Sep. 23: Cable TV, Spanish Fork Ch. 17