From: Typhoon Lou
To: Rep. Perry, L.,
Subject: Please Support HJR 8
Date: 2014-03-10T21:56:00Z
Attachments: image001.gif , image003.jpg , 1-Open_Letter to Utah State Legislatures.pdf , 1-IAA_Article V - FAQs with Source Documents.pdf , Congressional_Report - Mondale's Stealth Campaign - excerpt.pdf , 10_Facts to Rebut the Mythology of a Runaway Convention Dated 20FEB2014.pdf , 5-_Ronald Reagan Letter White Dated 27JUN2013.pdf , Body:
---
Dear Utah State Legislatures,
I am reaching out to you as an American and retired Navy Chief Petty Officer and respectfully request that you support HJR 8 in pursuit of a balanced budget to our U.S. Constitution. Currently, our nation is faced with economic collapse which outweighs all other concerns. In addition, I want to take a moment and share with you facts about a runaway convention as well as prove these rumors started in the 1970's (see attachments) as well as encourage you to check out the following links and my open letter below.
1. National Debt Clock in REAL TIME: http://www.usdebtclock.org/
2. Ret Admiral Mullen "National Debt Is Biggest Threat To U.S.": https://www.youtube.com/watch?v=FrJ1qzG0Ewk
3. President Ronald Reagan Calls for a Balanced Budget Amendment: http://www.youtube.com/watch?v=paZZzFOSYNw
4. Open Letter to Utah State Legislatures: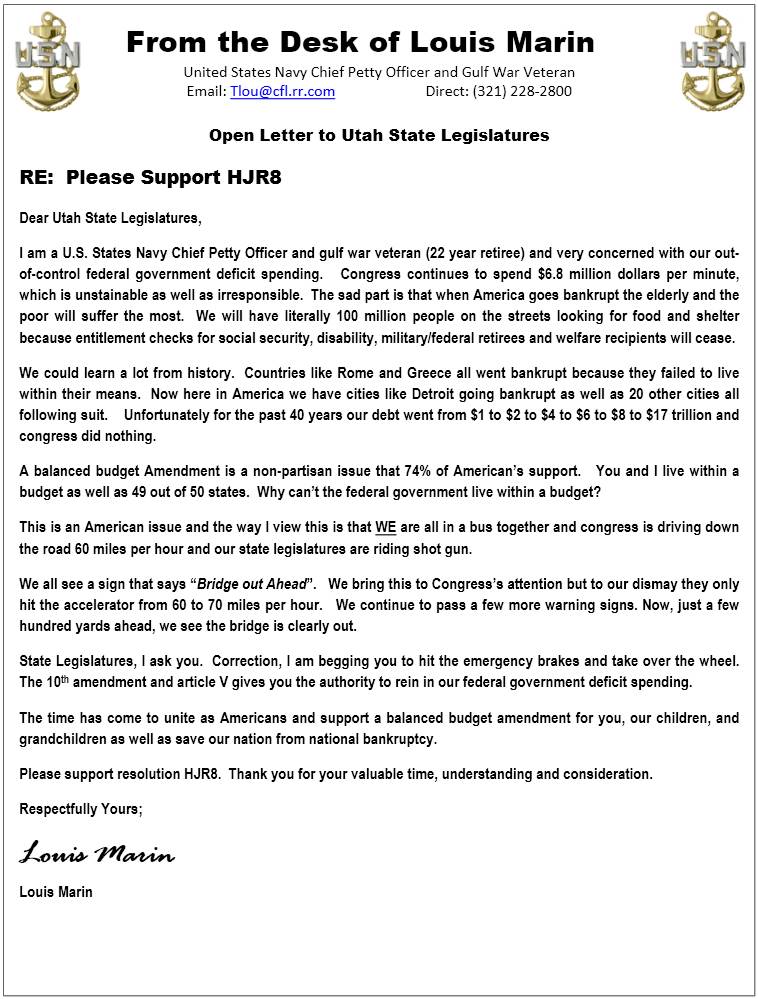 ---
No virus found in this message.
Checked by AVG - www.avg.com
Version: 2014.0.4335 / Virus Database: 3722/7175 - Release Date: 03/10/14