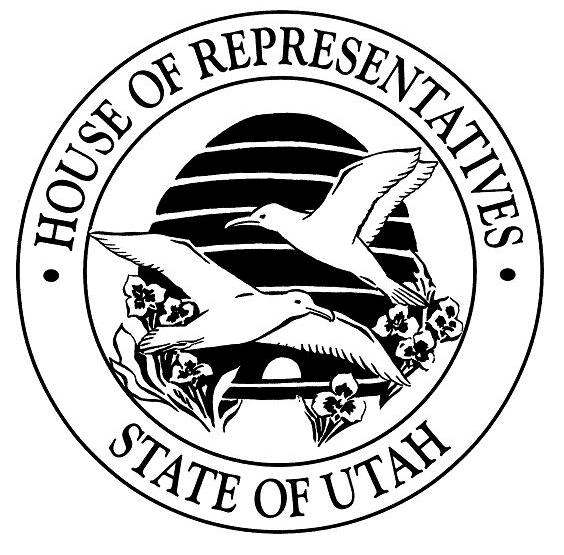 House of Representatives
State of Uta
h
UTAH STATE CAPITOL COMPLEX � 350 STATE CAPITOL
P.O. BOX 145030 � SALT LAKE CITY, UTAH 84114-5030 � (801) 538-1029
AGENDA
TO: Members of the House Political Subdivisions Standing Committee FROM: Rep. R. Curt Webb, Chair
Rep. Rebecca P. Edwards, Vice Chair RE: Committee Meeting
DATE: Monday, January 23, 2012 TIME: 3:15 PM PLACE: 450 State Capitol, Utah State Capitol Complex
-Call to order
- The following bills are scheduled for consideration:
1. HB0058 Changes to Amendments Incorporated into State Construction Code (J. Peterson)
(rhr/rcn)
2. HB0243 Municipal Election Revisions (J. Dougall)
(va/jtw)
3. HB0246 County Correctional Facilities Funding Amendments (M. Noel)
4.

HB0249

5.

HB0253

(sca/nwb)

Single Fam

(va/jtw)

Voter Regi

(erb/alh)

ily Zoning Designation

(D. Sanpei)

stration Amendments

(K. Powell)

COMMITTEE MEMBERS

Rep. R. Curt Webb, Chair Rep. Rebecca P. Edwards, Vice Cha

ir

Rep. Johnny Anderson Rep. Jack R. Draxler Rep. James A. Dunnigan

Rep. Michael T. Morley Rep. Jeremy A. Peterson Rep. Dixon M. Pitcher Rep. Marie H. Poulson

Rep. Stephen E. Sandstrom Rep. Jennifer M. Seelig Rep. Larry B. Wiley
Committee Analyst: Joseph Wade, Office of Legislative Research and General Counsel Committee Secretary: Karen Mitchell HPOL0123.ag.wpd
In compliance with the Americans with Disabilities Act, persons needing auxiliary communicative aids and services for this meeting should call Nancy McPherson at 801-538-1032, giving her at least 24 hours notice or the best notice practicable.