Compendium of Budget Information for the 2013 General Session
Retirement & Independent Entities
Appropriations Subcommittee
<-Previous Page | Subcommittee Table of Contents | Next Page->
Agency: Utah Education Network
Function
The Utah Education Network (UEN), a partnership of Utah's public and higher education institutions, delivers education statewide through state-of-the-art technology. It operates a public television station, KUEN-9, which includes UEN-TV, MHz Worldview, and UEN-TV News. It works closely with partner station KUED-7. It provides educational interactions through Interactive Video-Conferencing (IVC), and connects state institutions to each other and the Internet. UEN's mission is to "provide the citizens of Utah access to the highest quality, most effective instructional experiences, administrative support services, library services, student services, and teacher resources regardless of location or time."
Statutory Authority
Utah Code Annotated 53B-17 establishes UEN and assigns its responsibilities.
UCA 53B-17-102 establishes UEN as a consortium and partnership between public and higher education to support the telecommunications technology, internet access, and programs/services for the delivery of distance education for educational institutions throughout the state.
UCA 53B-17-103 requires the Legislature to provide an appropriation, subject to budget constraints, for the operation of KUED-TV for the services listed above.
UCA 53B-17-104 directs UEN to coordinate the statewide development and implementation of the data network for education.
Performance
UEN networks for education, meaning they connect Utah Higher Education institutions, K-12 traditional and charter schools, and public libraries to the Internet. This measure shows the number of broadband connectivity through UEN. UEN matches the state investment in connecting Utah schools with E-Rate funding. From FY 2008 to FY 2012, UEN has secured over $52,366,347 in E-Rate reimbursements for school connectivity.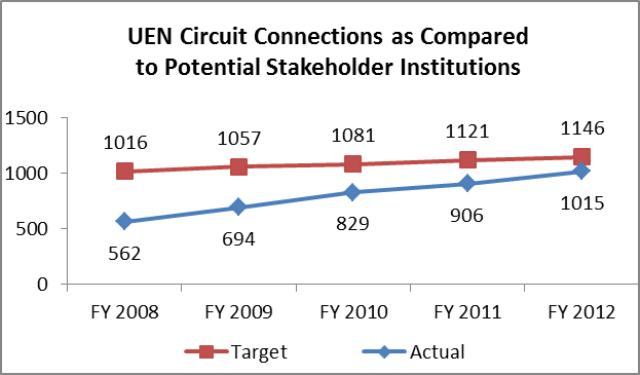 UEN delivers fully interactive classroom instruction to college and public school students at over 800 classroom locations throughout the state. UEN's interactive video conferencing (IVC) supports thousands of classes, full degree programs, concurrent enrollment, administrative events, and other IVC activities each year. This measure shows the number of institutions/agencies participating in UEN's IVC. This measure does not have specific targets each fiscal year. All IVC requests that UEN receives are delivered. Since FY 2009 demand for IVC has continued to increase.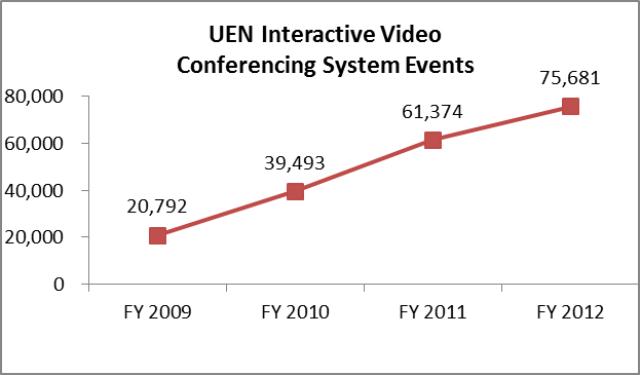 UEN licenses and supports an Enterprise Learning Management System (Canvas) for all higher education colleges and universities for on-line and in-person classes. This measure shows the average total number of concurrent users by academic semester using the Vista Blackboard and Canvas Learning Management Systems against total faculty/instructor and student headcount for the fall semester of the academic year.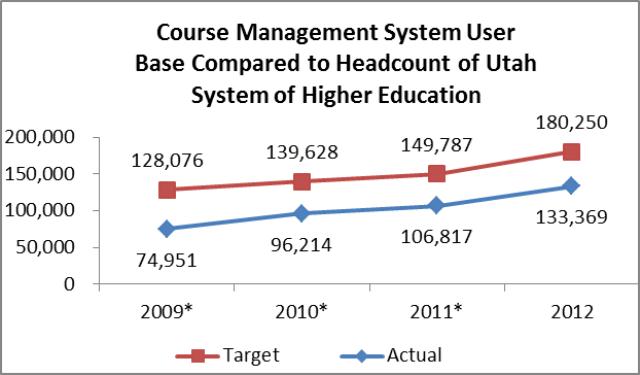 *Weber State University and Southern Utah University are not included in 2009-2011 as these institutions transitioned to the UEN consortium license and hosting in the fall semester of 2011.
In addition to the key performance measures listed above, UEN also measures its performance in usage of the Pioneer Library and sessions of interactive video conferencing. It also closely monitors network utilization and reliability, among other things, and reports those results monthly to its Board.
Funding Detail
UEN's financial resources come from General and Education Fund appropriations, federal grants, federal e-rate discounts, and reimbursement by education entities. As UEN's state appropriation has decreased, it has aggressively pursued federal grants.
In past years, UEN's budget has been appropriated in numerous line items. Since FY 2008, it has all been appropriated to one line item, allowing UEN maximum flexibility in managing resources.
Table 1: Operating and Capital Budget Including Expendable Funds and Accounts
Sources of Finance
(click linked fund name for more info)

2009
Actual

2010
Actual

2011
Actual

2012
Actual

2013
Approp

General Fund
$242,700
$219,500
$219,500
$175,600
$175,600
General Fund, One-time
$7,400
$2,200
$0
$0
$0
Uniform School Fund
$13,573,400
$12,597,900
$0
$0
$0
Uniform School Fund, One-time
$1,463,900
$1,078,200
$0
$0
$0
Education Fund
$4,867,200
$4,591,100
$17,270,800
$16,904,400
$17,235,500
Education Fund, One-time
$519,200
$228,700
$1,000,000
$0
$0
Federal Funds
$2,375,900
$2,728,500
$3,344,200
$12,164,300
$7,800,000
Dedicated Credits Revenue
$8,299,800
$8,253,600
$10,524,800
$12,592,600
$11,336,000
Other Financing Sources
$876,400
$2,379,300
$1,229,000
$377,600
$1,141,200
Beginning Nonlapsing
$217,200
$115,000
$300,000
$1,253,300
$559,400
Closing Nonlapsing
($115,000)
($300,000)
($1,253,300)
($1,015,600)
$0
Total

$32,328,100

$31,894,000

$32,635,000

$42,452,200

$38,247,700

Line Items
(click linked line item name to drill-down)

2009
Actual

2010
Actual

2011
Actual

2012
Actual

2013
Approp

Utah Education Network
$32,328,100
$31,894,000
$32,635,000
$42,452,200
$38,247,700
Total

$32,328,100

$31,894,000

$32,635,000

$42,452,200

$38,247,700

Categories of Expenditure
(mouse-over category name for definition)

2009
Actual

2010
Actual

2011
Actual

2012
Actual

2013
Approp

Personnel Services
$9,925,500
$9,572,400
$9,686,600
$10,044,100
$9,800,200
In-state Travel
$157,400
$162,000
$170,200
$158,700
$156,400
Out-of-state Travel
$224,100
$183,500
$127,800
$139,800
$78,400
Current Expense
$1,927,900
$1,796,300
$2,048,300
$1,023,300
$2,020,500
DP Current Expense
$16,125,900
$18,094,000
$19,510,100
$28,432,400
$20,565,400
DP Capital Outlay
$3,798,400
$2,032,800
$1,009,600
$2,616,500
$5,586,700
Capital Outlay
$168,900
$53,000
$82,400
$37,400
$40,100
Total

$32,328,100

$31,894,000

$32,635,000

$42,452,200

$38,247,700

Other Indicators

2009
Actual

2010
Actual

2011
Actual

2012
Actual

2013
Approp

Budgeted FTE
113.6
113.3
111.0
110.0
110.5
Actual FTE
118.1
113.3
112.7
111.1
0.0
Vehicles
10
14
14
14
14












Subcommittee Table of Contents
<-Previous Page | Next Page->
COBI contains unaudited data as presented to the Legislature by state agencies at the time of publication. For audited financial data see the State of Utah's Comprehensive Annual Financial Reports.